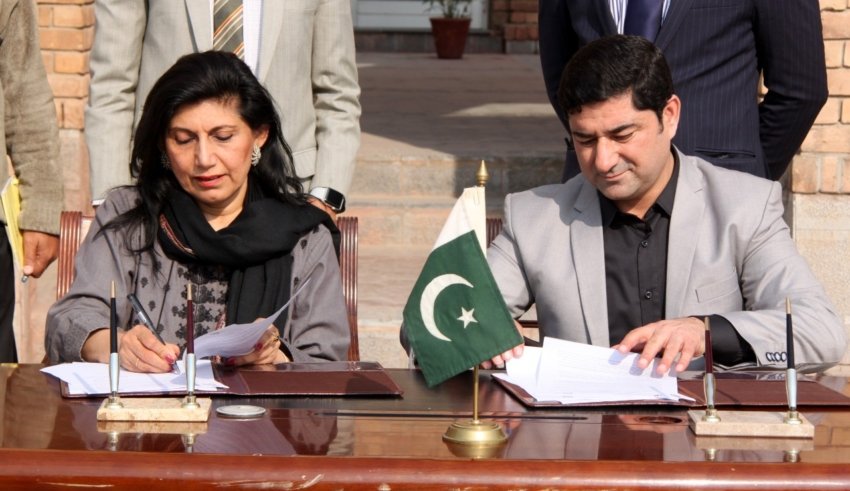 PNCA director-general Dr Fouzia Saeed and Gilgit-Baltistan Minister for Culture and Tourism Raja Nasir ali sign an MoU at the PNCA in Islamabad on February 23, 2021. Photo: PNCA
---
High Asia Herald Report
---
Islamabad, Feb 17: Pakistan National Council of the Arts (PNCA) will set-up its regional culture centre in Gilgit-Baltistan (GB) for the promotion of the unique but secluded art and culture of the mountainous region.

A Memorandum of Understanding to this effect was signed here on Wednesday between PNCA Director-General Dr Fouzia Saeed and GB's minister for tourism, sports and culture, Raja Nasir Ali, an official statement said.
---
PNCA will help GB government in documenting the rich tangible and intangible cultural heritage of the region, imparting cultural education, disseminating information including the transfer of knowledge and training of human resource in the fields of art and culture.
The provincial government will provide space for the establishment of the PNCA office in the region; hold collaborative programmes to create awareness about the diverse culture and conduct research.
The provincial government will facilitate, provide venues to PNCA for holding cultural activities, festivals and documentation.
Talking to The High Asia Herald after signing the MoU, PNCA Director-General Dr Fouzia Saeed said: "both the organisations will initiate collaborative programmes to promote the art and culture of Gilgit-Baltistan."
This will open new horizons for the younger generation to learn about the power of cultural capital and indigenous knowledge in true perspective, she hoped.
She believed that "the premier national cultural body has been too Islamabad-centric and it is time that it should reach out to the peripheries and promote their cultures.
"PNCA being a national premier cultural body and not an Islamabad arts council that has the mandate to promote all cultures."
She acknowledged the role of Shafqat Mehmood, Federal Minister for National Heritage in promoting the regional as well as international cultural exchanges to portray the true image of Pakistan and its centuries-old cultural traditions.
"PNCA is making efforts to explore new avenues to engage youth in its cultural endeavours", she said.
Raja Nasir Ali termed the signing of the MoU "a new beginning for the promotion of art and culture of Gilgit-Baltistan at national and international levels".
He thanked Dr Fouzia Saeed for taking this initiative and extending cooperation for the promotion of the art and culture of GB in Pakistan and abroad.
For achieving the common goals, the minister said, there was a need for accelerating cultural activities to promote the tangible and intangible culture and traditions of GB through training programmes for artists, and technicians for audio and video recordings.
He hoped that PNCA will assist the culture department of GB in preparing its own policy for the promotion of the diverse culture and its dissemination at national and international levels as well as the well-being of artists and artisans.