The headwaters of 10 major rivers originate near some of Earth's highest points. Known as the world's "third pole,"  or Baam-e-Jahan (roof of the world), the land of Mount Everest and other peaks holds the largest concentration of perennial ice outside of the polar regions. Along with snow and rain from the mountains, this ice helps supply the river basins below that support the water, food, and energy needs of almost two billion people, says a research report published in The National Geographic magazine.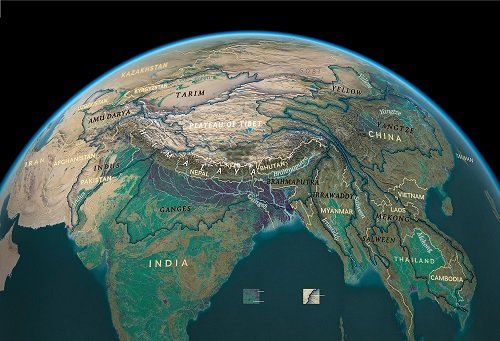 Downstream populations rely heavily on mountain water. Meltwater helps regulate the seasonal pattern of river flows and boost water supply outside of the monsoon season, but climate change may weaken this buffering role. Meltwater dependence is highest in the Indus Basin.
Many of the region's glaciers have been losing mass since the mid-1800s, and the rate of ice loss is increasing. They shed 19 gigatons of ice each year from 2000 to 2018, with glaciers in the Brahmaputra, Indus, and Ganges Basins seeing the greatest declines. For access to complete report, click here.