Zeeshan Ali Ahmed shows a novel way of community service by rebuilding old hut at Batura valley an ultimate destination of tourists
PASSU: Life must have some objectivity and dedicating your time as a community service, could be one of the best objectives in life, Zeeshan Ali Ahmed, a young architect who is rebuilding a historic hut for tourists and local people at Passu's picturesque Batura summer pasture, said this while narrating his thoughts about this endeavour.
Sharing his experiences, future plan and dreams with the High Asia Herald, Ahmed said that he wanted to do something for the community before pursuing his professional career. "Here I am rebuilding a hut for the community."
The young enthusiast from Aliabad, central Hunza, who has recently graduated from Punjab University, took this initiative considering it important to facilitate tourists.
Passu is one of major towns of Gojal in upper Hunza. Until the recent past, almost one-third of the population, mostly women, were used to move to these high pastures along with their herds of cattle and yaks for six months in summer to prepare cheese, butter, and qurut (residue of yogurt).
Sadly, with the modernization and migration of the youth to urban centers, now only a few families come to this beautiful valley with a limited number of cattle and yaks. To revive the importance of this beautiful location, Ahmed wanted to create a decent space that could attract locals, domestic and foreign tourists.
"There is a lot of scope for tourism in Batura valley as it is one of the longest glaciers of the world and has historical importance", Ahmad said.
"It's been a great experience for me as I am here for almost 40 days. I roam around in valleys, on the glacier and enjoy the ambiance and nature."
For Ahmed, it was hard at times to cope with the climate and area. However, at the same time, he enjoyed the venture terming it a unique experience. He said that the essence of the place provided him an opportunity to think about life, the emerging problems in society, social responsibilities and personal challenges ahead.
"If we are a social animal and getting (Benefitted) from the society, we must give (something) in return to it," he argued.
About homesickness, Ahmed said that he missed his mother and brothers a lot befriending with 'Johny', 'Mike' and 'Mark' (three yaks), gave him amazing feelings.  One day they went down and I heard a leopard has attacked them killing one of them. I don't know which one of them has been killed by the predator, I was so upset."
He informed this scribe that there used to be a hut built by Banday Ali, a social worker. People would stay at the hut during their visit to Batura. But after his death, the hut caved in after some time. When he came here, there was nothing except the debris of the hut.
Ahmad first wanted to renovate and rebuild it but it was not possible for non-availability of material and tools to get it rebuilt. He thus thought of using a vernacular design of architecture to rebuild it and started work with hopes to make it usable again.
While terming social work as an important aspect of his life, Ahmad said that we must contribute towards community service if able to spare some time. If 100 youth out of 100,000 population of Hunza, show a determination to take small steps and do something for the people, it would make a big difference and thus we see a real change in society, he concluded.
---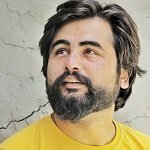 Asif Saeed Sakhi is an activist and Bureau Chief of High Asia Herald/TV & Bam-E-Jahan for Gojal, Hunza District