An Afghan soldier carries an injured baby from the hospital after the attack in Kabul on May 12.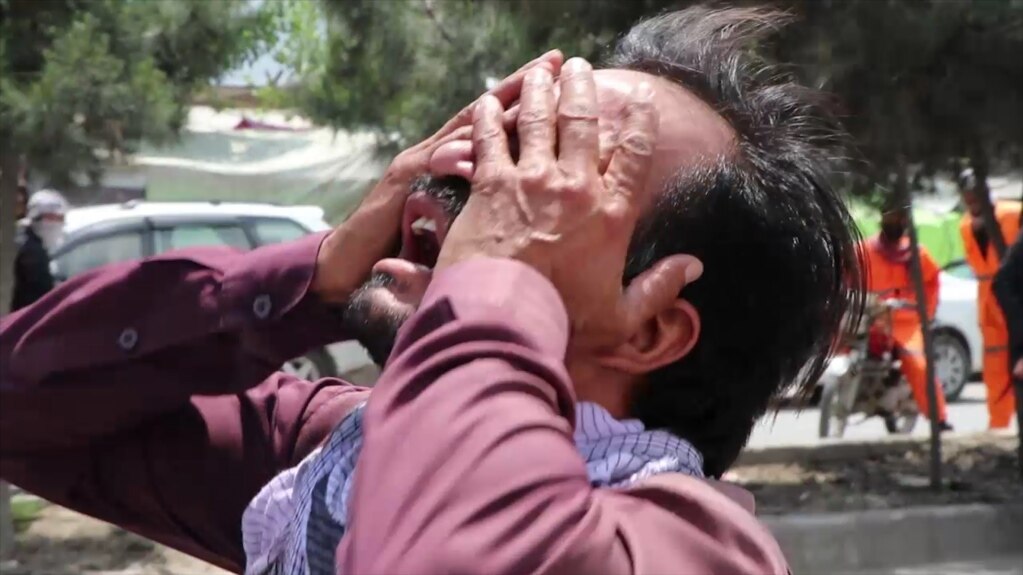 Ashraf Ghani orders resumption of anti-Taliban offensive after attacks in Kabul and Nangarhar
KABUL: Gunmen attacked a hospital that houses a maternity clinic in Kabul, killing at least 16 people including two newborn babies, and a suicide bomber killed at least 24 others at a funeral on a morning of double tragedy for Afghanistan.
In the capital, soldiers raced out of the hospital carrying infants wrapped in bloodstained blankets to waiting ambulances, after the attackers rampaged their way through the wards۔
The Interior Ministry said 14 people were killed, including two newborn babies, and 15 others were wounded in the attack by three gunmen at the mostly Shi'ite neighbourhood of Dasht-e Barchi.
According to the authorities, some of the attackers were cornered inside the hospital and allegedly started the fire inside the building. The police were forced to deploy special forces around the site.
The morning's assault began with an explosion at the entrance to the 100-bed hospital in Dasht-e-Barchi, in the west of the capital, at about 10am local time. Three gunmen then burst inside and began shooting, apparently indiscriminately.
"They started firing as soon as they reached the doorstep," one weeping doctor told Afghanistan's Tolo television, soon after escaping. "Four mothers were killed in the room, two were in a safe room and survived. It was a devastating scene."
A reporter who was able to access the hospital soon after the attack said gunmen appeared to have opened fire in every room, and on everyone inside, with some bodies still lying in the recovery room where women are taken after giving birth.
Husbands, brothers and fathers, who are not normally allowed on maternity wards in Afghanistan, thronged nearby streets in desperation, begging for news about whether their relatives had survived.
"Sixteen women and children were martyred and 16 other civilians were wounded in today's barbaric terrorist attack," said Feroz Bashiri, the director of government media and information centre.
A witness, Jawad Amiri, told RFE/RL that one of the attackers "was wearing a military uniform and the other two were dressed as doctors."
"They came to the main entrance and opened fire at people everywhere around. They killed many innocent people," he added.
Security forces eventually killed all three attackers, allowing the rescue of 80 women and infants from the hospital.
The Afghan president, Ashraf Ghani, in response ordered a resumption of a full offensive against the Taliban and other militant groups, ending a period of reduced military activity ahead of US-brokered peace talks that had been expected to start this year.
Afghan officials say work at the hospital was supported by the Nobel Prize-winning international nongovernmental charity Doctors Without Borders (MSF). MSF confirmed it ran the maternity section of the hospital. Hours earlier it shared a picture of a baby, safely delivered by emergency caesarean section at the clinic.
The dead included mothers, nurses and infants, the interior ministry said, and officials shared a photo of two young children lying dead inside the hospital. About 100 people were rescued from the building, including three foreigners.
The attack targeting the most vulnerable of civilians, including children just hours old and exhausted new mothers, caused a wave of horror and revulsion.
"These newborns, among the first voices they heard, on the first day of their lives, was the sound of gunfire … and among their first experiences, being targeted in a war they and their mothers had no part in," Shaharzad Akbar, the chair of the Afghanistan Independent Human Rights Commission, tweeted. "Will their lives, like ours, continue to be shaped by war?"
In an address to the nation in the early evening, Ghani laid out an abrupt shift in response to the bloodshed from the "active defence" position adopted by Kabul in recent months, as the US tried to broker peace talks with the Taliban and authorities pushed for a ceasefire to allow medics to tackle an escalating coronavirus crisis.
"The Taliban have not given up fighting and killing Afghans, instead they have increased their attacks on our countrymen and public places," Ghani said.
Negotiations between Afghans were meant to begin after a US-Taliban deal this year paved the way for the withdrawal of American troops. But even initial talks about talks were foundering because of disputes about prisoner release plans and intensifying Taliban violence in rural areas. Now hopes for progress towards ending a nearly two-decade-long civil war look even dimmer.
"The reason to pursue peace is to end this senseless violence. This is not peace, nor its beginnings," Ghani's national security adviser, Hamdullah Mohib, said on Twitter.
"If the Taliban cannot control the violence, or their sponsors have now subcontracted their terror to other entities, which was one of our primary concerns from the beginning, then there seems little point in continuing to engage Taliban in 'peace talks'."
The Taliban said they were not responsible for either attack, but have not condemned the bloodshed at the Kabul hospital.
Nangarhar attack
On Tuesday, May 12, other attacks were perpetrated in several cities of the country, without knowing more details. One of them occurred in the city of Jalalabad in eastern Afghanistan, where at least 40 people have lost their lives.
The attack in Nangarhar province, eastern Afghanistan, targeted the funeral of a police commander who had died in the night of a heart attack, said Niloofar Aziz, a member of the provincial council.
The explosion at about 11am killed one member of the council, Lala Khan. His father and brothers were among at least 68 injured. The scale of the casualties meant the death toll could rise, officials warned.
The Afghan National Security Council described the event as "violent" and noted on its Twitter account that the attacks were intended to "directly affect women, children and men. The attitude of the attackers is contrary to all human and religious principles.
The bomb devastated family groups who were mourning together. "Three of my nephews and one of my brothers were martyred," one witness told state television. "He was standing on my left, his name was Ismael. There was a rain of dead bodies."
There was no immediate claim of responsibility from any other group. The neighbourhood to which the hospital belongs is home to a large community of Hazaras, a minority who are mostly Shia Muslims and have frequently been targeted by Islamic State, including at civilian sites including a gym and a school.
In March the regional ISIS group also claimed responsibility for an attack on a Sikh temple in Kabul that killed dozens from the tiny religious minority group, including women and children.
Later on Tuesday, there was further violence in the eastern province of Khost when a bomb planted in a cart in a market killed a child and wounded 10 other people.
In a message sent to RFE/RL on May 12, Taliban spokesman Zabihullah Mujahid denied that the militant group was involved in the hospital attack.
IS has claimed responsibility for numerous other attacks against Shi'ite Muslims in the western part of Kabul.
The United Nations Assistance Mission in Afghanistan expressed "shock and revulsion" at the attacks in Kabul and Nangarhar and called for those responsible to face justice.
EU foreign-policy chief Josep Borrell condemned the attacks as "acts of evil" that showed "an appalling degree of inhumanity."
Human Rights Watch said the assault on the Kabul hospital showed "blatant disregard for civilian life and is an apparent war crime."
The New York-based watchdog said in a statement that attacks on health care in Afghanistan had increased "sharply" since 2017.
IS has claimed responsibility for a spate of violence in Kabul on May 11 that wounded a child and three adult civilians.
Those attacks included three roadside bombs as well as a fourth bomb placed under a garbage can in the northern part of the Afghan capital.
The Interior Ministry said on May 11 that Afghan security forces arrested the Islamic State group's regional leader for South Asia, Abu Omar Khorasani, during an operation on the northern side of the Afghan capital.–agencies