High Asia Herald Report
The gang-rape of a woman in front of her children after dragging her from her car on a motorway in Punjab prompted outrage and protests across Pakistan and Gilgit-Baltistan with anger further fuelled by Lahore police chief remarks, blaming the victim for travelling alone.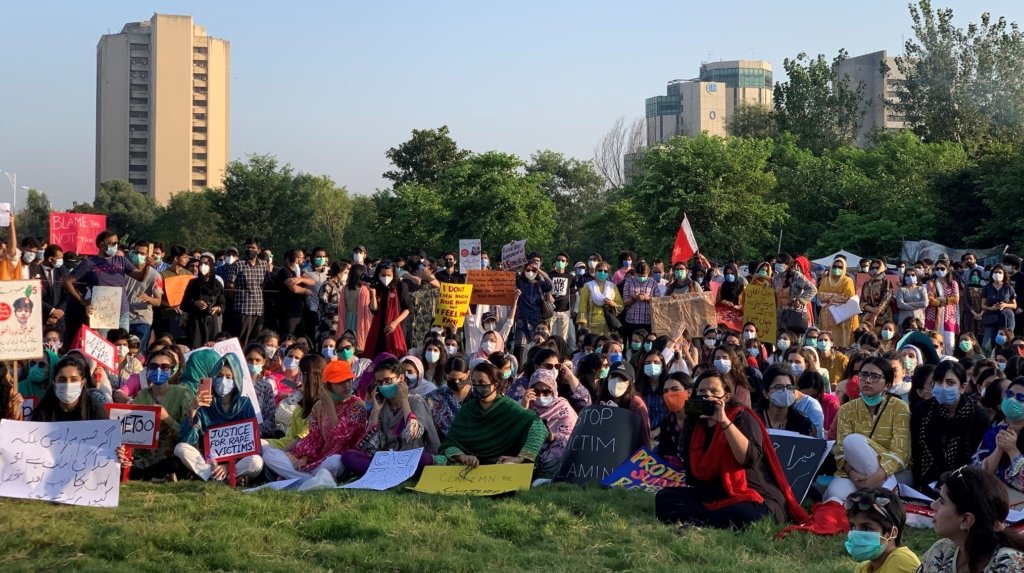 According to media reports, a large number of women, political and rights activists took to the streets at Islamabad, Lahore, Multan, Peshawar, Karachi and Gilgit on Saturday to demand justice and structural reform after the gang rape on the side of Lahore-Sialkot Motorway near Gujarpura, Lahore on September 11.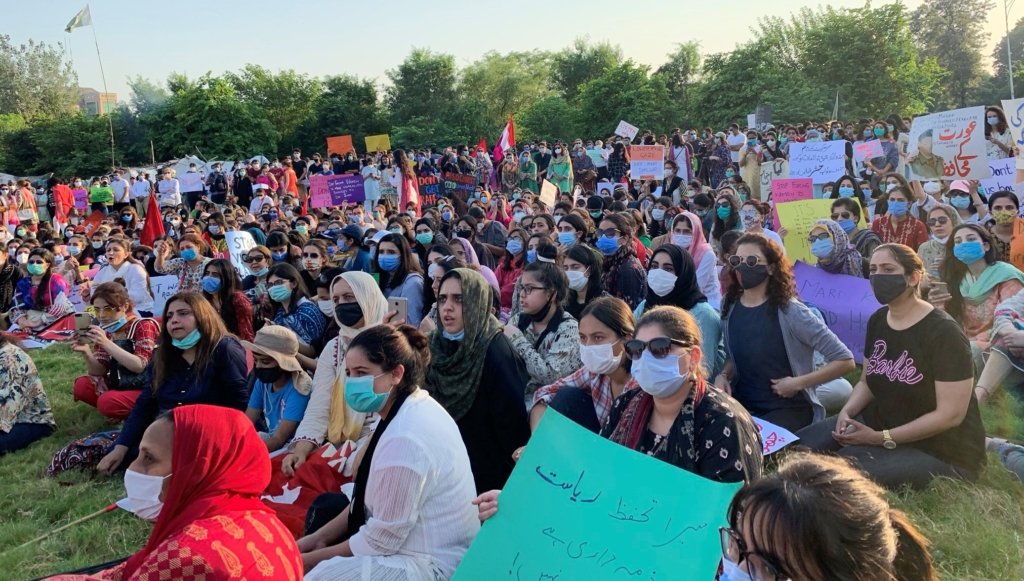 The protests were organized by Women Democratic Front (WDF), Women Action Forum (WAF), Aurat Azadi March (AAM) and other political and civil society organisations.
The organisers of the protests set forth a charter of demands including an end to violence, stringent steps by the government to uphold rights and ensure justice, accountability of Lahore Capital City Police Officer (CCPO) Umer Sheikh and any other official who blames the victim, structural and procedural reforms and effective and transparent investigations by the criminal justice system.
The CoD also included implementation of legislation related to criminal offences such as rape and the protection of transgender persons, banning the two-finger test and providing additional resources and training for reporting, investigation and prosecution of crimes pertaining to sexual violence.
It also demanded that all public spaces be made safe for women, gender-sensitive curricula be introduced and government spending on women's health, education and safety be increased.
Islamabad
A massive protest organized by WDF, WAF, AAM, AWP and PrSF was held outside National Press Club. Addressing the protesters, member of the Human Rights Commission of Pakistan (HRCP) Nasreen Azhar said that this was not the first incident of abuse in the country and the protesters strongly condemned the rape of a woman on the motorway.
Ismat Shahjahan, president of the Women Democratic Front (WDF) said that women, children and even animals were not safe in the country.
"They (women) are unsafe at home and around male colleagues in their offices," she said.
She added that a state which failed to provide justice was unacceptable and called for effective punishment instead of strict punishment.
"If you demand public hangings, will you hang half of Pakistan on street corners?" she questioned while alluding to the wide-spread problem. "There are rapists [in this country] from mosques to the parliament," she claimed.
Ms Shajehan who is also deputy secretary-general of the Awami Workers party (AWP), said decisions of the country would now be taken by the women.
"Change Pakistan's patriarchal society, anti-women traditions and laws," she demanded.
Tooba Syed, a WDF member, said: "Women would continue to be raped as long as they were told not to step out of their homes [as opposed to making public spaces safer]."
AWP Federal Committee member Dr Farzana Bari and other rights defenders also spoke on the occasion.
Feminist and women rights activist Tahira Abdullah lambasted the Chief Minister of Punjab's muted response saying who has appointed him.
"I demand that his performance record be made public so that the entire nation can see the real face of his protectors," she says.
Maria Malik of the AWP said women in Pakistan spent their lives in fear and when they talked about freedom, they were abused. She said rapists would continue to prowl flourish in society as long as the powerful escaped prosecution by the law.
"A child was kidnapped from the area around the prime minister's home and his body was found later. How can a leader who cannot provide justice in his surroundings ensure justice for women?" she questioned.
Women at the protest also chanted slogans and sang Faiz Ahmed Faiz's famous poetry Hum Dekheingey (We will see).
Lahore
Hundreds of people gathered at the Liberty Chowk in Lahore to demand justice for the victim of the gang rape and the removal of the Lahore police chief.
At the protest against CCPO Lahore Omar Sheikh, women from all walks of life attend, said a report in Voicepk.net. Asma Jahangir Legal Aid Cell, Women Democratic Front and Aurat March also demanded CCPO's resignation.
"How can anyone say that a woman driving with her children was enticing anyone? I think the entire blame lies with the state and the state alone," says a female protestor.
"The PTI claimed that they will transform Pakistan into a state of Madina. Maybe the victim actually believed that and thought she'd be safe because the "state" will protect her," says another angered protestor.
"Before this when women were raped men used to question their clothing. Now they have gone even one step further, blaming her for leaving the house. I think this is ridiculous behaviour," says a student present at the protest.
Meanwhile, Fauzia Viqar, former chairman of Punjab Commission for Status of Women (PCSW) said, "DPO Pakpattan was suspended merely for not giving the desired protocol to a particular family. The CCPO has insulted all women, half the population of Pakistan and yet the government chooses to stand with him," she says. "Does half the population have no value?" she asked.
"I think this problem goes way beyond the CCPO, it's the issue of every man in every institution. We need to change this mindset," explains other protestors.
"The state must be proactive in fulfilling its responsibilities of protecting the fundamental rights of each citizen. Otherwise what's the point of the "social contract" between the citizens and the state," said Abid Saqi, Chairman Pakistan Bar Council.
"The main issue is the patriarchal mindset which is compelling some people to justify the incident even now," exclaims a protestor.
Activists voiced their concerns that the CCPO's insensitive attitude may have not only jeopardized the investigation into the incident but has shaken women's faith in the police and justice system even further.
Karachi
In Karachi, the protest was organised at the Karachi Press Club where a large number of people were gathered. They chanted slogans such as "mera jism, meri marzi" (my body, my choice).
The protesters also highlighted the rape and murder of five-year-old Marwah from Essa Nagri.
They demanded swift justice for the child and for the survivors of the motorway incident. Many of the protesters also carried banners demanding action against the murderer of Shaheena Shaheen, the Baloch female journalist who was shot dead in front of her house in Turbat.
Shireen Ijaz from WAF condemned the motorway tragedy and said that the rape cannot be blamed on the woman because it was the responsibility of the state to uphold law and order to ensure safe living conditions for the citizenry.
Lawyer Asiya Munir asserted that it is not a crime for a woman to travel. Women much like men deserve the full protection of the law.
"Are women not allowed to leave their houses alone? Do we have to attach ourselves to men all the time", asked Asiya.
Artiste Ali Gul Pir told Voicepak.net that rape did not only make the women feel insecure.
"All of us feel insecure because it feels as if the government and the security agencies have failed to protect the citizenry," he said.
If the police ask you not to leave your house alone at night then it means that the state has completely failed," he quipped.
Pastor Ghazala Shafiq, of the Church of Pakistan, demanded that the perpetraters of the recent incidents of rape on Motorway and murder of Marwah must be brought to justice.
A mother was raped in front of her children, and the CCPO, blamed the victim herself. The officer has humiliated us all. I demand his immediate suspension, continued Ghazala.
Anwar Sheikh, said: "Our government and law enforcement agencies have failed miserably to protect the people. It seems as if we are living in the dark ages".
A student from Turbat said that Shaheena's murder was tantamount to the murder of Baloch art, poetry, and journalism.
"Shaheena was killed on the 5th of September but her murderers are still roaming free," he said.
Habibuddin Junaidi, President, People's Labour Bureau, Sindh, said that we have taken to the streets for the survival of our children and future generations.
Sana Zubair, a citizen, said, "We will always raise our voice against such heinous and tragic incidents."
"Little boys, girls, women, transgenders, everyone is a potential victim. We cannot allow this to continue," said Ms Zubair.
Student Malaika Khan said that the incidents of child abuse, murder, and horrific violence against women should be eliminated and the government must take immediate action.
Gilgit
Scores of protesters mostly youth and students activists and a few women held a protest outside Gilgit Press Club condemning the gang rape incident and rising violence against women.
They demanded capital punishment to the perpetrators, legislation on violence against women in GB, awareness campaign about women rights, gender balance and self-defence training to women.
The gruesome incident
On September 11, the nation reeled with news of the gang-rape of the woman in the presence of her children, off the M11 near Gujjarpura, Lahore, at about 1:30am.
The police arrested 15 people and later on claimed to have identified two culprits Abid Ali and Waqar Hasan from Rajanpur in connection with the gang-rape.
The woman had called police when she ran out of fuel but, as she waited for help, at least two men broke the windows of her car, dragged her and her two children out of the vehicle and tortured and raped her multiple times in front of her children. They then stole her jewellery, cash and credit cards.
Disgust around the case increased when Umar Sheikh, the newly appointed CCPO told media that the woman should have known better than to travel alone at night. He said no one in Pakistani society would "allow their sisters and daughters to travel alone so late" and she should have taken GT Road, which is a safer highway and made sure she had enough fuel for the journey.
The victim is a resident of France, and Sheikh said she "mistook that Pakistani society is just as safe".
His comments caused outrage, with many people citing them as yet another example of a culture of victim-blaming in cases of sexual violence in Pakistan, where women who report cases are often treated as criminals.
Shireen Mazari, the minister for human rights, said the investigator's remarks were "unacceptable", adding: "Nothing can ever rationalise the crime of rape." Women's rights activists called for Sheikh to resign.
The attack came just days after the kidnapping, rape and murder of Marwah, a five-year-old girl in Karachi.
While the government attempted to quell the public by promising that it had taken notice of the statement, human rights activists, civil society organizations, and concerned citizens took to streets and to social media when they saw no results, and expressed their disgust over the culture of victim-blaming, and demanded the immediate removal of CCPO Umar Sheikh.
The ruling PTI, which has a direct hand in Umar Sheikh's controversial appointment, denounced his callous statements, however, kept asserting that the official had already apologized even though no video of his apology was released.