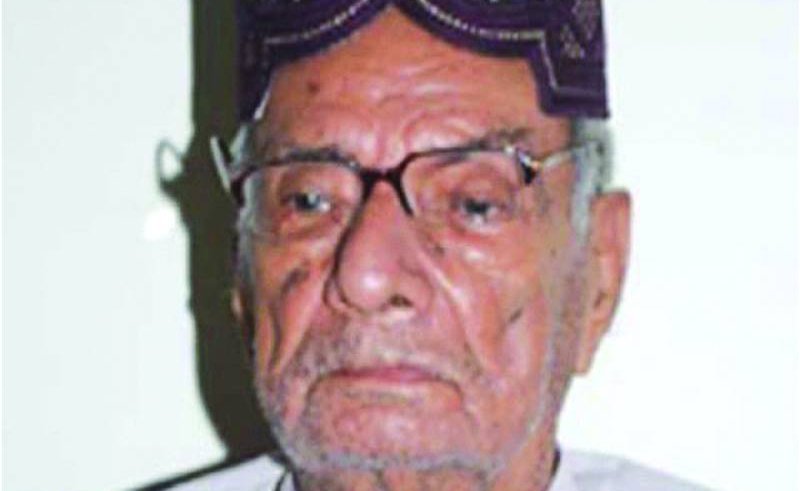 Raza Naeem remembers the iconic revolutionary from Sindh on his centenary
"This city like my skill is alive within me
Spirit of the land, I am no stranger, recognize me"
("The Second Man in Mohenjodaro", Himayat Ali Shair)
The life of Sobho Gianchandani – born a hundred years ago earlier this week – seems like a legend told by an old woman to kids at night. Full of joys, sorrows, victories and defeats, this story steeped in music is so long – but this is not important. Instead, what is important is that it is a mighty good story.
Sobho became the symbol of all that is finest in Sindh's culture and heritage. He spent his whole life for the welfare of his people. He lived as a freedom-fighter, an active worker of the labour movement, a leader struggling for human rights, a writer and a renowned hero of social reform. Undoubtedly Sobho is the tallest person in the contemporary history of Sindh. His name is at the top among the respected names of Sindh. Anti-imperialist and anti-feudal, Sobho has assumed a demigod's status in Sindh's imagination. All his life, he made knowledge accessible to the common people.
Sobho was among the very honest and senior-most communists of the Indian Subcontinent. He was born on the 3rd of May, 1920 in Bindi village near Mohenjodaro. His ancestors were actually residents of Kandiaro in Sindh. They had migrated two centuries earlier from Mohenjodaro to Bindi. In the Bindi of those days, there was the odd Hindu house, or none. There was neither a temple nor a gurdwara. Everyone respected the mosque and temple; festivals were jointly celebrated.
Sobho's ancestors arrived in Bindi and opened a grocer's shop in a hut-type room. They prospered to become rich businessmen, even lending money to the needy on interest.
'Sobho' is the short form of Sobhraj, a word which means 'victory.' His village Bindi is located at a distance of a mile from Mohenjodaro in Larkana District. Today we have a much better scientific understanding of the effects of the environment on personality. Perhaps the powerful cultural background of Mohenjodaro played a great role in Sobho's upbringing.
When Sobho would speak about Mohenjodaro, it seemed that, gradually rising from the earth of this ancient city like a deity, encircling the whole environment, he was dominating his confines; and his audience, stunned, became a part of his personality
Sobho was an upright and straightforward person – like the lanes of Mohenjodaro. He possessed a pure mind and sympathetic heart. The innocence, beauty and greatness of Mohenjodaro's fabled ancient 'Dancing Girl' figurine were a speciality of his character.
His disposition arose from this same great earth of Mohenjodaro. Like Charles de Gaulle had said for Sartre, "Sartre is France and France is Sartre", with all this if it is said that "Sobho was Mohenjodaro and Mohenjodaro was Sobho", then this claim would not be excessive. Mohenjodaro's past glory, its universal art, its pluralistic culture, its classless civilization, its majestic art of architecture, its panchayat system in which primary and primitive democratic spirit is clearly reflected – Sobho's existence is kneaded in all these healthy, positive values and qualities. Try as one might, it is not possible to separate these from him.
When Sobho would speak about Mohenjodaro, it seemed that gradually rising from the earth of this ancient city like a deity, encircling the whole environment, he was dominating his confines; and his audience, stunned, became a part of his personality.
Sobho was a shy and reserved child in his childhood. He started going to school at the age of five. There was no school for primary education in his village, so he was admitted to the Government Primary School in Baggi, a neighbouring village. This school was 1.5 – 2 miles away from his village; so he began pursuing education on foot.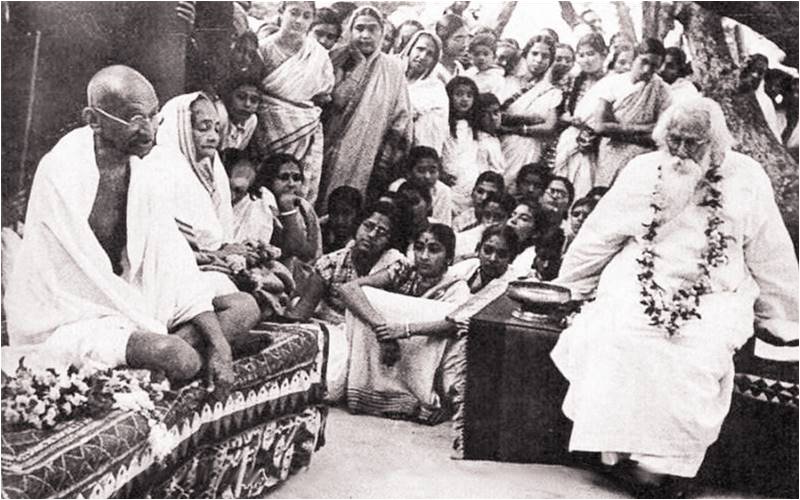 He got an education in the Sindhi language until the fifth class. He was indeed superb in Sindhi, but he also proved to be a good student of Gurmukhi. After studying in the fifth class, he went to Qambar for education. He was admitted to the A.V. School there in 1929. He received a very beautiful environment there. He loved reading. This taste for reading remained until his death; and to make others too a shareholder in this activity remained his custom all his life.
Tagore was around 80 at that time. When Sobho told him his name, Tagore remarked "Here your name will be 'Man from Mohenjodaro'"
From his school library, he read the religious and historical books of the Sikhs, memorized the stories of the Ramayana and the Mahabharata and read folk tales. He used to mention especially a magazine which probably played an important role in fixing the direction of his thought. This magazine was about Hindi society, published from Karachi. Its name was Sanatan Dharam Parchariya. This magazine was issued by Maharaj Ruchi Ram Tejuram and it wrote against the old obsolete customs and traditions of the Hindus. Sobho read it regularly.
It should be noted that Sobho's family have been adherents of Guru Nanak, the founder of Sikh religion. But they did not keep beards, etc. They merely respected all religions in imitation of Nanak. They are called 'Nanak Panthi'. According to Sobho, "a passion in the heart for being brave" developed from these things. There was little in the way of a watertight concept of Hindu or Muslim in that period. Struggle against oppression was an element within Sikhs. Such positive effects were produced in Sobho's heart by these matters and ideas since childhood that 'one has to uplift the fallen people. Remove the oppressors.' So a special kind of intellect was being prepared even from that time.
By the time he was 14, he had already finished with the eight volumes of Swami Rama Tirtha and the eight volumes of Swami Vivekananda. Following a brief and unsuccessful attempt at escaping from home to become a pundit, Sobho left Larkana for Karachi, where he followed his beloved headmaster Karam Chand Hingorani, who had been transferred to N.J.V. School. In 1937, he completed his matriculation from Bombay University. By this time, he had read Swami Rama Tirtha's In Woods of God Realization; in the last volume Swami had written that "There is no difference between socialism and Hinduism." Sobho also managed to read a book whose title was Socialism in Hinduism.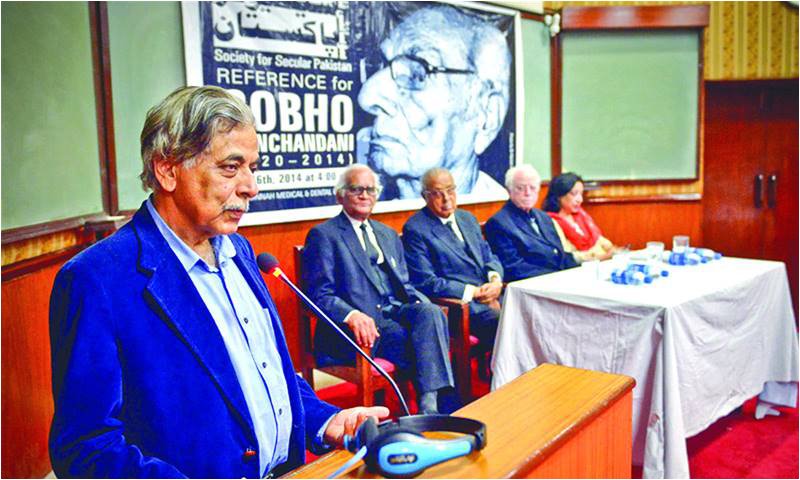 Interestingly, Sobho used to say the same thing about Prophet Muhammad (PBUH): 'The Prophet said whoever has two wives, give one a divorce, give to the immigrants from Mecca who were soldiers of 'Islamic Revolution.' It should be clear that the concept of property was indeed non-existent with the Prophet. And this should also be known that he had no property or possession.'
So Sobho's inclination was gradually turning towards socialism. He was advancing from known to unknown. It was socialism, indeed, due to which he estimated for the first time that the rich and poor classes are not part of a Divinely-ordained order, but were created long afterwards by humans.
After passing his matriculation, Sobho came to college; the name of his college was D.J. College, where he took subjects like philosophy and logic in the Department of Arts. Contrary to the career trends of the period, he wanted to be a politician or a lawyer. He was very influenced by the Congress Party, so he favoured politics. In those days, he was himself the embodiment of a junior Gandhi; dressed in khadar kameez and trousers, with a white cap on the head.
On one thing, he was not the prey of any confusion: he decisively wanted to become a student of Rabindranath Tagore.
That was a time of great tumult. There was an invasion of ideologies from everywhere. Sobho, too, could not escape this; he became aware of various ideologies, from his college days as a student of revolutionary terrorism to the time when, aged 13, someone handed him a picture of Bhagat Singh (which he used to keep in his inner pocket). At the same age too, Sobho resolved to wear only khaddar. In 1932 he participated in the anti-colonial boycott and the anti-Simon Commission movements.
When Sobho did his Intermediate in the Arts from D.J. Sindh College at the age of nineteen in 1938-39, he became fated to go to Tagore at Shantiniketan. In 1939, Sobho wrote a letter to the institution for admission. There was no response. Then he sent a telegram to the Principal: "I have a sound character. I am very good in studies. I want to come to Shantiniketan. But not so I can be asked to return. I am not prepared to pass a technical test of your entry test for admission to your institution."
The response to the telegram informed him of his admission and the fact that the approval for admission had been given by Tagore himself. Sobho was admitted without the test.
Despite great opposition from his family to his decision to go to Shantiniketan, the boy stayed put. He came to know that 23 girls and 2 boys from Larkana had taken admission at Shantiniketan in the course of dance and music. Sobho was attracted to Tagore because he had already read the poems and novels which the great man had written for children. More interesting was the fact that all of these had been translated into Sindhi even in those times.
After three months, an English study circle was created at Shantiniketan, and Sobho was made its Joint Secretary. It was at Shantiniketan that Sobho read Russian novels for the very first time.
The Principal – who was also Tagore's personal secretary – took Sobho to meet Tagore on the very first day. Tagore had said to the principal: "Call the boy from Mohenjodaro who wrote me a challenging letter to admit him without an interview."
Tagore asked Sobho as to why he had been so certain of gaining admission. Sobho replied that he was certain because "I have read all your books and I was certain that you respect talent."
Tagore was around 80 at that time. When Sobho told him his name, Tagore remarked "Here your name will be 'Man from Mohenjodaro.'" This actually became Sobho's name; the boys even teased him with this name.  (to be continued)
All translations from Urdu are by the writer's unless otherwise stated. This essay was first published in the Friday Times, Lahore.
---
Raza Naeem is a Lahore-based social scientist, book critic and award-winning translator and dramatic reader. He is also the president of the Progressive Writers Association Lahore chapter. He can be reached at: razanaeem@hotmail.com