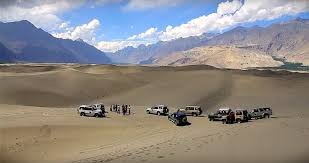 Correspondent
SKARDU, Aug 19: The first ever cold desert jeep rally started here on Saturday. Gilgit-Baltistan Legislative Assembly Speaker #Fida #Muhammad #Nashad inaugurated the event.
While addressing the guests and the participating drivers, he announced that next year the event will be organized at international level.
He said Baltistan is home to lofty peaks including K2, the world's second highest mountain, glaciers, passes, plateaus like Deosai and the cold desert like #Sarfa #Ranga which is one of the highest deserts in the world located at an altitude of 7,500 meters.
People of #Baltistan are very peace loving that's why the crime rate is lower than other areas.
He lauded #PakWheels and the #GB government for organizing the event in Baltistan.
GB's senior minister #Akbar #Taban also emphasized on the importance of peace. "We all should play our roles in the development of the country and the region.
The qualifying round fin two categories kicked off with over 100 jeep and motorcycle drivers competed.
In A category #Nadir #Megsi, #Sahibzada #Sultan #Afaq #Bahu, #Anas #Khan #Khakwani took part in 15km reece contest. In B category #Awais #Khan #Khakwani, #Tayyab #Khan #Khakwani, #Faisal #Shadi #Khel, #Asad #Shadi #Khel and #Choudhry #Bilal and others drove their jeeps in full speed on the 15km long reece.
The same drivers will compete on Sunday in the 30km rally.
Four local drivers — #Askari, #Khwaja #Akram, #Manzoor and #Sarshad — also participated in the race and qualified for the 30km rally to be held on Monday.
According to the organizers, two foreigners and many others are also participating in the final rally on Monday.
Earlier, various schoolchildren and people from #Hushey valley performed beautiful cultural dances to entertain the guests.
Later a unique and old tradition of #Zakh (raft) competition was held at #Jharba #Tso (Blind Lake) located near the rally venue.
Traditional local food competition, photography competition and gems and minerals exhibition were also held.
https://www.dawnnews.tv/news/1063304