Chhapshro, the famous dish of Hunza and Nagar. Phots by the writer
Naba Basar discovers the secrets of healthy, organic and innovative mountain cuisine from Gilgit-Baltistan and Chitral. She shares her experiences of the mountain regions adventure, hospitality, social customs, lifestyle in a series of features for The High Asia Herald readers.
---
Soups
Don't expect to find the Chinese soups you are accustomed to in cities. You may or may not find them. Stick to the famous, traditional soups. A traditional Hunza soup is made using homemade noodles. Dawdoo is a very common soup made from chicken stock and homemade noodles. You will not easily find Chicken corn soup everywhere. The best available and flavoursome options in most parts of Gilgit-Baltistan are; Qorooth xae Dawdoo which is a dried cheese soup. Qorooth is a kind of cheese here and Dawdoo soup is made using beef/chicken stock and cooked with strips of chappati. Most places use store-bought noodles now instead of homemade chapattis.
Battering-a-Dawdoo (Burushaski) or Qaq-e-Moch (Wakhi) is local soup made of dried apricot and noodle. It is often served in a wooden bowl with a wooden spoon called Khapun in Burushaski language. I enjoyed this soup at Hidden Paradise, Karimabad Hunza, which looked incredibly rich and appetizing. As expected it tasted sweet with no added sugar and bits of apricots – slightly over-whelming for my taste.
At Astore we were staying at a hotel where they served us this special soup. Astore is one of the 10 districts of Gilgit-Baltistan. The soup was made from store-bought noodles, elbow macaroni and shredded pieces of beef. It was moderately spicy in taste but a kind gesture to share something special they cooked that night.
If you happen to travel and stop at the junction of Gilgit Skardu road, you must try this special soup at Astak Nala. A clear mild soup with pieces of meat will leave you feeling warm.
The first time I had the most authentic Dawdoo was at Passu Tourist Lodge – Passu, with hand-cut noodles made from the local wheat. They use minced chicken or meat, add in a few slices of onion and season it with cumin and cilantro. The soup has a golden buttery broth and best during cold temperatures. The textured noodles are chewy with smalls bits of meat mixed within. Qorooth, dried cheese, sour in taste and rock-hard is used in Dawdoo. You have to make your taste buds more receptive to new food choices to enjoy it. This soup can be made with Wild Thyme (tumoroo) as well.
Craving soup in Kalash valley, Chitral district, this is the best they could serve us before closing down. Often you have to settle on what is available in the mountains. Yakhni is a broth made out of bones, either chicken or meat bones, sometimes with a bit of meat. Boiled for hours in the water, the boiling process draws extracts flavours and nutrition from the bones.
Main courses
A variety of food in Hunza Valley looks and feels so simple, natural and healthy. You will find a mix of lentils with potatoes and sometimes carrots, spinach, tomatoes or whole-wheat and normally served with wild thyme tea (tumoro/chumoroo). The food is not fried and there is very little oil, sometimes home-pressed apricot oil brushed lightly; contrary to what we were used to with Pakistani cuisine. The oil they use commonly for cooking purposes is home pressed apricot oil, almond oil or walnut oil.
What?!! You travelled to all the way to Hunza and never ate this?! Yeah, that is how people react when you tell them you skipped this very popular Gilgit – Baltistan cuisine. The most recognized and widely-eaten dish in the region is Chapshuro often referred to as Hunza pizza. It is made with chicken/vegetable/beef/mutton – whole wheat chappati wrapped around meat, vegetable and spices cooked and baked in an oven. You may order all-vegetarian dishes too, minus the meat and replacing it with local cheese.
Mamtu/Montu, one of Gilgit-Baltistan's famous must-eat traditional food. Mamtu in Burushaski/Montu in Wakhi (dumplings) is a steam cooked dish which is filled with chopped onion, fresh herbs, chilly, garlic and meat (lamb or beef). It is steamed for several hours in a multi-layer steamer. Mamtu was introduced in GB by Chinese in the 70s during the construction of KKH. It is served with soy sauce, vinegar, spiced red sauce or regular ketchup whichever condiment pleases your palate.
Qanda (mulberry syrup) is eaten with Khista (bread) and homemade melted butter. I can safely declare that this is so far the best thing I have feasted on, in Gulkhin and Gulmit.
White, pink, dark red or blackish mulberries are squeezed through a piece of white cloth and juiced. The juice is cooked for hours on low flame. It gets dark in colour once the natural sugar starts to caramelize. Lots of time and firewood and consuming process are needed. Therefore it is very rare to find.
Since people grow their own vegetables and it cooks easily given the altitude and woods for the fire, with or without potatoes, vegans will have no problems at all!
Daal Maash (mixed lentils) or other kinds of lentils are on the menu almost everywhere and available at all times and is generally served with roti (baked in cylindrical clay oven). (To be Continued)
---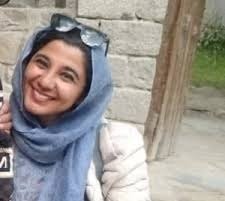 Nabar Basar is a teacher, freelance writer, author and traveller. Born and raised in Karachi, she stepped out of her comfort zone as a single parent and explored Pakistan. Her passion for nature and adventure started in 2013 with exploring mountain ranges across Gilgit-Baltistan and Chitral, travelling solo, in small groups and backpacking, in public transport, living in local homes and enjoying the simple food the mountains offer. She can be reached at: [email protected] or https://www.kitabain.com/nababasar