Anya-Kislaya-Ukraine-1-st-Feminnale-Bishkek-2019-Kapalova-archive
Feminism is not adequately perceived in Central Asian societies, writes Lolisanam Ulugova in the online magazine 'The Voices on Central Asia'. Some consider it as a threat to the existing traditions of the patriarchal foundation, when a woman (responsible for too many things in the family) can get out of control, damaging the nation in its demographic development. Some believe that women have been already quite liberated in Central Asia, and therefore their excessive demands for freedom contribute to the destabilization of the region. To better understand this, Ms Ulugova met with two feminist activists and proponents of gender equality and social justice — Zulaykho Usmanova, a researcher from Tajikistan, and Altyn Kapalova, art activist from Kyrgyzstan. She talked with them about the uprise of feminist movements in Central Asia and the role of arts in reflecting the global issue on gender equality.
---
Zulaykho Usmanova
---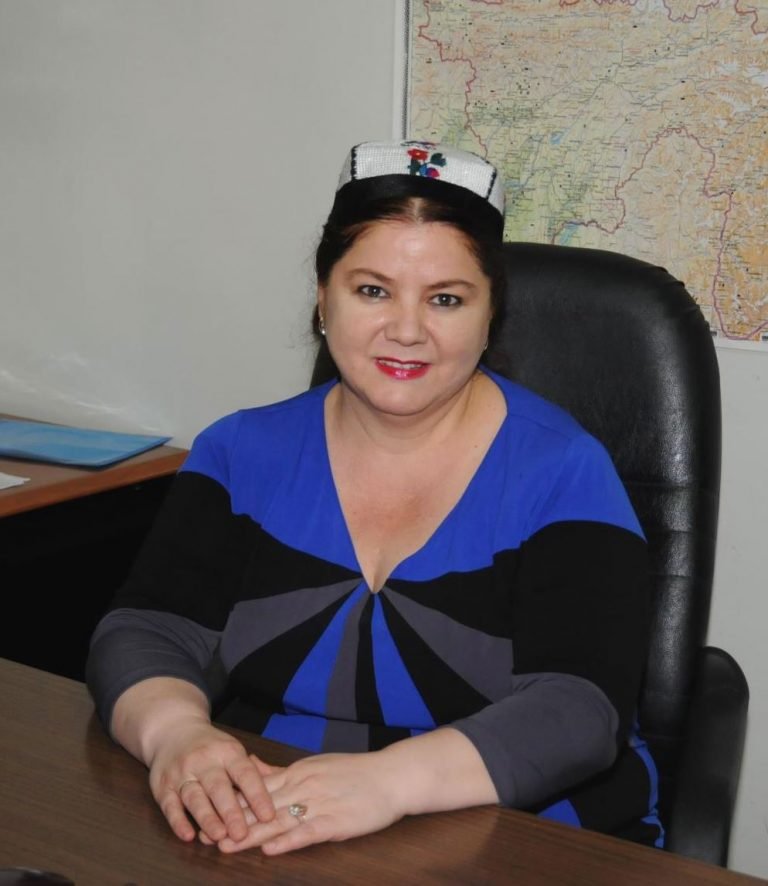 Lolisanam Ulugova (LU): What does Tajik art mean in gender terms? What is it like? Is there a big difference in the images/representations of the social roles between the Soviet period and modern Tajikistan?
Zulaykho Usmanova (ZU): In the Soviet period, women were considered as an oppressed class, and the main goal of the state was to liberate women and achieve their equality with men in all social spheres: legal, economic, social, and political. The political and civil equality of women and men was enshrined in the first Soviet Constitution of 1918; the first decrees provided women with the fullness of civil rights and freedoms and equalized them with men in the face of the law, and the decrees of TurkTSIK (the Turkistan implementing body) in 1924 set legal responsibility for polygamy and forced marriage against the will of the woman. In order to achieve the time period's goals around women's liberation, it fought traditional and religious vestiges related to the status of a woman: the retreat of a woman, early marriage, polygamy, kalym (ransom), etc.
As for arts in the Soviet period, theaters and cinematographers often raised the subject of women's emancipation and criticized traditional stereotypes and prejudices about the place and role of women.
I would especially like to note the film Zumrad, 1961 (directed by Alexander Davidson and Abdusalom Rakhimov, Tajikfilm) which conveyed a rather progressive message about a young woman who managed to get away from her violent husband, resist stereotypes and stigma, and ultimately make a professional career.
Regarding the arts of independent Tajikistan, the arts have the same agenda of reflecting a condition of building an independent national state. The president, Emomali Rahmon, pays attention to the issue of educating girls and women, expanding their rights and opportunities. However, the country's art institutions remain quite traditional and do not demonstrate topics in this regard. Perhaps I am not very aware of the new theatrical productions and films, but I do not recall seeing those that would reflect images of strong, independent, modern women.
Modern Tajik culture inherently contains the idea of ​​respecting a woman, especially a woman-mother, observing cultural norms that limit aggressive attitudes towards a woman, as well as a public demonstration of feelings. These standards require compliance with tactfulness in the sphere of marital relations. Nonetheless, the attitude towards women in society has been a rather controversial issue. This attitude strongly depends on the type of locality (rural or urban), the level of education of the individual, his/her level of engagement with the ideas of the patriarchy, and, ultimately, the level of internal freedom of the individual. To be honest, I have little hope that the adult generation (at the age of 40-45 years and older) can change old stereotypes.
As for the Tajik society's attitude toward single women, I state with bitterness that we are still far from having an equal and fair attitude towards them, regardless of their age and social status. The mandatory presence of a man (father, brother, husband, son) to be next to their women (with the purpose of controlling or monitoring) has been considered to be the norm in Tajik society and has put independent women into a lower social position. There is hope for the younger generation, which is more open to new ideas. They might create a Tajik society of the future, where women will be equal to men.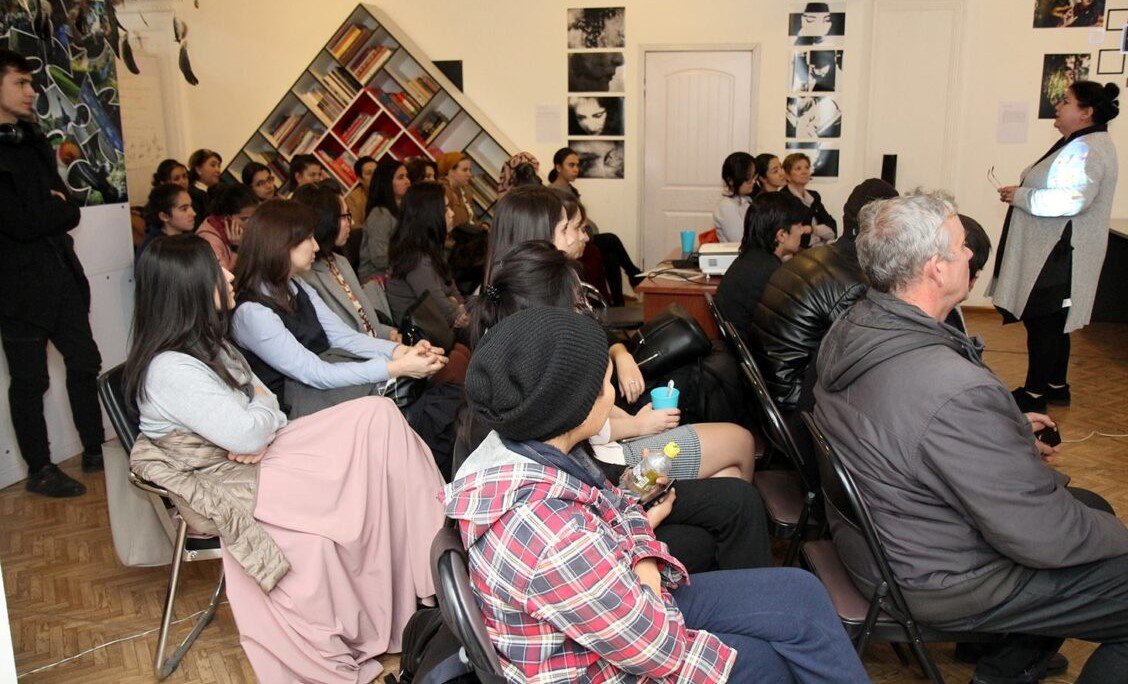 Zulaykho Usmanova at Alla Rumyantseva's arts and gender event
LU: You are part of a project created by Alla Rumyantseva, a curator from Tajikistan who has built a group of young artists and teaches them how to reflect on gender issues through contemporary art. What is important about this project, and what problems/risks exist to reflect gender issues?
ZU: I participated in Alla Rumyantseva's project as a speaker. I had a presentation devoted to gender stereotypes and their "vitality" in the public mind. The presentation was well received by the audience and caused a lengthy discussion. I consider the project important because, during the project, important issues and problems of Tajik society are addressed. But I also think such projects should run on an ongoing basis, and not tied to the temporary grants. Among the risks of the discourse that Alla Rumyantseva raises, I consider the main risk to be a hail of criticism and rejection of feminist ideas in response to the project.
Alla Rumyanseva's gender project, 2018-2020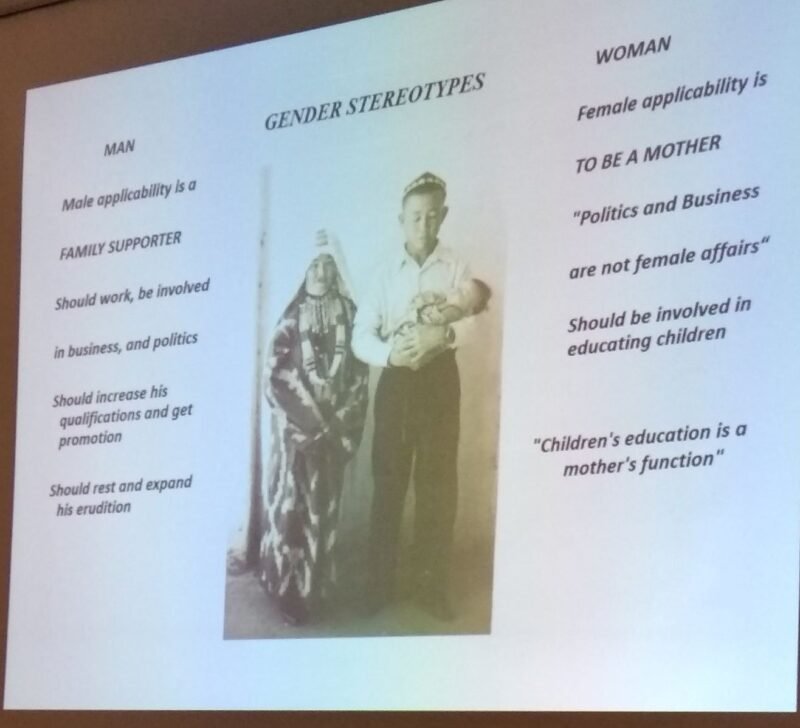 "The tragic fate of a woman is a theme that has always been in the works of artists of all times and all nations. The tragedy would often be the effect of a woman's lack of rights and freedoms, for the society has always perceived her first as the property of the parents, then of the husband. The situation of a woman in Tajik society now is largely the same as it has been since times immemorial. Like in the past, in the modern world, the Tajik woman has limited access to education, is subjected to violence both physical and psychological, and has to live in the conditions of an increasingly radicalized society, under stereotypes and high demands from society. These are all modern realities of Tajik women."
(an excerpt from a booklet of the Alla Rumyanseva's gender project, 2018-2020)
LU: Feminism in Central Asia. What are the main causes of resistance to this movement in the region? Can you comment on the latest events related to the march in Bishkek on International Women's Day and a public gathering of a group of Tajik feminists in Dushanbe? Do you see leverage on patriarchal forces in the region?
ZU: Feminism in Central Asia is just beginning to gain momentum. Unfortunately, understanding of feminism—awareness of its essence and goals—is rather weak throughout the region. The events of March 8 in Bishkek have shown this. These events also demonstrated the Russian media's high level of influence on the consciousness of Central Asian residents. Most Russian TV channels tirelessly talk about feminism in a negative way, about its "bad" effect on Russian women. This is somewhat strange, bearing in mind the 25-year-old tradition of gender studies and the women's movement in Russia. Nevertheless, a negative attitude towards feminism in one way or another affects the responsiveness of citizens of all countries in the region, makes them consider feminism an alien and harmful phenomenon, and causes them to oppose the actions of feminists.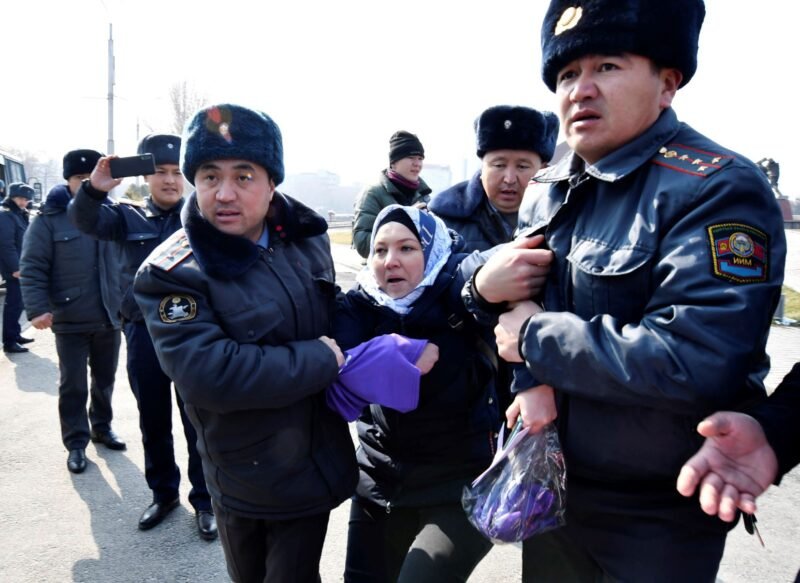 Solving this issue requires long and painstaking work at the highest level as outreach and educational work with local communities—whose members must understand that gender equality is beneficial for the community, for families, and for the country as a whole. Such work should be carried out not only by holding large, beautiful, feminine events. It is necessary to carry out active activities to educate and raise the level of gender literacy of communities. To do this, we first need to train civil society organizations and governmental bodies on how to do this, and then financially support them—but namely through the activity aspect, not events.
File photo: Masked men attack women day march camp in Bishkek, Kyrgyzstan on March 8, 2020. Reuters
LU: In this era of rapid exchange of information and the development of AI (artificial intelligence), do you think that the increased information will ultimately reduce the pressure and dominance of the patriarchy?
ZU: I think that in the distant future, our descendants will be surprised to read and learn about patriarchy. Already now you can observe a small (so far) layer of young men and women who seem to be freer from patriarchal ideas, try to resist stereotypes, indicate gender awareness, and are quite loyal to feminism. It pleases and inspires hope. I believe that the ranks of these people will increase, and society will become more democratic and friendly to women. Today's dominance of the patriarchy can be reduced by the active citizenship and solidarity of all progressive forces in society in steadily empowering women and girls and breaking stereotypes and stigma against women.
Altyn Kapalova
LU: Please tell us about yourself as a curator and an art experimenter, what does contemporary art mean to you and your most significant projects in contemporary art?
Altyn Kapalova (AK): For me, contemporary art is a tool for social changes. In my curatorial projects, I do not reflect the futility of being, poetic pathos, or the past and future. In all my curatorial projects I say, "guys, we have a social problem, here it is, we need to solve it." The feminist agenda is the most important to me. I experiment a lot, trying through art to show the problems of women.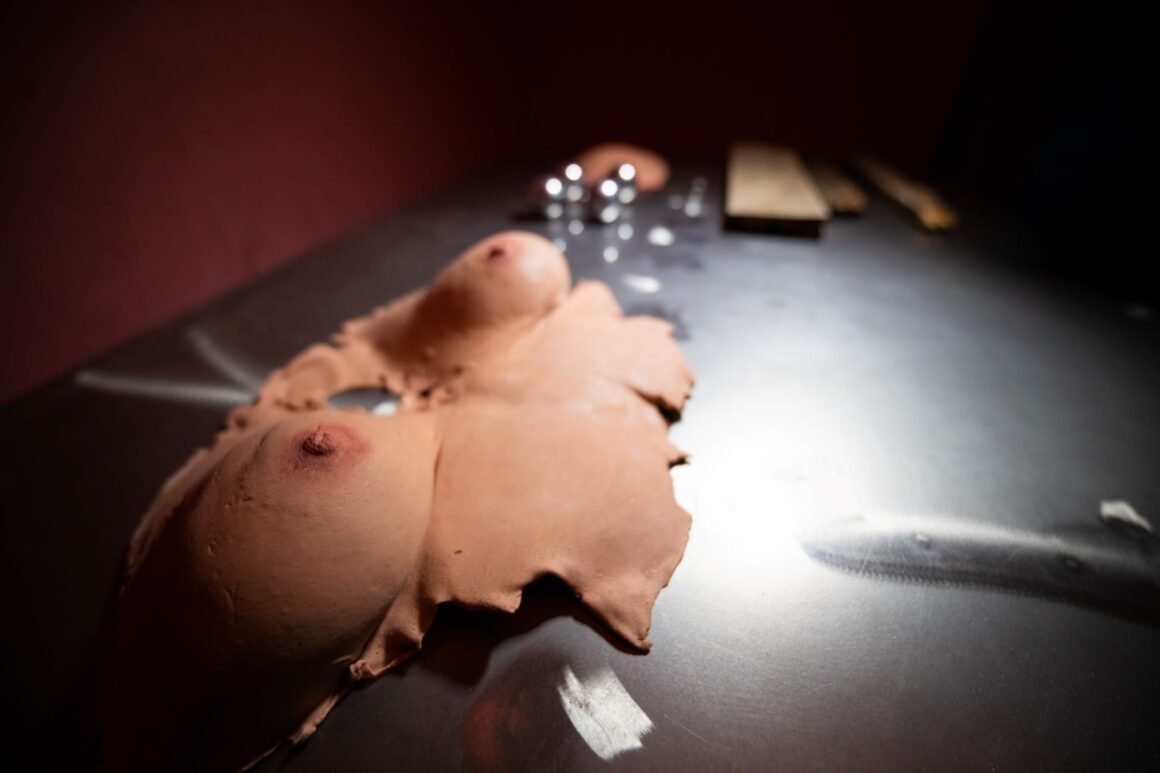 For example, I had a project when I travelled to villages and talked to rural women about contemporary art and invited them to talk about their problems and use contemporary art to help tell the story. In fact, they spoke a language that they did not know much—the language of art—but they spoke very loudly and vividly.
The project was called "A4. Village, Women, Art and Activism." These four words in Kyrgyz begin with the letter "a." Four capacious words that reveal the essence of this project: women from rural communities who express important social issues through artistic language. The local activists tried to speak the language of contemporary art, which is little known to them as I said. They touch on social issues that affect the lives of their entire community. Among such problems are the informal institute of midwives, access to drinking water, and the subjects of family violence, women's leisure, and women's participation in political life. Aside from this project, I had curatorial projects in the fields of ecology, regional division, etc.
Up to now, my most significant project is the Feminnale. It is not because of the big scandal around the Feminnale—which made us famous enough, though I paid a huge cost for it by baiting the traditionalists, etc. It is the most significant to me because of its content. This is the coolest concept of an exhibition that I have ever come up with: both the format of the exhibition and its theme. The format of the Feminism Biennale (Feminnale) is not tied to a place, it can take place in any country, in any city, and it can do so without political boundaries, without age restrictions, without discrimination on gender, sexual orientation, etc. The theme of the first Feminnale was devoted to women's economic freedom. The co-curator Zhanna Araeva suggested the word "Kormilitsa" (nurse) to name the subject of the Feminnale. We conceptualized it by trying to think about who the nurse is, the one who is breastfeeding, who has to cook for the whole family, the one who is forced to be in labour migration and to be the earner. This topic covered a wide range of subjects from the stigma of women breastfeeding to economic violence against women, which is often associated with physical violence.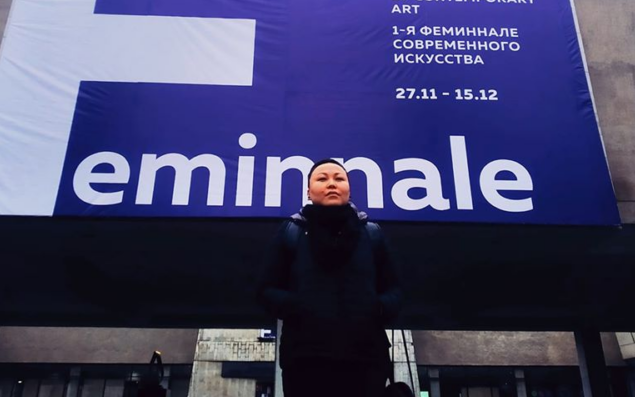 "The word Kormilitsa means both a female breadwinner and a provider in Russian. Thus, who is really that kormilitsa? A woman with milk in the ducts of her breasts? A woman who is responsible for cooking for family members (according to the assumptions of the patriarchal society)? A woman who leaves for labour migration to provide financially for a family? How much economic freedom does this woman have?"
(an excerpt from a call on the 1st Feminnale of Contemporary Art, "Kormilitsa. Economic freedom. Woman")
LU: Feminism and Central Asia – what went wrong? It seems that the liberation of women in Central Asia took place at the dawn of the birth of Soviet power, and what has changed since the independence of the Central Asian republics?
AK: It seems to me that "the liberation of the Central Asian women under the Soviet regime" is a big myth. This was the part of the Feminnale. I think it was a deal with the patriarchy. I can consider this just based on some available information on the dawn of the emergence of Soviet power. However, I know for sure about the late Soviet period. Because I lived in it, and there was no feminism at all. All my aunts ploughed in the fields worked in offices, and in factories; and in the evenings, they served all their relatives from father-in-law to the children of relatives—plus livestock, plus children, plus giving births endlessly, plus the husband, plus all the social networking of a big family and its toll on women. The time of independence has continued the exploitation of women. There is little that has changed. I am very far from romanticizing the pre-Soviet period. Yes, sometimes there were women rulers in our history stories. Rarely, but there were. But they were not because people created the conditions for an equal existence and equal opportunities.
I would rather say, "these women were not because of, but in spite of." Contrary to the foundations, contrary to the system, contrary to prohibitions.
LU: Back to the Feminnale, how you could assess its outcomes? How did the idea of the Feminnale first come to you? Its authenticity is undoubtful.
AK: In 2019, I was in Almaty at "Femagora" and met female artists from Bishkek with a very clear feminist agenda. Honestly, I did not know about their existence. I realized that they are in the shadow of "male art." I decided I needed to connect them with my counterparts on feminism in Bishkek, Kina Yusupova, Aida Musulmankulova, Zhanna Araeva, Gulyayim Aiylchy, Aigul Karabalina. They supported my idea to help them to be more visible to a wider audience. And in fact, with this small team, we have provided an exhibition in which more than 20 countries and more than 50 artists took part.
It is important to emphasize that it was a grassroots initiative. We don't have a donor or someone who has seriously supported and incurred expenses. We were supported by Kyrgyz businesses. The only organization that has signed up to this "dangerous" project was the Soros Foundation-Kyrgyzstan.
We were supported by Kyrgyz women throughout the country who had transferred amount as small as two dollars to our wall, which I admit with some trepidation. There were amounts of $100, too. The largest amount was $300. When a nurse from a hospitals transfers $2 to the Feminnale's account, that nurse essentially sacrifices two of her dinners to you. Then you understand how important this exhibition was for women. I consider it as the main achievement of the Feminnale. That is the Feminnale in reality and not the museum space where few people visit.
The Feminnale was one big challenge. From the moment of preparation to the present and afterwards. As for my works as a curator, it was very difficult initially, because of a lack of funds. I felt as though we went to unknown space where money was not enough, new rules of the game were imposed, and we were outside of market relations. I predicted that I would have to start investing my own money. Installation of the exhibition was around-the-clock because the museum gave little time for installation. The museum's activities are not designed for exhibitions of contemporary art. And plus, since we could not use the services of express mails, we mainly used the services of state postal services for low cost, which normally took a long time. We were aware that some works would arrive late, but we had tried. But the real hell happened after the opening of the exhibition. The director of the museum resigned. She and I were subjected to terrible harassment, both on social networks and on TV.
The mistreatment against me still continues, especially after my participation on the "March on 8th March" events. (Kyrgyzstan police held about 70 activists for hours on March 8, 2020, without telling us the grounds for our detention or providing access to lawyers). We came under attack at the peaceful International Women's Day march in Bishkek. A mob of men, many wearing medical masks or other face coverings, attacked us as we were beginning the march to call attention to the serious problem of violence against women in Kyrgyzstan. The masked men threw eggs at the marchers, dragged us to the ground, and destroyed our banners. When police arrived, the mob dispersed, but rather than seeking out the attackers, police forced us, the activists and march participants, to board the buses and took us to the police station. As a result of this gross detention with the use of physical strength, I had sprains on my arm and bruises on both my chest and arms.
LU: What are your prospects for the development of the feminist movement in Central Asia? What steps need to be taken to achieve equality in the distribution of social and economic benefits in Central Asia?
AK: These are very difficult questions. I have no answer for them. Until recently, I talked about what we need to start within school textbooks. I was saying that while we are trying to work with an adult audience, these terrible textbooks and horrible school education assist in preparing a new army of rapists and their victims. However, after the Feminnale and the "March on 8th March," I do not believe that anything can be changed in our countries.
---
Loli Sanam has been an art manager in Tajikistan since 2000. She has contributed to writing and producing the nation's first 3-D animation film, a short designed to promote awareness of environmental issues among children. She holds a Master's degree from the University of Turin, Italy and an undergraduate degree in Russian Language and Literature. She was a Global Cultural Fellow at the Institute for International Cultural Relations at the University of Edinburgh and participated in the Central Asian-Azerbaijan (CAAFP) fellowship program at the George Washington University at Elliott School of International Affairs for Fall 2019.