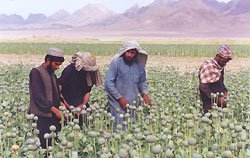 blob:https://www.rferl.org/f0105167-7ca9-4487-9108-c8abda861a2b
Afghanistan lost $1 million in international funding this year making the drive to halt heroin production in Badakhshan even more challenging
Afghanistan's security forces have stepped up their crackdown on heroin labs and poppy farms in Taliban-controlled regions of the country's northeastern Badakhshan province.
Its long border with Tajikistan makes the province one of the main heroin production hubs for Central Asia. But poppy eradication has proven difficult with local farmers relying on the crop as one of their only sources of income.
The Afghan police recently raided a village Mogholtai in the Eastern Badakhshan province unchallenged. They found a rudimentary heroin lab and destroyed it. The police detained one suspect.
"It is a very dangerous area. That's why drug cartels set up their labs here," Nesar Ahmed Jahangeer, an officer of the Badakshan police said.
With its white and purple poppy field, Afghanistan's Badakhshan province is considered one of the main hubs for heroin production in Central Asia and beyond. The province's long border with Tajikistan makes is an ideal location for smugglers.
Taliban militants and other extremists groups have profited greatly from Afghanistan's illicit heroin trade which has supported their insurgencies.
"They cultivate [opium] mostly in regions under Taliban control," says Abdullah Naji Nazari, a member of the Badakhshan Provincial Council.
Drug labs are active in areas under the control or protection of the opposition armed groups, he added.
They probably produce tons of drugs there, said Nazari.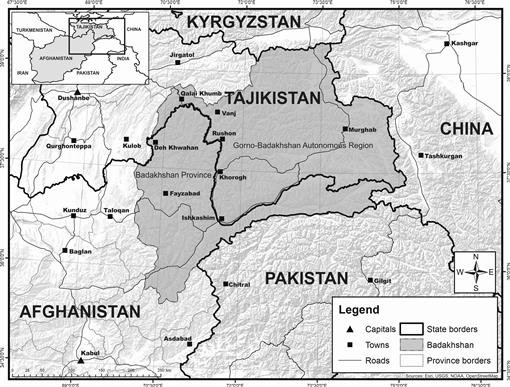 Authorities estimate that there are 2,000 hectares of poppy fields in Badakhshan's Argu district alone. Located some 75km from Faizabad, the former stronghold of the Northern Alliance, in the centre of the province, Argu has a population of 100,000. Deep within its muddy streets, its tiny bazaar surrounded by wooden stalls has become a major dealing centre and exchange point for hundreds of thousands of dollars each poppy season.
Security forces have been waging an ongoing campaign to destroy the opium trade in the province.
"Nearly 30 heroin production labs existed in areas under the control of armed opposition groups," Sanaullah Rohani, spokesperson for Badakhshan police said. About nine of them were demolished in the past year by security forces and police," he added.
Afghanistan's poppy fields are the sources for much of the world's illicit heroin supply.
The latest report from the United Nations Office on Drugs and Crime (UNODC) said that the amount of Afghan land used for poppy cultivation fell by 38 per cent in 2019.
But because of favourable weather and harvesting conditions, there was a 21 per cent rise in Afghanistan's pure opium production, according to a report of the US Office of the National Drug and Control Policy.
For Afghan farmers like Muhaidin, growing poppies is a matter of survival and one of the only ways to make money.
He would like to grow other crops like wheat but says it is much less profitable.
"We all know [poppy production] is harmful but, we do it out of necessity because we have to. Rainfall makes it grow [easily] and we can make a living out of harvesting it.
Provincial anti-narcotics officials say they have lost $1 million in international funding this year making the drive to halt heroin production in Badakhshan even more challenging.
Today Argu serves as a stark reminder of the problem among the 28 districts of Badakhshan, as well as being a major source of international concern. The people of Argu had been strictly forbidden to cultivate the crop by local clerics, who had decreed poppy cultivation to be un-Islamic.
"We know it is haram [forbidden to Muslims]. But when it is the only means of survival, you do it," the locality's 50-year-old religious consultant said.
Badakhshan is the third-largest poppy-growing area after Helmand Province in the southwest and Nangarhar in the east.
In the past, poppy cultivation had been concentrated in the districts of Keshem, Feyzabad and Jorm, but poppy cultivation had now become common throughout the province and beyond.
Also, see the video here. Additional information from RFE/RL