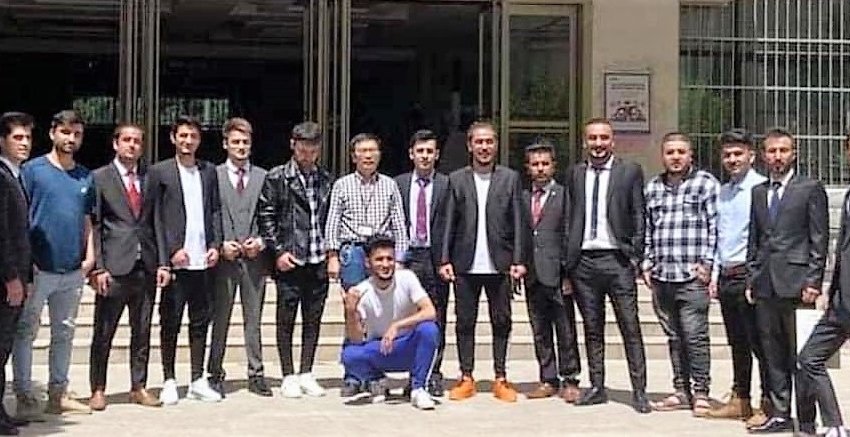 32 students hailing from Gilgit-Baltistan are waiting for repatriation for the last three months
---
Islamabad: Scores of students hailing from Gilgit-Baltistan are stranded in China due to the non-availability of flights and the closure of the Khunjerav border. They have been notified by their universities and dormitories to leave the host country by July 20.
Over 30 students are desperately waiting for flights for the last three months as their study programmes have been completed and their universities have asked them to leave the host country.
They are facing financial problems as their scholarships have also been stopped.
Some of the students in their video messages posted on social media have urged Pakistan and Chinese governments to make arrangements for their early travel to their hometowns as they are facing immense financial and psychological problems.
---
Air and overland travel between the two countries were suspended in December last year after the spread of the Coronavirus pandemic in Wuhan city of China and later in Pakistan.
Talking to The High Asia Herald, some students said their respective universities and dormitories had asked them to leave for their hometowns by July 20 after receiving their degrees.
Many of the students and their families are desperately waiting for the last two to three months to get a flight.
Two special flights were operated from Wuhan and Shanghai last month. After that, no more flights were operated to transport Pakistanis.
A PIA special flight airlifted 272 Pakistanis mostly students from Wuhan on June 5. They were stranded in Wuhan, Hubei province, adjoining areas, and other cities due to cancellations of flights and lockdowns in wake of the COVID-19 pandemic.
Two more flights were operated from Wuhan and Shanghai on May 18 and June 2 ferrying 274 and 206 Pakistani respectively.
Around 1,300 Pakistani students were studying in different universities in China's Hubei province, including 800 students in Wuhan, the epicenter of the novel coronavirus outbreak.
The students are stressed and worried about the uncertain situation.
The PIA has scheduled to operate two more flights on July 12 and 22 but there is no seat available on any flight this month, said Moix Karim, one of the stranded students. The airfare is out of reach of a student, he added.
The airfare starts from 7,000 RMB (Rs166,402) and goes up to 13,000 RMB (Rs309,042) which is quite exorbitant, he said.
The only viable option, he said, is to open the Sino-Pakistan border at Khunjerav and provide transportation for the students to travel to their region.
Most of the students went to China in 2017 and now want to return after completion of their degree programmes.
Their respective universities have notified the students that they will be given degrees by 19th July and they must leave their universities by 20th July.
Most of the hostels have also given deadlines for the students to leave.
Nooruddin and Junaid Khan also narrated their own stories.
"The students are worried as their visas are about to expire, and desperately looking for help from the relevant authorities," said Nooruddin.
Almost all the students belong to the lower middle class and studying in China on scholarships. Their scholarships have already been stopped because their educational semesters have ended, he said.
"It's really a very difficult time to manage the daily expenditures. Food is costly here," Junaid said.
We can't even work here to meet our day-to-day expenses as we do not have a working visa, he added.
They also complained about the attitude of the Pakistan embassy officials.
"They are just doing lip service that a flight will be operated but airfares are too expensive that students even do not think of buying one," he said.
The Pakistani embassy in China is just collecting information on their websites and through email E-mail.
China is mulling temporarily reopening of Khunjerav border with Pakistan to allow the movement of freight vehicles, stuck up due to the coronavirus lockdown.
This was said by Chinese Ambassador Yao Jing during a meeting with the PM's adviser on commerce and investment Razak Dawood the other day.
They discussed the opening of the Khunjerav border.
"The ambassador apprised the advisor that opening of the border temporarily is under consideration in order to clear the backlog of containers," a statement said. "Both sides agreed to finalise the modalities in this regard to resolve the issue on priority."
Around 186 containers are stuck at the Khunjrab border "which is a cause of great concern especially among small businesses".