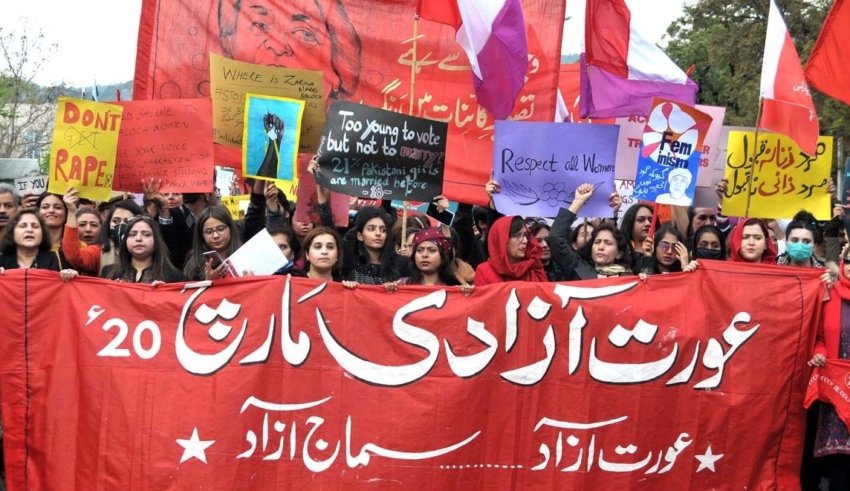 ---
By Sana Basim
---
'Men will be men' and 'my body my right'. These are the most famous slogans of our times but the connotations and perceptions behind both slogans are completely different.
Our religious leaders always have a dominant role to endorse this mindset, despite most of the child abuse cases reported by Mudrassa teachers, still, influential religious leaders normally blame women's dressing on national TV as one of the causes of natural disasters or CVOID – 19.
After reporting rape or child abuse cases, the main concern of the investigator or even layperson will be their provoking dressing, going out beyond a certain time or any other unnecessary details while completely ignoring the preparator's illegal or immoral behaviour.
The idea that 'men will be men' and they can lose their self-control anytime is widely accepted and normalized while overburdening women to be responsible for not only taking care of themselves but not waking up the beast. The common notion that 'aurat to qabar main bhi mehfooz nahi hoti' (a woman is not safe even in a grave) has been proved many times, as one of these barbaric incidents reported this year.  
Unfortunately, the story doesn't end with the religious leaders, the culture of misogyny starts from early childhood upbringing, the girl's right to education, her right to choose a career or a life partner, her restrictions or access to social media and even the very own right of her own body.
The irony of this phenomenon is that most of the time women are the main contributors to creating these differences, prioritizing a son's health or education over a daughter, for instance, or allowing the son (brother) to make irrational or conservative decisions of the daughter (sister). But since they are boys aka men, they have all the rights and authority to do so. These boys can restrict their sisters to avoid harassment, but they are allowed to do all types of harassment to other girls since they are 'boys' and it's culturally acceptable and even informally permissible.
In many countries, the media is labelled as the driver of change. They are supposed to educate and aware communities of orthodox beliefs and practices and guide them toward a more progressive mindset. However, unfortunately, our media is playing a completely opposite role. Instead of changing their mindset, they are further endorsing this through their dramas, programmes or even advertisements.
We have writers like Khalilur Rehman Qamar their famous dialogue 'do takke ki aurat' (women of two cents) wins the hearts of millions meanwhile confirming the misogynistic mindset. These writers or so-called intellectuals can easily use foul language against a woman in a live broadcast but are still appraised by many. In our culture, the sad reality is people will chant with women to hang the rapist but are not ready to dig down to understand the psychology behind this behaviour and to solve this mindset.
On the other side of the coin, is a defensive slogan of 'my body my rights' which only seeks approval from society which is already her right according to the legal and constitutional framework of every country. But even then, this choice of controlling one's own self was not granted as it's against their cultural, traditional patriarchy and beliefs. 
Unfortunately, we are living in a society, where women are blamed for being raped. Remarks like her dressing, access to social media, mobility, her ambition to seek education or motivation to have a successful career are questioned but never accepted. Every man wants to marry a well-educated or doctor woman, but her choice of practising career is again questionable.
In a conference held by the Pakistan Medical and Dental Council (PMDC), it was revealed that about 50% of women, who graduated from medical colleges, never worked.
The question here is not only about gender roles or identities, the question is about breathing space for women. The question is about allowing women to be a productive part of society and not limiting their potential as an object who needs to be protected only.
If we want to create a balance and stop this culture of rape and disempowering of women we need to teach our boys/men to respect girls/women, not as a mother, a daughter, a wife, or sister but respecting her as a 'woman'.
If we need peace and social cohesion between the two genders, we need to redefine our values and relearn to allow and limit the space of each gender and respect.
---
Sana Basim is a gender/protection specialist associated with international humanitarian organizations 
---