---
Family members, AWPGB call for polls boycott in GBLA-6 if Baba Jan and 11 other prisoners were not released
---
HUNZA: Family members of the prisoners of conscience have called for a boycott of the forthcoming elections for Gilgit-Baltistan Assembly in Hunza if Baba Jan and his 11 comrades were not released putting the mainstream parties in a catch-22 situation.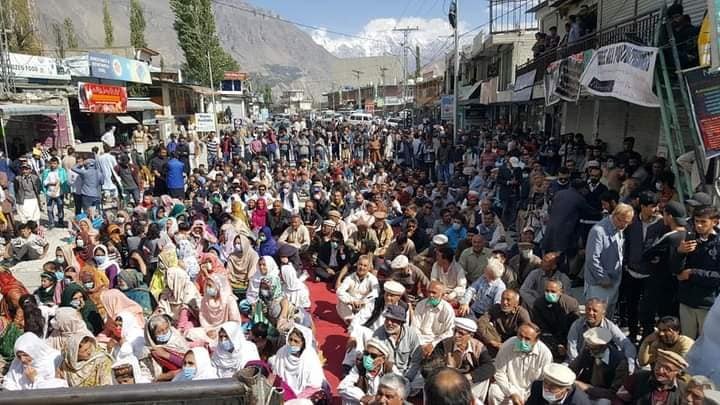 ---
Baba Jan's Awami Workers Party Gilgit-Baltistan has endorsed the demand and asked the government to release their leader and others.
The demand came after a massive protest and sit-in at Aliabad, the main commercial town of Hunza District on Monday.
They vowed to continue the sit-in till their demands including release of the prisoners are met.
---
Baba Jan, Aleem, Iftikhar Karbalai and nine others are currently serving life imprisonment at Gahkuch's Damas jail handed down by an Anti-Terrorism Court for raising voice against killing of a displaced person and his son at the sit-in venue on August 11, 2011.
The sit-in that continues till filing of this report has been organized by the Aseeran Hunza Rehayi Committee (Free Prisoners of Hunza Committee).
Leaders and activists of other political parties including Advocate Ehsan Ali, Col (retd) Ubaidllah Baig (PTI) and others also spoke on the occasion.
Shaista, daughter of Aleem Khan, also made an emotional speech in English expressing her pain and anguish on the long incarceration of her father and his comrades.
While addressing the protesters, AWP Hunza activist Asif Sakhi who is also a covering candidate for Baba Jan in GBLA-6 reiterated all-out support from his party to the family members of the prisoners.
"We have been raising our voice at all forums within and outside the country for the release of our comrades. We reassure you that we will stand with you and continue our struggle until our comrades are not released," he said.
Mr Sakhi said his party endorses the demands of Aseeran Hunza Rihayi Committee including the boycott of elections.
"These elections are not important for us than the release of our comrades," he said.
This was also echoed by Zahoor Ilahi another activist of the AWP Hunza.
They criticized the hypocrisy of mainstream political parties and some institutions whom they blamed for the imprisonment of Baba Jan, Aleem, Iftikhar Karbalai and other young political and environmental activists.
They demanded the government to make public the judicial inquiry report of the Aug 11 incident, release the prisoners of conscience and bringing to justice the police officer who reportedly shot dead Afzal Baig and his son Sher Afzal.
They also called for access to justice of the prisoners, appointment of judges to the Supreme Appellate Court (SAC) and early hearing of the review petition of Baba Jan and others against their conviction that is pending for hearing for the last three years.
Senior Advocate and socialist leader Ehsan Ali who is pleading the cases of the convicted prisoners also addressed the protesters.
He recounted the whole situation in the aftermath of Aug 11, 2011 incident in which Sher Afzal and his father Afzal Baig were shot dead by a police officer that sparked mass protests in Hunza.
The police arrested Baba Jan and 12 others, filed cases under ATA against them on fabricated charges and got them convicted through the ATC in a most questionable manner.
He regretted that during the last 10 years the people of Hunza did not raise their voice against these injustices due to fear and repressive policies of the security apparatus, especially, the inhuman treatment of police with youth.
He said that the family members of Baba Jan have been raising their voice since long and even met President Arif Alvi twice as well as former Chief Justice of Pakistan Saquib Nisar. But their cry fell on deaf ears and the police and the security agencies continued coercive tactics to suppress people's voice.
The issue of Baba Jan and his comrades has once again been in the limelight of media and social media since Sept 25 when his party ran a social media campaign on the anniversary of the conviction.
There has been a strong resentment on social media over the PTI candidate's controversial statement he made at Gulmit the other day implying that the sentence handed down to Baba Jan and others justified but a bit excessive.
There have been allegations against Col Ubaid and other religious body officials for abetment with police in implicating Baba Jan and others in false cases of sedition.