---
---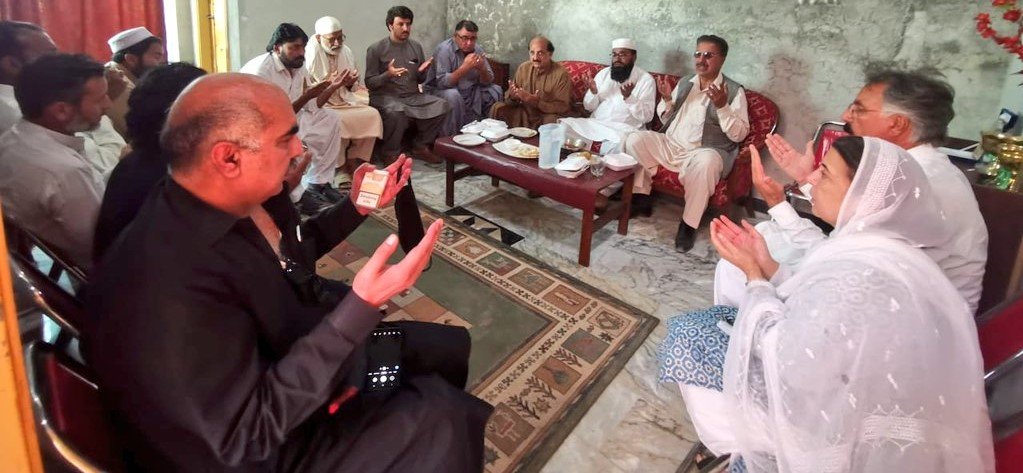 ---
A delegation of the Awami Workers Party Party led by Deputy secretary Ismat Shahjahan, Finance Secretary Shazia Khan, Federal Committee members Khalid Mahmood and Iftikhar Hussain, Khyber-Pakhtunkhwa President Akhundzada Haider Zaman, Malakand Division President Usman Gujjar, secretary Maezullah Khan, on Tuesday visited Advocate Shahab Khattak, former President of AWP KP to offer condolences and express solidarity with the bereaved family.
Leaders of National Party (NP), Mukhtar Bacha, Latif Afridi, Mazdoor Kissan Party leader Afzal Khamosh and others, Pashtun Tahaffuz Movement (PTM) leader Manzoor Pashteen, MNA Ali Wazeer, Pukhtoon Uloosi Tehreek leader Sayeed Alam Mehsud and others also visited Shahab Khattak and offered condolences to the family.
Meanwhile, AWP leadership condemns the targeted killing of Comrade Shahab Khattak's brother in a broad daylight and demands immediate arrest of the assailants and their handlers.
The AWP leadership is of the view that the growing intolerance, extremism in the country and the organised violence against vulnerable communities and segments of society with impunity as well as apathy and failure of the state are the reasons behind such despicable acts.
In their separate messages of condolences, AWP President Yousaf Mustikhan, secretary-general Akhtar Hussain, Organising secretary Javed Akhtar, Federal Committee member Dr Farzana Bari, AWP provincial presidents Ammar Rashid (Punjab), Bakhshal Thalho (Sindh), Yousuf Kakar (Balochistan), Farhat Abbas (Seraiki-Waseb), Akhun Bai (Gilgit-Baltistan), Nisar Shah (AJK), Lahore District President Zahid Pervaiz and General Secretary Liaqat Naseer, and Karachi division president Shafi Sheikh have expressed heartfelt condolences to Shahab Khattak, family members and friends.
The AWP leaders said that it's absolutely unacceptable that a progressive professor is killed in broad daylight and the state fails to act immediately.
We demand that the murderers are brought to justice immediately and the family's security and safety must be ensured by the state.
Pakistan Trade Union Federation also condemned the targeted killing of Prof Naeem-ud-din Khattak PTUF President Nusrat Bashir Zafar condemned the targeted killing of a renowned academic. They said that the state has let loose the extremists who are targeting those who resist state repression