By Farman Ali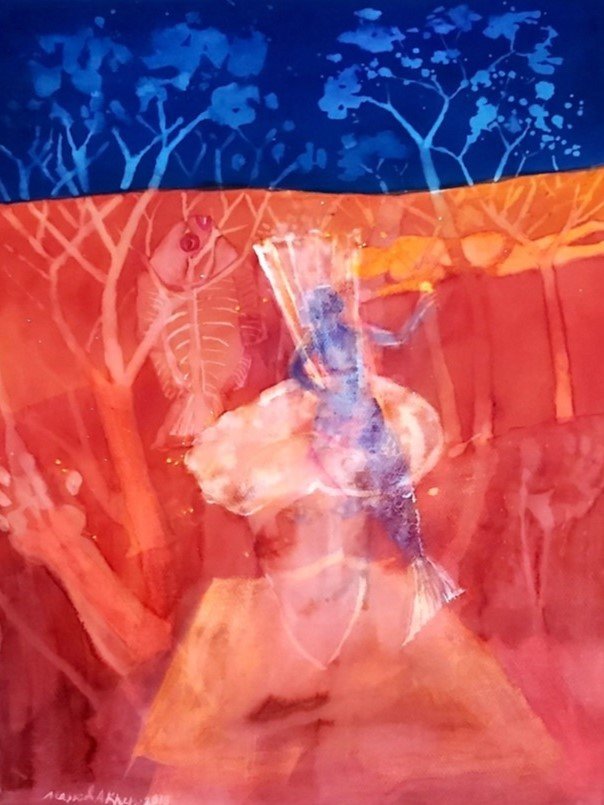 Islamabad: An exhibition of artworks coupled with live mural painting, poetry recitation, dance and mime performances at Nomad Gallery last Sunday, brilliantly highlighted the increasingly pervasive sexual misconduct, harassment, derogatory remarks, abuse and violence faced by women at workplaces, homes, public places, and on campuses across the country.
The paintings not only show the social menace but also depict the resilience of women, dreams and optimism.
The event "Covid-19: women empowerment and way forward" was organised by Shanaakht Trust as part of the 16 Days of Activism campaign against gender-based violence.
Nageen Hyatt, director of the gallery and Shanaakhat Trust, said people must be educated about this social menace as cases of violence against women and girls had increased by 25pc following the outbreak of Coronavirus.
Nomad Gallery has been closed since the pandemic but it has been organising activities including pop-up shows online and on social media to support artisans and artists, Ms Hyatt said, adding that this event was organised by the gallery after a six-month break.
Talking about violence against women, she said although the Constitution of Pakistan guarantees equal rights to all citizens, sadly, rights of women, children and vulnerable and marginalized segments of society are violated with impunity.
Senior and budding artists have put on canvas these issues skillfully.
The unique collaborative works produced under the 'You Are Served' series by Aimon (Saima Salahuddin) and Farah Mahmood have done in miniature on photography also depict the domestic violence, anxiety and resilience of women.
"People fascinate me, in my work. I always try to peel off layers and taking off masks," photographer Aimon states in her comments, adding "everyone has stories to tell, but some stories are harder to tell".
About domestic violence, Aimon says, "what really goes on behind doors: muted screams, hidden scars, camouflaged bruises, and shattered dreams, and broken spirits, she comments on the domestic violence. One wonders, who are these victims of abuse, how much of themselves have they lost, or have they ceased to exist altogether", she questions from the society.
She portrays the feelings of suffocation, agony, fear, pain and helplessness of the victim of domestic violence by recreating some acts of violence through photographs.
However, she didn't want to just show the dark images and depressing situation. Hence she decided to collaborate with Farah Mahmood, a brilliant miniature artist who, according to Aimon, has the skills to bring out the meaning, and the feeling of a photo better with her strokes on canvas.
Farah uses symbols like the lotus flower, which represents the purity of a woman in her work and the rebirth, self-regeneration in many Eastern religions, says Aimon, adding "Farah's work conveys the message through symbols, colours and connections as she believes feelings and emotions are physical boundaries which are interconnected, and we can just pull a single one from it".
She brings hope for women and asks them to be brave, to find their path, to believe and to start again with more confidence and faith, Ms Aimon said.
Her work also represents the social pressure which has been created to control a women's voice at all levels. The unsafe women of our society are truly looking for the protection and security in this time whether she's a daughter, mother wife or a grandmother.
"During these trying times, where women are bound in unsafe homes, one can only hope that they will be able to endure and come out of this much stronger, to stand on their feet, and be free to live with dignity and respect," commented Aimon
Farah also demonstrated live painting.
Short-story writer and painter Samia Aslam's two paintings with roses and birds in mixed media on paper depict anxiety and hope amid pandemic.
"The art and artists must survive and give hope and smile to the people who are compelled to live in a stressful and suffocated environment facing socio-economic strains, depression and anxiety," commented Sania.
She also shared her own experiences and said how women faced tremendous pressure and anxiety during the lockdown. "A woman has her own space and world at home which she does not want to share with others," she said.
Senior artist Masood A Khan's painting in red and blue vibrant colour is experimental focusing on woman as centre of life, juxtaposed with a hypocritical, patriarchal society. His style of imagery using layers of translucent acrylic paint shows his mastery of the medium.
Abrar Ahmed's paintings represent suffocated environments faced by working women and housewives.
Accessories worn by the two women in one of his works symbolise their lifestyle. However, the environment they are surrounded by is the exact opposite; the use of bright colours show the painter's hope and positivity.
In another painting, a woman accompanied by pets and raging bull gives juxtapose environment and feelings. The calm expressions on their faces with faith in their eyes for returning back to normal is quite visible. The bright colour palette also brings some hope and positivity.
Ahmed Habib's paintings 'Isolation' and 'Stay Connected in the Dark Era' show the effects of social distancing on relationships based on one of his poems Waba Ke Din.
Senior artist Samina Ali Akhtar's four giant paintings in mixed media in traditional miniature style shows Samina paintings in mix media depicts women's role as classical dancers and singers in the Mughal emperor's court.
Calligrapher Riffat Khattak in his four paintings in mixed medium has portrayed moods of the pandemic with yellow flowers of amaltas trees, figures with facemasks symbolising suffocation and calligraphy.
Sumera Jawad's 'Unsaid' in oil on canvas and Masood A. Khan's translucent painting in ink on paper also portray complex human feelings and societal contradictions.
Samreen Asif's amazing paintings 'Kash' in transparent watercolours, 'Saaien-I and II' in transparent and opaque on a sheet based on one of Mohsin Navi's famous poem with dramatic colours and romantic atmosphere in the shape of birds and figures highlight women with the eternal hope of freedom from patriarchy.
Abass Shah's paintings 'Bala Khaana' and 'Rejection' in oil on canvas depict the exploitation, humiliation and miseries of women of the red light area.
Zia Zaidi's paintings in mixed media acrylic and Syed A. Irfan's paintings in gouache tea wash and gold on wasli also exquisitely show social issues.
In the poetry recitation session, Michele Galopin, vice-president of Asian Study Group read a poem of Harris Khalique and two poems from a book The Voices of Women from Afghanistan and Iran.
Adnan Haider, a faculty member of the National College of Arts performed a Pashtu tune and Faiz's poem on rubab.
Samia Aslam sang Nayara Noor's song and presented a short story Sakoon (Tranquility) depicting strains in relationships during the lockdown, sharing her own experiences.
Ahmed Habib read one of his short stories Barf ke Paikar about an emotionless relationship.
Noted classical dancer Khandzada Asfandyar Khattak presented a kathak dance and a classical dance on teen taal. The verse manjeera and choreography was done by Indu Mitha.
Sohaina Elia, an assistant professor at Fatima Jinnah Women University and daughter of noted poet John Elia read Fehmida Riaz's poem.
Sadia Bukhari, a journalist and human rights activist, presented two poems of George Gordon Byron "She Walks in Beauty" dedicating it to Asma Jahangir (late) one of the bravest women and defender of the voiceless as well as Nomad for promoting women rights highlighting social issues and spreading happiness, love and optimism.
A new book A Beautiful Despair — Art and Life of Meher Afroz was also launched. The book is a collection of texts on Meher Afroz, one of the most significant artists of Pakistan. It is conceptualized and edited by Nilofur Farrukh, an eminent art critic and curator.
Nomad is one of the oldest galleries of the capital. Since its establishment in 1984, it has been promoting arts, culture, human rights and peace through a variety of activities including exhibitions, discussions, dance and music performances, making and screening of documentaries, crafts and vocational training to marginalised communities and workshops providing space to national and international artists.
Shanaakht Trust, a flagship of Nomad, was set up in 2014 for the promotion of arts, culture and crafts through peace initiatives, activism about women and minorities rights and peace.
The exhibits will remain on display till January 5, 2021.