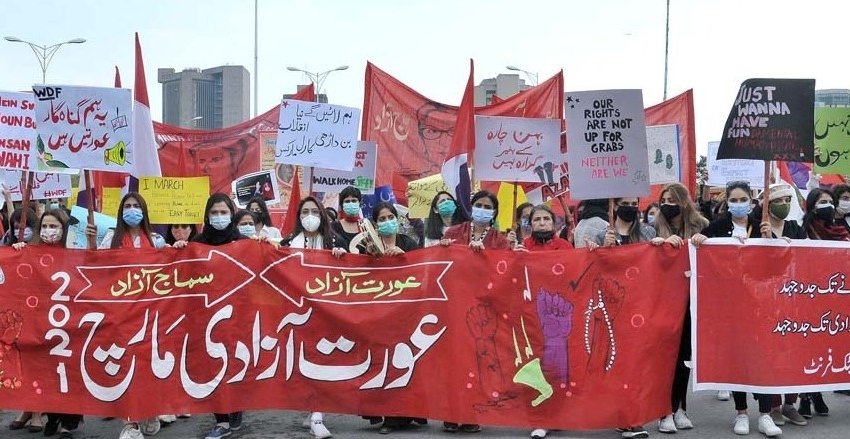 ---
High Asia Herald Report
---
Journalists, politicians, academics, intellectuals and rights activists have expressed solidarity with the organisers of the Aurat Azadi March (AAM) and have condemned the smear campaign by obscurantist rightwing groups and trolls.
The Aurat March was held in several cities of Pakistan to commemorate International Women's Day on 8th March.
A joint statement signed by over 1,000 leading personalities from all walks of life has condemned the concoction of facts to incite violence against the women leaders and unjustly implicating them in false cases by committing themselves blasphemy.
Also read: https://www.dawn.com/news/1612466/vile-campaign
"Instead of protesting and fighting harassment, rape and killing of women and children, the religious right has been shamelessly blaming women activists on concocted charges and doctored evidence," the statement read.
"In fact, these are the very elements who use cooked up charges of blasphemy and, thus, commit blasphemy themselves."

They called upon all the democratic and progressive forces and conscientious citizens to stand up with the feminist movement fighting against the injustices, crimes, sexual harassment and all kinds of discrimination against women.

Also read: https://awamiworkersparty.org/ppp-concerned-at-social-media-campaign-against-women-march-organisers/
The signatories who have endorsed the statement included: Abid Hassan Minto, Yousuf Mustikhan, Dr Farzana Bari (AWP), Aftab Sherpao, Nafeesa Shah and Farhatullah Babar (PPP), Pervaiz Rasheed (PML-N), Dr Abdul Malik (NP), PFUJ President Shahzada Zulfiqar, and General Secretary Nasir Zaidi, veteran journalists M. Ziauddin, I. A Rehman, Najam Sethi, Talat Hussain, Muhammad Ali Siddiqui, Talat Aslam, Ghazi Salahuddin, Hussain Naqi, Dr Jabbar Khattak, Asha'ar Rehman, Ayaz Khan, Rana Jawad, Talat Aslam, leading anchorpersons Mobashir Zaidi, Hamid Mir, Raza Rumi, Murtaza Solangi, Dr Nazir Mahmood.
Prominent lawyers including Akhtar Hussain Advocate, Supreme Court Bar Association general secretary Rana Shehzad, Hamid Khan Advocate, HRCP chairperson Hina Jeelani, SCBA President Latif Afridi, Abid Saqi, and hundreds of civil society activist hundreds of women rights activists, including Dr Robina Sehgal, Saleema Hashmi, Sheema Kirmani, Nighat Saeed Khan have also expressed solidarity with the AAM organisers.
Dawn, the most reputed and widely circulated English daily in a strong-worded editorial also condemned the malicious campaign against AAM organisers.
Using a doctored video as part of a malicious disinformation campaign, hatred of the most visceral kind has been deliberately stoked against organisers of the Aurat March, which was held on March 8 — International Women's Day — in several cities in Pakistan.
"Shamefully, a number of journalists and political commentators — among them some habitual offenders — fuelled the controversy. Accusations of blasphemy are being levelled, often a chilling precursor to religiously inspired violence in this country.
"Sure enough, right-wing groups held angry demonstrations on Friday threatening vigilante action. Even the banned TTP purportedly issued a statement to that effect," says the paper.