Sporadic shooting continued throughout the day on April 30 on the border of Kyrgyzstan and Tajikistan as a clearer picture emerged of the destruction wrought by the worst battle the two Central Asian states have fought since gaining independence.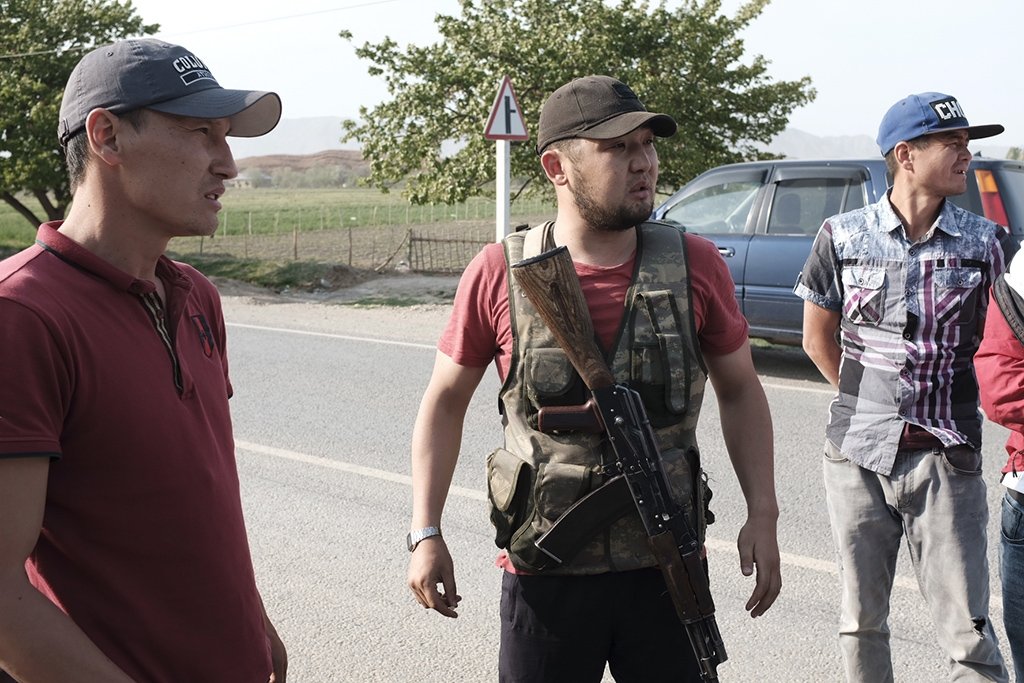 At least 31 people have died in the previous day's unrest, including three military personnel and a young girl, said a report in Eurasianet, an independent news organization, quoting Kyrgyz health ministry officials. Many dozens were injured and at least 11,500 evacuated from their homes.
A tally of destruction listed by the country's Emergency Situations Ministry illustrated how unrest had spread widely from its initial flashpoint, around a water sluice on the road between the Tajik mainland and its Vorukh exclave.
Ten homes were burned to the ground in the village of Maksat, more than 70 kilometers west of where the initial fighting broke out. Unverified video footage circulating on messaging apps showed jubilant Tajik men cheering as houses there blazed. Another two homes were set alight in the nearby village of Kulundu.
Other buildings singled out for destruction across the Batken and Leilek districts include shops, restaurants, gas stations and at least one school.
Ruslan Gazybekov, 80, a resident of the Kyrgyz village of Kok-Tash, which lies right along the boundary with Tajikistan, said he was evacuated from his home at around 3 a.m on April 29. It was around that time that the shooting started, he said.
"They brought me here together with my brother and three daughters-in-law," he said. The owner of the hotel in the town of Batken where Gazybekov has been given refuge has made room for more than 100 people to lay down their heads.
"I've left my cattle behind and there is nobody to feed them. And I can't go back. The road is blocked," Gazybekov told Eurasianet.
The toll on the Tajik side is harder to ascertain as officials and state media have largely refrained from commenting on events. Independent news website Asia-Plus has cited sources as saying up to 10 people were killed. RFE/RL's Tajik service, Radio Ozodi, managed to track down the names of at least eight of the people who lost their lives.
RFE/RL reporter Farangis Najibullah wrote on Twitter that officials in areas near the border have actively impeded her colleagues' efforts to cover developments.
"Chorkuh village head locked up our reporter in his office for several hours this morning when he asked for interview. Demanded him to delete videos," Najibullah wrote.
Asia-Plus reported that families in near-border communities on the Tajik side have also been evacuated. The newspaper cited unnamed officials as saying no mass evacuation had been undertaken, but that some people had been relocated to remove them from harm's way.
Security and diplomatic officials have been busily engaged in dialogue to bring a close to the crisis, although it is unclear how successfully those signals are getting to communities where the anger is still white-hot.
On April 30, the head the Kyrgyzstan security services, Kamchybek Tashiyev, met with his Tajik counterpart, Saymumin Yatimov.
"God willing, everything will be fine. We will sort things out. By today evening, the situation will be fully settled," Tashiyev told Kyrgyz news website Turmush.
There has been a flurry of such ostensibly conciliatory dialogue over the past 24 hours. The prime ministers of the two countries spoke during a summit in the Russian city of Kazan. Security officials issued a joint statement overnight talking about plans to create conditions for stabilization of the situation. The foreign ministers also spoke.
On April 29, Kyrgyz President Sadyr Japarov issued a spirited appeal to pursue a peaceful solution.
"We and our Tajik brothers have always managed to find a common language, and we can resolve all our problems only if we respect and consider neighborly interests and harmony in our ancient land," he wrote on his Facebook account.
There are indications that officials may be seeking to defuse nerves in other ways too.
The Kyrgyz General Prosecutor's Office released a statement in the evening of April 29 saying that it intended to pursue a criminal case against Tajik servicemen for what it described as "a pre-planned provocation and act of aggression intended to undermine the sovereignty and integrity of the Kyrgyz Republic." That statement has since disappeared from the prosecutor's website.
The president of Uzbekistan, whose own border lies not far from the focal points of the unrest, has also intervened, telephoning his Kyrgyz and Tajik counterparts, Sadyr Japarov and Emomali Rahmon.
While Kyrgyz authorities appear engaged in active efforts to calm moods, the Tajik authorities have adopted a more passive position.
Officials have made few appeals to the public and Rahmon has barely acknowledged the fact of the unrest at all. Meanwhile, incendiary messages, including some showing groups of men bearing arms, and calls to arms are circulating freely on Tajik social media space and messaging apps.
Even state-aligned platforms have engaged in the jingoism. A post published late on April 29 on the Facebook page of the official newspaper of Mastchoh, a district in northern Tajikistan, included explicit appeals to violence.
"Today the patience of the people has reached its limits," the newspaper cited the head of the Mastchoh district, Tohir Azizzoda, as saying. "The indignities committed by our neighbors have crossed all boundaries. It is not any longer possible to hold the people back. They are waiting for the order. Believe me, one order is enough for the whole population to head to the border and lay down their lives to defend their land."
Similar appeals have been made across the country. Saif Dostiyev, a journalist from the city of Kulob, which is in southern Tajikistan, wrote on his Facebook page that he has rallied 250 people and was ready to head to the Vorukh exclave. In the comments under the post, fellow journalists express similar sentiments, saying only that they are waiting for a gun and instructions.
A Telegram channel called Vorukh TV has been especially active in sharing images and videos of violence and proclaiming victory over Kyrgyzstan.
With Rahmon ignoring events, it has fallen to the governor of the northern Sughd region, Rajaboy Ahmadzoda, to soothe moods.
"The head of the region called on the residents of border areas not to give in to provocations and to contain their emotions," his office said at the end of a statement published on April 30.
Kamila Ibragimova is the pseudonym for a journalist in Tajikistan. Ayzirek Imanaliyeva is a journalist based in Bishkek.