HAH Special Correspondent
Islamabad: Shehroze Kashif has become the first youngest Pakistani climber and the fourth in the world to summit Mount Everest, the tallest peak of the world.
According to media reports the 19 years old climber put his foot on the top of the 8849-meters high peak at 5:02am on Tuesday (11 May 2021) as a part of SST Expedition 2021.
He embarked on his expedition and left for Nepal on March 22, 2021.
After reaching Kathmandu, he travelled by helicopter to Tengboche which is at 3,865m altitude and an important Buddhist monastery, perhaps, the biggest religious place in the Khumbu region.
He met a 20-member Bahrain royal guards' team, led by Prince Mohamed Hamad Mohamed al-Khalifa to attempt Everest. They were inspired by his achievement and courage to attempt Everest at such a young age.
On April 7 Shehroze Kashif reached Lobuche campsite. He further went up to Gorak Shep at 5,158m, which is a small village covered with sand.
"I had lunch and left for Everest basecamp which is just a 3 hours trek from here. My Sherpas are at camp 2 fixing ropes hopefully will see them tomorrow. I can see my dream, my target in front of me and now my focus is to setup basecamp properly, make arrangements and prepare for the climb," he wrote on his Facebook page.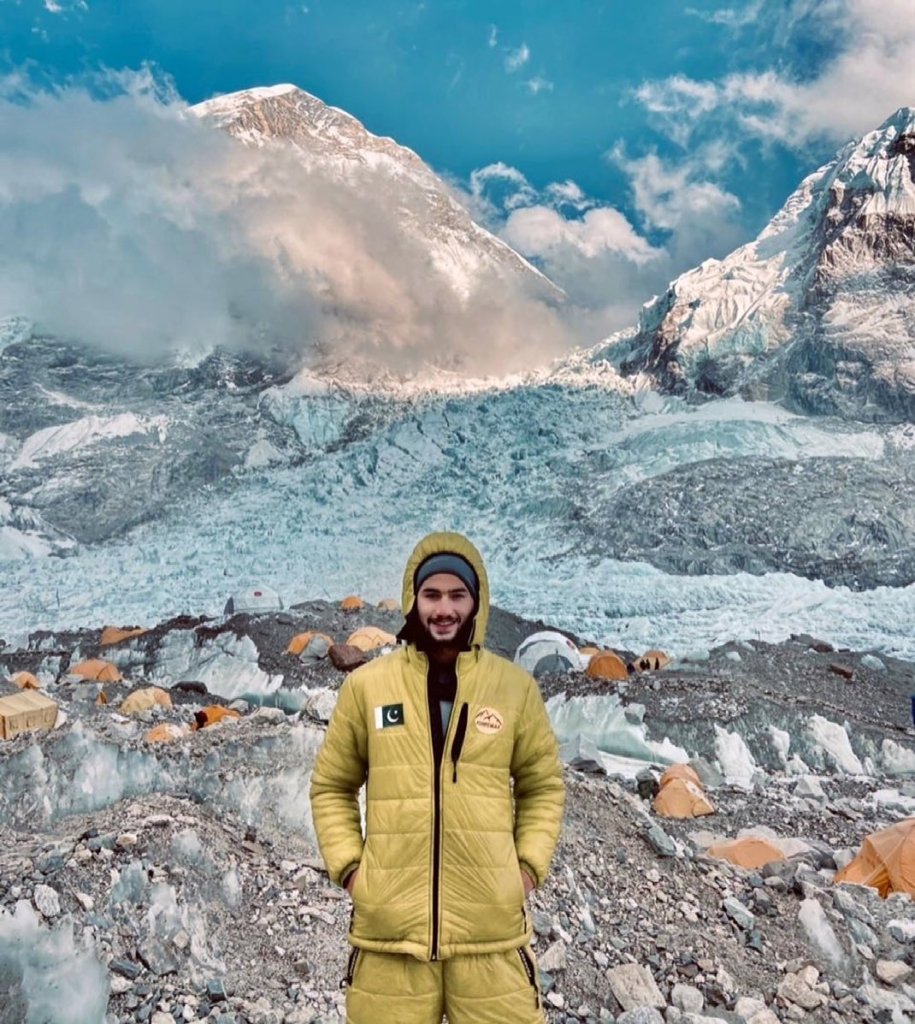 On April 8 Shehroze had established basecamp. He was the first member of any team to reach at basecamp with a guide.
Shehroze spent the first night at Camp 1 and the second night at Camp 2. On the third day, he descended all the way from Camp 2 to Everest base camp after seven hours of continuous descend. He was one of the earliest ones to reach back after completing the second rotation.

On April 28 he posted on his Facebook page. "Ah! It's been a whole month since I've been away from my dear city. If I'm here today it's all because of you guys, your prayers. I feel blessed that God has given me such opportunity to be here today. But God knows how much I miss my dear city, my home, my family and friends. I regret taking all those Ramadan at home for granted, eating mama kay hath ki rotis. Miss it so much. Probably won't be able to celebrate Eid with them as well makes me so sad but then somehow encourages me too to complete this goal soon as possible to go to my home sweet home."
Hailing from Lahore, Shehroze started climbing in 2017 at the age of 11 with his debut expedition to Makra Peak (3885m) in the Hazara region's Mansehra District in the Himalayas. Next year on turning 12, his passion took him to the Chembra Peak (4,600m) a mountain in the state of Kerala, India, and Musa Ka Massalah (4080m), a peak standing at an altitude of about 4,100 meters high at the junction of Siran and Kaghan Valleys.
There was no looking back. At the age of 13, he conquered Mingleegh Sar (6050m) in Shimshal Valley of Hunza District.
Next year when he was 14 years old, he trekked up to K2 Gondogoro La K2 Base Camp (5585m) in Baltistan Division in the Himalayas.
He trekked up to Khurdopin Pass (5890m) in Shimshal when he was 15 years old.
His passion took him to the next level of 8000ers.
His expedition to the Broad Peak (8047m) earned him the title of "The Broad Boy" when he was only 17 years old. He scaled Kusar Gang (6050m) in Alpine style when he was 18 and finally, he fulfilled his dream by conquering Mount Everest (8849m) at the age of 19.
—Additional information and photographs are taken from Shehroze Kashif's Facebook page.