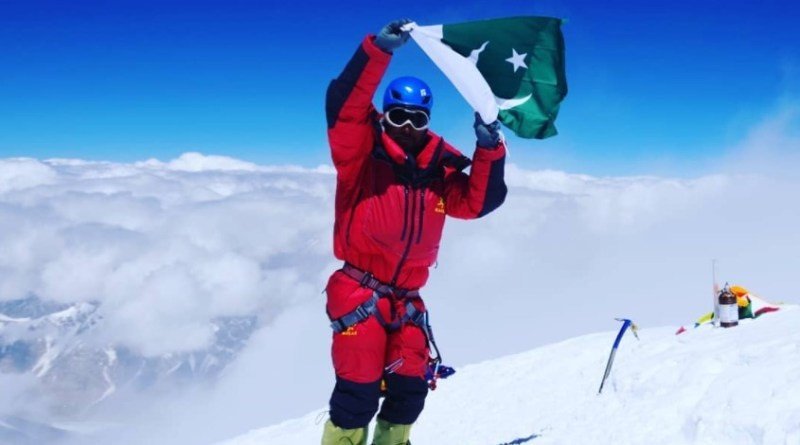 High Asia Herald Special
Islamabad: Sirbaz Khan, a young mountaineer from Gilgit-Baltistan had another notch on his belt in 26 days by reaching the summit of Mount Everest on Wednesday morning.
The 32 years old is the first mountaineer from GB and Pakistan to achieve the feat.
"This is Sirbaz Khan's 7×8000m Mountain. Sirbaz has summited 2×8000m peaks in the last 26 days. Now we pray that our hero returns back to basecamp safe and sound," a statement posted by Sirbaz's media team on his official Instagram page said.
With the latest achievement, Sirbaz has now conquered seven 8000ers in his treacherous journey to fulfil his dream of putting his foot on the top of the 14 tallest peaks of the world.
"On four of his 8,000m peaks expeditions, he had accompanied Muhammad Ali Sadpara (late). Their last expedition together was to Manaslu. He is aiming to become the first Pakistani to climb all 14 8000ers," it added.
On April 16, Sirbaz along with Muhammad Abdul Joshi, who also hails from Hunza's Shimshal valley, became the first Pakistanis to summit Annapurna (8,091m) and dedicated the achievement to the memory of late Muhammad Ali Sadpara who went missing on February 4 during winter K2 expedition with Icelandic climber John Snorri.
In his Instagram post, he wrote: "I congratulate my brother Abdul Joshi and also thank him for all the support that he gave me throughout this expedition. He is an incredibly skilled mountaineer and it was an absolute pleasure to partner up with him."
"We have decided to dedicate this great success to the whole mountaineering community of Pakistan and especially to our big brother Muhammad Ali Sadpara. Ali bhai you'll stay alive in our hearts forever."
In 2019, Sirbaz became the first Pakistani to summit Mount Lhotse, the world's fourth-highest mountain (8,516m) in Nepal without the use of supplementary oxygen. His other 8,000m successes include K2, the second tallest peak in the world, Nanga Parbat, Broad Peak in Gilgit-Baltistan and Manaslu in Nepal.
Inspired by Nazir Sabir, and Ashraf Aman, the first Pakistanis to climb the Everest, and K2, respectively, Sirbaz began his professional climbing career in 2016. He is described as an extremely talented and focused climber.
Nazir Sabir extended congratulations to Sirbaz and Shehroze Kashif, the youngest Pakistani climber who reached the summit of Everest on Tuesday (May 11) for their unprecedented achievement.
The success of these young climbers and the recent interest in climbing bodes well for the country's mountaineering, he added.
Khan and Kashif's successful summit attempts come at a time when international climbing teams in Nepal are facing strong criticism. The country is grappling with the second wave of Covid-19, with many climbers at the Everest base camp testing positive for the virus.
In a post on his Instagram page on May 11, Khan explained his decision for rescheduling his summit attempt.
Everest was definitely in my plans but I had planned to come between 5 and 10th May. However, due to the current situation (with regard to Covid) in both Pakistan and Nepal, I had to alter my plans and could only spend 1 night in my home with my family… I have arrived at Everest basecamp and feel good and ready to represent the unsung and underprivileged Pakistani mountaineering community on the highest peak in the world, the post read.
14 tallest peaks
The five of the 14 tallest peaks above 8,000 meters in the world are located in Gilgit-Baltistan, and the Himalayas and Karakorum mountain ranges. The rest are in Nepal, and China.
Climbers enter the 'death zone' (above 8,000m the pressure of oxygen is insufficient to sustain human life for an extended time span) to reach the summit of these 8,000ers, writes Sumera Jajja in Dawn.
In 1986, legendary alpinist Italian alpinist Reinhold Messner became the first mountaineer to summit all 14 peaks without supplementary oxygen, she writes.
Nepal, China and Pakistan are home to the 14 highest peaks in the world, also known as the 8,000ers. While the world's tallest mountain Everest (8,848m) is located in Nepal, Gilgit-Baltistan is home to five 8,000m peaks including K2, Gasherbrum 1 and 2, Broad Peak and Nanga Parbat.
https://www.instagram.com/p/COnd6FtrlAH/?utm_source=ig_web_copy_link