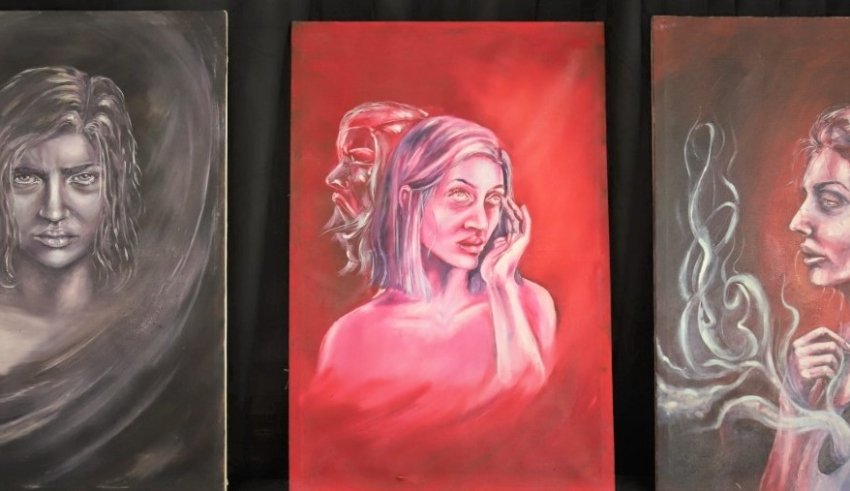 Artworks of nine artists on display at the first-ever art exhibition that opened on May 27, 2021. Photo: Menahil Javed
Exquisite artworks of nine young visual, digital and miniature artists are on display
By Haider Ali
GILGIT, May 27: A three-day group exhibition showcasing artworks of nine young talented visual artists opened here on Thursday.
Titled 'Turn the Leaf', perhaps the first of its kind in the capital city has been organized by Gilgit Kitaboon Ka Shehr in collaboration with Karakoram Area Development Organisation at the Canopy Nexus Hotel.
The Vice-Chancellor of Karakoram International University (KIU) Attaur Rehman, along with the Chairman of the Supreme Appellate Court, Gilgit-Baltistan and senior lawyer Ehsan Ali inaugurated the event.
The exhibit will provide an opportunity for the art connoisseurs of the city to engage in conversation with the artists as well as their works done in various media including painting, drawing, thread-work, calligraphy and digital art.
Artworks of nine artists — Iftikhar Ahmed Rumi, Roshnan Ali, Waseem Aman, Maryam Nawal Khan, Tashfeen Shams, Rahan Karim, Awais Adil, Murtaza Ansari, Zohra Abbas and Komal Kalam — are on display depicting mythological characters, such as Baba Ghundi (saint), Dayal (fortuneteller), Mayani (witch), endangered species like snow leopard and markhore.
The event, as described aptly by some visitors as a cool breeze in a suffocating society reeling under the simmering sectarian hatred and fear, aims to provide an alternative opportunity of entertainment to the people, especially the youth, and engage them in the most sophisticated way of dialogue.
The vice-chancellor in his speech said KIU is looking forward to establishing an art and design department to facilitate the talented youth and revive the art in society.
Ehsan Ali said that the there is a misconception that art and culture is the exclusive domain of the elite class who keep art for their own pleasure.
Th e real art is what depicts the feelings and miseries of the working class. He described the event a positive step and displaying it for public view in a marginalized region like GB.
Speaking to the media, Kamran Karim, one of the representatives of Gilgit Kitaboon Ka Shehr and brain behind the event and Menahil Javed, a photographer, said: "the people of GB have largely been de-linked from their traditional art whereas modern artists are living in urban centres away from their natural milieu.
This will provide an opportunity to the local talent with a creative mind to interact with artists who came from the down country, get inspiration from GB's artists as role models, said Menahil.
"Art is an integral part of a society and the most effective tool to depict the life, culture, collective wisdom, psychology, history, feelings, joy and miseries of a society," said Karim.
Maryam Nawal Khan, one of the participating artists from Lahore, said: "It is great to see so many people turning up and showing keen interest in the exhibition".
She went on to say that more artists from other cities should visit the mountainous region and capture its natural beauty and unique culture and diversity on canvas."
Also see:
https://www.facebook.com/plugins/video.php?height=476&href=https%3A%2F%2Fwww.facebook.com%2FGilgitBookClub%2Fvideos%2F521974142156000%2F&show_text=false&width=267&t=0
Artists from peripheries get art education and training in urban centres and tend to stay close to the urban art scene instead of contributing to the development of arts in their indigenous settings.
Moreover, due to a lack of economic opportunities and invisibility of role models, there is little encouragement in society for young people interested in pursuing social sciences, performing and fine arts education. The main objective of the exhibit is to turn the leaf, said Karim.
Moreover, it will bring together artists, critics, and different governmental and non-governmental organizations to appreciate art and artists and to open dialogue on the subject and for promotion and development of art in GB and Chitral, he added.
Gilgit Kitaboon Ka Shehr is a Gilgit-based educational platform run collectively by volunteers interested in promotion of reading culture, intellectual and artistic activities in Gilgit-Baltistan and Chitral.
Sharing its activities and objectives with High Asia Herald, Karim said last year it organized over 10 offline and online discussion events in Gilgit with intellectuals, academics, writers and researchers. Out of these events, five were 'Book Review' sessions under its "Kitab Gard Ki Roodad" series. We also initiated a 'Free Books and Ideas Exchange Centre in Gilgit, which is a library where readers can get books in exchange for books, he shared.
Haider Ali is a political activist, writer. He is a graduate of Forman Christian College Lahore