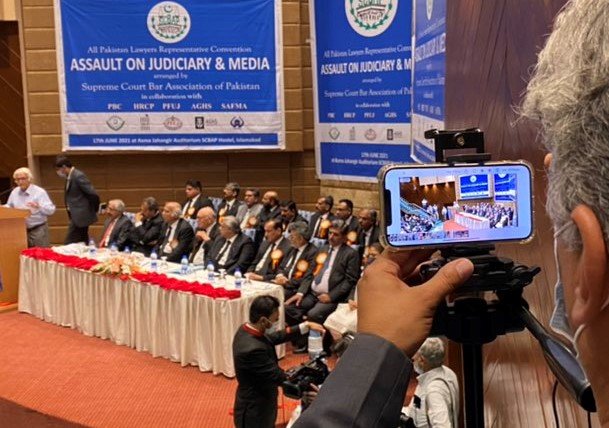 ---
Call for withdrawal of black media laws, setting up of a commission to probe attacks on and interference in civilian and judicial matters
---
High Asia Herald Report
---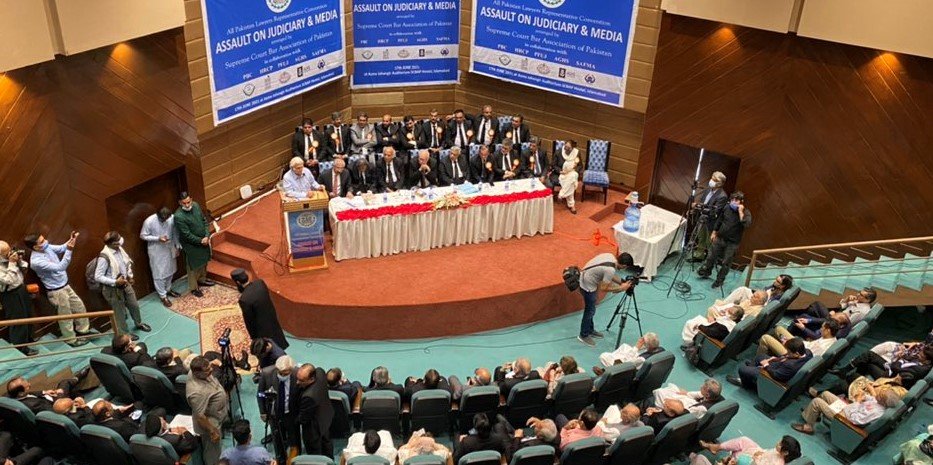 ISLAMABAD, June 18: Leaders of lawyers' and media bodies, human rights defenders, and parliamentarians Thursday vowed to resist increasing assault on the judiciary and media.
They demanded the setting up of a high-level commission to inquire into the interference in judicial matters by an intelligence agency's officials.
"We demand that in view of a statement made by Justice Shoukat Aziz Siddiqui before the Supreme Court of Pakistan regarding the role of the chief of an intelligence agency, influencing him in judicial matters, an independent and high-level commission be formed to inquire into the matter".
They demanded this in a communique at the end of the "All Pakistan Lawyers Convention on Assault on Judiciary and Media" was held on Thursday under the auspices of the Supreme Court Bar Association (SCBA) in partnership with the Pakistan Bar Council (PBC), the Human Rights Commission of Pakistan (HRCP), the Pakistan Federal Union of Journalists (PFUJ), AGHS and South Asia Free Media Association.
The convention unanimously resolved to resist persistent attacks on the media and the judiciary by a hybrid authoritarian regime and its facilitators.

Over 500 leading lawyers, prominent journalists, civil society activists, and parliamentarians participated in the deliberations, calling for the constitution of a broad-based front in the face of an assault on the judiciary and media in the country.
Prominent speakers included incumbent and former SCBA presidents Lateef Afridi, Qalbe Hassan, Ahmed Ali Kurd, PFUJ Secretary General Nasir Zaidi, National Party's Senator Tahir Bizenjo, HRCP chairperson Hina Jilani, former PPP senator Farhatullah Babar, PPP MNA Sherry Rehman, fromer SCBA president, Maryam Aurangzeb, PML-N MNA, former HRCP chairperson Afrasiab Khattak, MNA Mohsin Dawar, Senator Raza Rabbani, SAFMA chief Imtiaz Alam, broadcast journalist Amber Shamsi, Saraiki National Party President Abdul Majeed Kanju, journalist Hamid Mir, PML-N senator Azam Nazeer Tarar, former PBC vice-chairperson Abid Saqi, PBC chairperson Khushdil Khan.
The resolution adopted at the convention demanded resetting of relations between civil, military, the executive, judiciary and media in accordance with the imperatives of the constitution.
They also demanded an end to interference in civilian affairs by the military and its agencies.
"All institutions of the state must strictly adhere to their constitutional mandate and ambit, and stop interfering in the businesses of other state institutions. Armed forces must obey the elected government within the prescribed legal framework."
"Interference in judicial functions, manipulation of judicial processes, vilification of valiant judges by the government and the powers that be must be stopped forthwith and those involved in such detestable activities must be brought to book," the communiqué read.
The judiciary must rise to the occasion, guard its independence by shunning external pressures, rationalize its suo moto powers without overlapping the functions of the civilian executive, and play a proactive role in safeguarding the fundamental rights of the people, missing persons and dissenting voices in particular.
All visible and invisible interference by the government and security agencies in the free functioning of media must be stopped, freedom of expression and the right to know must be respected and strengthened, and access to information and free flow of information must be guaranteed.
Media
The participants demanded an end to the reverse-application of hybrid warfare against the media and civil society, dissenting and critical voices in particular; withdrawal of all kinds of curbs on 'freedom of opinion and expression without interference and to seek, receive and disseminate information and ideas through any media and regardless of frontiers' (Article-19).
They also demanded an end to censorship and subjugation of media. They also called for the restoration of jobs of distinguished journalists sidelined under coercion, interfering in editorial policy, talk shows, and reporting, refrain from taking off-air TV/radio broadcasts for not obeying illegitimate directives, halt newspapers' circulation, restore 8,000 retrenched media workers with back benefits, pay journalists salaries on time and clear their arrears promptly.
They also demanded the withdrawal of black media laws, including the proposed Ordinance of Media Development Authority, PEMRA, Prevention of Electronic Crimes Act 2016 and Citizens Protection (against Online Harm) Rules 2020 to suppress social media and online journalism, in particular, immediately implement Wage Board Award-2019, stop dividing various stakeholders of media and undermining collective bargaining rights of media professionals; endorse PFUJ's 18-point Charter of Demands.
Ensure the prompt release of all Missing Persons and bring them into the purview of law, pay reparations to the aggrieved families and bring the abductors to justice.