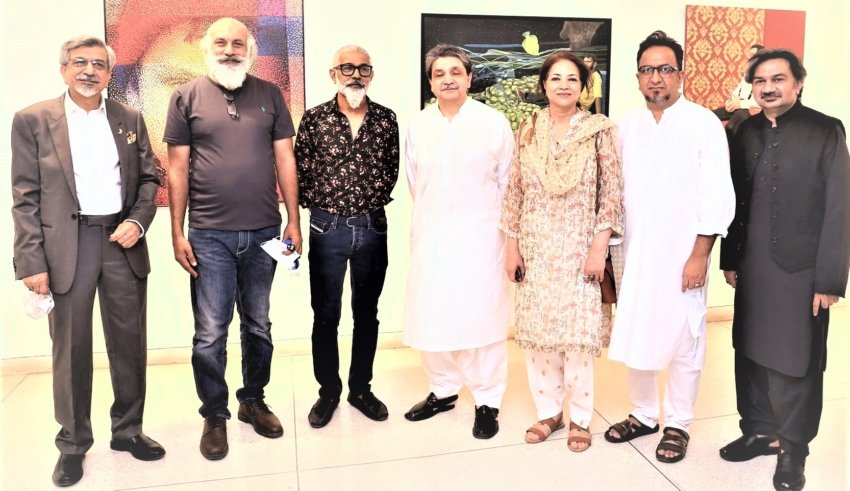 Arjumand Painting Award2021
---
Karim Ahmed Khan, a young artist from GB, wins Arjumand Painting Award 2021
---
by Farman Ali
---
---
Art should be used as a tool for social change and awakening in society. An artist must be aware of the issues surrounding him or her. Art for the sake of art is nothing but creating numbness leading to decadence.
This was the crux of a speech made by Mian Iqbal Salahuddin as chief guest at the Arjumand Painting Award ceremony at Alhamra Arts Gallery, Lahore, on July 7.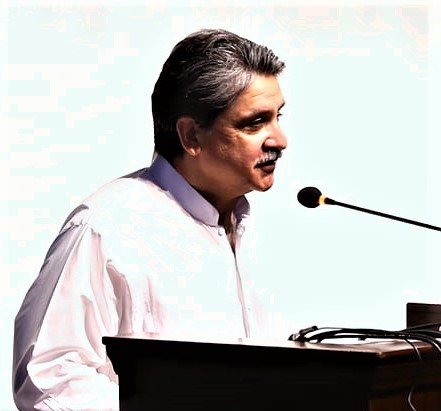 Mr Salahuddin, who is a grandson of the philosopher-poet Allama Iqbal and President of Dabistan-e-Iqbal, underlined the importance of art in the development of society and recalled a few quotes from his illustrious grandfather's thoughts on art.
He quoted Iqbal as saying that science, philosophy and religion have certain limits in achieving the objective. But art is boundless.
Allama Iqbal had said: "All human art must be subordinated to the final purpose (life), and the value of everything must be determined in reference to its life-yielding capacity. The highest art is that which awakens our dormant will force to enable us to face the trials of life successfully.
"All those sciences and arts which bring drowsiness and make us shut our eyes to the reality around, on the mastery of which alone life depends is a message of decay and death.
"Art is that which awakens and breathes life into us, not the one that makes us drowsy. The dogma of art for art's sake is a clever invention of decadence to cheat us out of life and power."
He also quoted some verses of Iqbal about creativity and art that impact life and bring change in society. He was opposed to art that promotes dogma and death.
The winners of APA 2021
Karim Ahmed Khan, an upcoming artist from Gilgit-Baltistan has won the National Biennial Arjumand Paintings Award for 2021.
The award that carries Rs300,000 cash prize, was announced during a ceremony held at Alhamra Gallery, Lahore on July 7.
Karim's award-winning painting depicts his real-life story, adjudged by a five-member committee of noted artists for highlighting optimism and life a message very well explained by chief guest Mian Iqbal Salahuddin in his speech.
Khadija Saeed Akhtar of the Indus School of Arts and Architecture Karachi won second position carrying Rs200,000 cash prize and the third prize carrying 100,000 cash went to Ahsan Javaid.
Three Merit Prizes carrying Rs50,000 each were given to Imran Ali, Sana Iqbal, and Ahsan Memon.
This year's judges were, noted artists RM Naeem, Ali Azmat, Muhammad Zeeshan, Sana Arjumand, and Irfan Gul Dahri.
Karim's journey and feat
Karim Ahmed Khan who hails from Gilgit-Baltistan's Hunza District could not make it to the event as he has undergone surgery after an accident.
Dr Arjumand Faisel, founding chairman of Gallery6, and the award, informed Karim on a mobile phone about his feat.
Karim thanked Dr Faisel and the judges for acknowledging his work and selecting him for the prestigious award.
"It's a great honour for me to win this prestigious award; I am very excited and can't express my feelings in words," exclaimed Karim after hearing about the honour.
Karim did his bachelor's degree in Fine Arts (BFA) from the National College of Arts (NCA) Lahore and taught at his alma mater's fine art department for six years.
Karim Ahmed Khan told The High Asia Herald that the news to him was incredible. "Although I had worked hard, I did not expect that my painting will win the first prize."
While his friends were dreaming of becoming doctors and engineers, fate had carved a different path for Karim.
"I had dreamed to become an artist but I didn't know its importance. When you work hard success finds its way to reach you. You don't reach success," he commented. He advised the budding artists to work hard as there is no shortcut to success.
---
About the award-winning painting 'A life from the dead tree', he said it is a depiction of life and hope based on a famous qawwali sung by the late Nusrat Fateh Ali Khan.

(With what majesty you manifest yourself in each atom/But my mind is astonished by how you are, what you are)
"Whenever I am working on a painting I listen to Sufi music; at times I feel the music enhances my inner power, creativity and synced with my paintings. The journey is painful and I can't explain it in words.
Karim met an accident two years ago and had to undergo a major surgery got three screws fixed in his femur bone that changed his life. His wife in a bid to lift him up had a miscarriage and lost their first baby. He was not able to walk for one year. He had a blood clot in his lungs called pulmonary embolism.
Narrating his ordeal, Karim said "I was about to travel to Karachi with Imran Qureshi. I slipped a tile and hit the ground with full force and got my femur bone fractured. I remained bedridden for six months and suffered every moment.
"I had a 10% chance of survival. But I did not lose hope and returned to normal life."
Instead of becoming gloomy, I thought of new ideas, new works that reflect on my work.
But after that traumatic phase, God blessed us with a beautiful daughter and the flower in my work depicts the new life.
When I was in hospital I had one regret of not creating an artwork that might later inspire people.
"I did this painting with three screws inside my femur bone and worked hard to complete it. So the dark brown colour in charcoal of burnt trees shows the traumatic situation and the small flowers the hope and new life. I am glad my hard work bore fruit and my painting got what it deserved".
Karim is an optimist and paints positivity on canvas.
"I paint hope on canvas; we all are going through a difficult phase of our lives; everybody needs one thing and that's hope. And I wanted everyone to relate his or her life with my work."
For Karim, art is an effective tool to highlight social issues. "An artist can play a role of a beacon of light to guide common people through the darkness," as he put it. He draws inspiration from nature and his surroundings.
"The valley I belong to itself is an art of God. This environment inspired me to paint its beauty on canvas. Of course, there are few people too in my life who are blessings for me — my parents, my daughter, and my life partner."
But the person who inspired me the most to adopt art as a career is Imran Qureshi, a leading artist. He has always supported me and encouraged me to work and forget about the end result. I follow his work and even his way of looking at things. I wish every artist finds a true mentor like him, he commented.
Appreciation is important to encourage budding artists, said Muhammad Zeeshan, member of the jury. Such initiatives pave the foundation for grooming new artists.
The Gallery6 and APA
The Islamabad-based Gallery6 was established in 2008 and since then has organized over 100 national and four international exhibitions. It has the distinction of organising a variety of events such as book launches on art and literature, international photographic competition, art auctions, art residencies, and exhibitions on unique themes including literature and climate change.
Talking about the award and its process, Dr Arjumand Faisel, who is an established artist in his own right, and a philanthropist, said in 2015, the Gallery initiated the biennial "Arjumand Painting Award (APA) with an aim to recognize the emerging Pakistani artists 25 to 40 years of age who exhibit outstanding abilities and talent. This is the first-ever art award by any private gallery at the national level.
Three APAs have been held so far in 2015, 2017, and 2019 and the number of participants has increased and the enthusiasm and response of the artists have been awe-inspiring.
"This year, the response was beyond my expectations. It was a painstaking job to select the best from among 200 entries, Dr Faisel said. Out of these, the jury shortlisted 82 in the first phase of the exhibition.
About the aim of the award, he said: "I had a dream to institute such an award that could give credence to the art and value to the art world and the participating artists feel proud to be associated with. Six years down the road I am elated to see the dream translating into reality the way artists have executed the art with passion and skillfully.
He stressed love and passion for success in life that makes one Qalandar (sage), he commented. He thanked the sponsors and art connoisseurs for their cooperation and encouragement in arranging the event.
Eminent art teachers, senior artists, and art critics of the country have guided Gallery6 in ascertaining the eligibility, criteria, and transparency of the process for unbiased judgment of the Award. Even the judges do not know the winners till the computer generates the result of their scoring done individually, said Dr Faisel.
The works are beautiful, there is variation and variety, there is aesthetics and sophistication and together they represent very interesting emerging art forms, commented Dr Faisel.
Artists are connecting themselves to their culture, environment, and international milieu in a deep way that is what makes good art, he commented.