---
Zulfiqar Ali Kalhoro takes us to prehistoric burial sites in the Ghizer District of Gilgit-Baltistan
---
---
---
---
---
I have been visiting the megaliths of Yasin valley and other megalithic sites in Ghizer district since 2000 to discuss them in my forthcoming book Megalithic Sindh, which will be published next year (2022). Although the book mainly deals with the megaliths of Sindh, I have included a whole chapter on the megaliths of other parts of Pakistan, in which I have discussed in detail all the megalithic sites of Ghizer District in Gilgit-Baltistan.
The subject of megaliths is under research in Pakistan. During my frequent field visits to Sindh, Balochistan, Khyber-Pakhtunkhwa and Gilgit-Baltistan, I came across many megalithic sites, the majority of which are now destroyed or in total ruin. Sindh is the main megalithic region, followed by Balochistan, Ghizer District in Gilgit-Baltistan and then KP. The best surviving megalithic site in the Swabi district in KP is the Asota stone circle.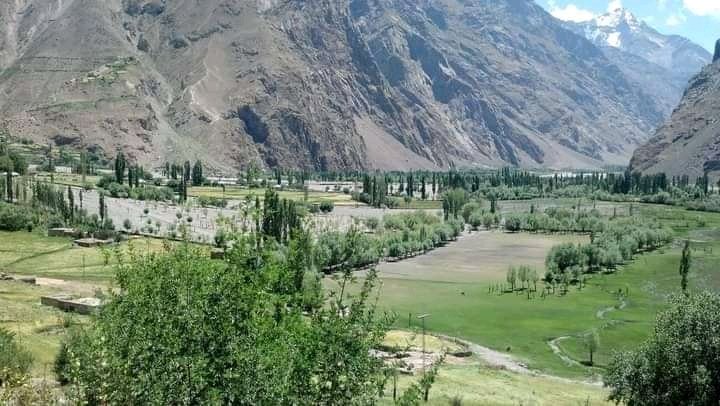 ---
After Sindh and Balochistan, the Ghizer district in Gilgit-Baltistan is the most famous for megalithic heritage. Megalithic graves or stone circles are found in all four tehsils – Punial, Ishkoman, Gupis and Yasin of the district. A few published reports and articles mention the megalithic graves in Yasin, Gupis, Iskhoman and Upper Gakhuch. John Biddulph was the first to report about megalithic graves in Chashi in Gupis and some in Yasin valley in his book Tribes of Hindoo Koosh – structures that he called "stone circular tables."
The Yasin valley in Ghizer district is noted not only for megalithic sites but also for its rock art heritage. Rock art was systematically documented during the Pak-German Archaeological Mission. German scholars particularly anthropologist Professor Karl Jettmar and Prof Harald Hauptmann surveyed the Yasin and wrote seminal articles on the rock art of the valley. Prof Jettmar wrote some articles on the burial traditions and rock art of Ghizer. Recently, Karim Khan Nizari, an inhabitant of Yasin has discovered a few important rock art sites in the valley. His most recent discovery is the rock carvings in Nazbar Nullah.
---
Professor Ahmad Hasan Dani was the first archaeologist who systematically studied megalithic graves in Yasin and Ishkoman valleys and discussed them in his book History of Northern Areas of Pakistan, Upto 2000 AD. He believed that these megalithic graves belonged to chiefs or nobles of the respective areas in the first millennium BC. Later Muezzuddin Hakkal surveyed Punial for his PhD research in 2014. He also visited archaeological sites including megalithic graves in other tehsils of the district and discussed them in his PhD dissertation.
The landscape of Yasin is dotted with megalithic graves. Nowhere in Gilgit-Baltistan are found as many megalithic graves or stone circles as in Yasin valley. There were about 15 stone circles found in different villages. Today only five or six have survived.
I first visited the megalithic sites of Yasin valley in 2000 and later in 2005. Then, I revisited the megalithic sites in 2008, 2009 and 2019 respectively. In my first visit in 2000 and later 2005, some of the megaliths were vandalized and others were in comparatively good condition. In my 2009 visit to the valley, I noticed that one of the megalithic graves was being destroyed by a villager to reuse stones in the construction of a room in his house. It was completely lost by the time I revisited the site in 2019.
---
Megalithic graves are located in different villages of Yasin valley. There were two megalithic graves in Manichi before 2010. One of the stone circles, which was located in an orchard, was destroyed in 2010. The owner of the land removed all the boulders and broke them to reuse in the construction of a room. There were one of the largest stone circles in Manichi village. At least 40 boulders of uniform size were used to construct the megalithic grave.
Professor Ahmad Hasan Dani also visited this site and remarked that there were some pit graves near the stone circle/megalithic grave. He believed that pit graves belonged to common people while the monumental megalithic grave was probably that of a chief. Apart from this destroyed stone circle, there is another megalithic grave in the village. Thirty boulders were used to construct this stone circle. Some boulders seem to be missing now. Today only 22 stones are extant.
In my 2009 visit to the valley, I noticed that one of the megalithic graves was being destroyed by a villager to reuse stones in the construction of a room in his house. It was completely lost by the time I revisited the site in 2019
Apart from the megalithic graves of Manichi, there is also located one megalithic grave at Gom in Bijayot village. This megalithic grave is located in the middle of the agriculture field. About 45 stones were used to construct this megalithic grave. The interior of the stone circle is filled with gravel. Many other stone circles were found in the middle of agricultural fields which were destroyed by the farmers while cultivating their crops. This has also been reported by Professor Karl Jetmar in his article Documentation and Exploration in Northern Areas of Pakistan published in 1989 in the journal of Pakistan Archaeology. According to Professor Jettmar, there were also located engraved boulders near the bridge spanning the Yasin river. One of the boulders depicted a rubab (stringed musical instrument). This boulder is still found near the bridge which was reported by the Professor.
Besides the megalithic graves of Manichi, Bijayot, there is also a megalithic grave at Sileharan in Yasin valley. Apart from Yasin valley, I also visited megalithic graves in Hatun in Punial tehsil, Chasi in Gupis tehsil and Duran Sor near Dain in Ishkoman tehsil. The megalithic graves of Duran Sor have been illegally excavated.
---
The most important query that comes to mind when one visits these graves is: who were the owners of the megalithic graves in Ghizer? Were they Dardic or non-Dardic people? To know the exact chronology of when these were built and who built them, archaeologists should excavate some megalithic graves to share their research with other scholars. And then perhaps we could begin to reconstruct the history of the region. Otherwise, everyone will keep guessing as to who were the megalithic builders of Yasin and other valleys in the Ghizer district!. This essay was first published in The Friday Times. We are reproducing it here with the permission of the writer. Excerpts have been taken from the author's forthcoming book Cultural Heritage Along the Silk Road in Pakistan. All photos by the author
---
The author is an anthropologist. He may be contacted at zulfi04@hotmail. com.