Tourism, rural development challenges and plastic pollution: Winners of UNWTO Students' League contest announced. Photo: UNWTO
---
The eight winners were judged from among 155 teams, representing 124 educational institutions in 45 countries;
Students from around the world have been recognized for ideas to make tourism more responsible and sustainable.
---
---
The UN watchdog on tourism has announced winners of a competition for students on reducing the use of plastics, says a statement issued by the United Nations World Tourism Organisation (UNWTO) on Thursday (Sept 30.
This year the Global UNWTO Students' League competition focused on addressing the issue of plastics pollution within the sector, as well as maximizing tourism's contributions to rural development.
The eight winners participated in two categories: 'Tourism and Rural development Challenge' and 'Plastic Pollution Challenge'.
In the Tourism and rural challenge category for middle school students of age group 11-13 Xin Tong Ma'anshan of Middle School, China won the contest; in the same category for high school students of age group 14-18, Team Um Mabbad Alkuzia School, Um Mabbad Basic Education Girls School, Oman won; in rural undergraduates category, Team Climate Crew of the NHL Stenden University of Applied Sciences, The Netherlands won; while for masters' students, Team Off Beat, Università Bocconi, Master in Economia del Turismo, Italy won the contest.
---
In the category of 'Plastics Pollution Challenge' for middle school students of age group 11-13, International School of Choueifat-Muscat, Oman, won; in high school age group 14-18, Team LBPC, Collège Notre Dame du Mont Carmel Lebanon won; for undergraduate students, Team Walkie Talkie, RMIT University Vietnam won, for masters-level students, Team Swift Action, Beijing International Studies University, China won the contest.
The competition attracted over 1,000 students from all over the world. From these, 155 teams, representing 124 educational institutions in 45 different countries put forward their ideas on how to reduce the use of plastics and the development challenges in rural areas, it stated.
The eight winners were judged on how well their idea would contribute to a specific Sustainable Development Goal (SDG), the feasibility of their solutions and on their level of teamwork.
The winning solutions included works of art, calls to action, Instagram and other digital marketing campaigns, and potential strategies to help both destinations and tourism accommodation providers reduce plastic waste and consumption.
Several of the ideas submitted to the contest have already been picked up and implemented by stakeholders across the tourism sector, the statement said.
The UNWTO Students League is a unique chance for students from around the world to help lead this change.
Youth empowerment for tourism's future
The UNWTO Students League aims to empower and motivate tourism students by giving them real-time experience working in creating and implementing innovative and sustainable solutions for the challenges that the sector is facing.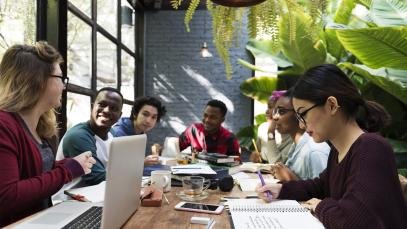 ---
At the final, UNWTO Secretary-General Zurab Pololikashvili said: "The tourism of tomorrow must be inclusive, sustainable and embrace local values. The UNWTO Students League is a unique chance for students from around the world to help lead this change."
This initiative bridges the gap between students' education and training and the realities of the sector. It also enables young people to enter the labour market as highly qualified and skilled professionals.
Student testimonials
"From the moment that I decided to join this competition, I came into the world of SDGs. It is incredible to me that tourism has an intersection with so many different topics, …a sector that is amazing not just because of what it is about but also because of the many things that make it up says Vildan Soguktas, from Kinawa Middle School, Michigan, US," who participated in the category of rural for middle school.
Xin Tong, Ma'anshan, a student of Middle School 7, Anhui Province of China, said: "…history has proven and will continue to prove that natural disasters or wars, including the pandemic, will never prevent people from travelling freely…
"As a team of teenagers who love travelling, we shall do our best for a better world!" Xin said.
We learnt a lot about working together as a team to tackle plastics pollution, commented Team Thaajidden School, Maldives.
As travel and tourism students, it helped us comprehend the scope of this problem.
"Being able to find new ideas to develop a tourist offer and a positioning for Tabant was an incredible experience for us!," wrote Lucia Tucci and Salvatore Cavallaro, Team Off Beat, Master in Economia del Turismo of Bocconi University, Italy.