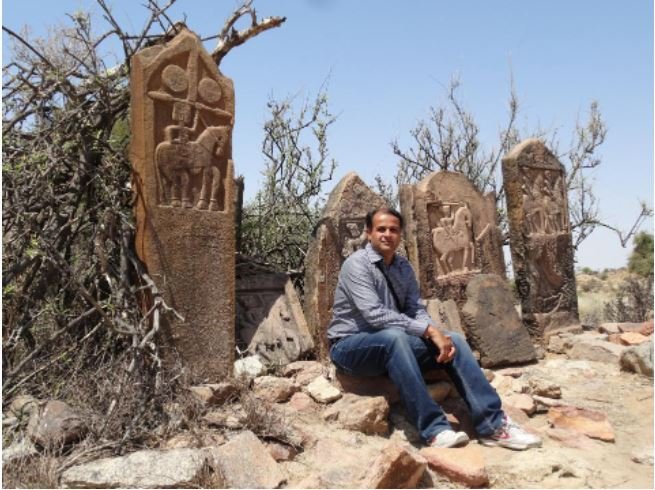 The anthropologist sitting next to ancient memorial stones in the Sabusan village in Tharparkar, Sindh.
---
By Sonya Rehman
---
Pakistani anthropologist, Dr. Zulfiqar Ali Kalhoro, is a man on a mission. Having spent over two decades tirelessly researching art and culture in Pakistan, Kalhoro stands as possibly the only Pakistani who has documented the country's most ancient rock art, some of which can be traced back to prehistoric times.
With eleven books to his name, some of which include; Symbols in Stone: Rock Art of Sindh, Memorial Stones: Tharparkar, Perspectives on the Art and Architecture of Sindh (which explored lesser known heritage sites in the region), and more, Kalhoro's travels have taken him through every nook and cranny of Sindh, including the provinces of Punjab, Baluchistan and Gilgit-Baltistan.
With a deep-seated interest in discovering Sindh's undocumented rock art, Kalhoro mentions that it was during his time in college studying anthropology, and being exposed to incredible courses and books that he "began looking at Sindh with an anthropological lens."
In 1998, during his visit to the ancient Necropolis of Mian Nasir Muhammad Kalhoro (of the Kalhoro dynasty) in the Dadu district of Sindh, the young anthropologist-to-be was in awe.
"I remember seeing beautiful paintings – the whole social and cultural history of that era was depicted on the walls," Kalhoro states earnestly, "It was my first encounter with Sindhi culture. That's when I started documenting wall paintings in different parts of the region."
From thereon, the anthropologist found himself in a state of enchantment – a feeling that has never left him and which continues to drive him to explore Pakistan's tangible and intangible heritage.
With a Twitter and Instagram feed full of his articles and photos, posing in the most enthralling, faraway places in Pakistan – well out of the mainstream media's glare – one finds Kalhoro softly smiling into the camera with ancient rock art and scenic valleys framing his backdrop.
Constantly on the move, this is where the anthropologist is in his element: under the blazing sun, in the mountainous regions of western Sindh – areas that would make anyone shy away from embarking on such dangerous expeditions – or under the night sky, sprawled out on a mat and awaiting dawn, to seek out his next discovery.
Kalhoro's travels and research go far beyond surface level documentation. For over twenty years the anthropologist has continued to re-visit the most far-flung villages and valleys in Sindh's Nawab Shah, Mirpurkhas, Thatta, Sanghar, Hyderabad and more, to continue his research on subjects such as the Buddhist representation in rock art. After innumerable articles, research papers and books, Kalhoro's hardwork paid off when his discoveries began garnering international attention.
Often traveling by foot, with local villagers – who he befriended – as his guides, for an 8-9 hour hike (as the terrain doesn't allow for one to travel by a car), Kalhoro reveals that he has continuously gone back to Gaj valley, in Khirthar, Sindh, over a period of nine years for research for his book, The Rock Carvings of Gaj Valley, due to be published in 2023.
In his article, the Talking Rocks of Gaj Valley, Kalhoro highlights the presence of fascinating carvings which date back to prehistoric times. While some include "ancient and modern hunting and combat scenes," others depict detailed engravings of a "ritual dance."
"My line of work is a very expensive passion," Kalhoro responds when asked why one doesn't find others like himself, documenting local heritage before it's lost to ruin and decay.
"Many of the areas I travel to are very risky and make for uncomfortable, rough journeys. When I started out the locals would dissuade me from traveling to the sites. It was hard for them to travel to those spots too. Some areas are known to house dacoits and other areas have no places where you can stay to break your journey. That being said, these areas – if they're promoted the right way – have the potential of becoming tourist spots that would in turn benefit the local communities enormously."
Currently, apart from completing his book on the Gaj valley, the anthropologist is also working on an additional two books, the Female Sufi Saints and Shrines in Pothohar, and, Cultural Heritage Along the Silk Road in Pakistan, both of which are due out in 2024.
Even though Kalhoro continues his laborious service in documenting Pakistan's heritage, he isn't bitter about the lack of acknowledgement on home turf. In fact, when questioned about it, the anthropologist laughs it off good-naturedly.
"It would be nice to be acknowledged," he responds thoughtfully, "But at the end of the day, my books are for our future generations. I know they will benefit from them."
---
The writer is a Pakistani journalist based in Lahore. She has written (and worked) for a number of international and local media organizations since 2002. A Fulbright Scholar with an MS in Print Journalism from Columbia University's Graduate School of Journalism, she currently writes and teaches on freelance basis.