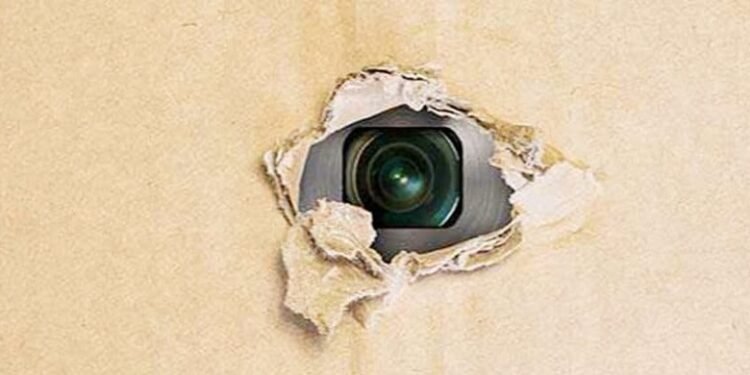 ---
Secret video recordings and their use against opponents
---
By Hasan Mujtaba
---
Probably reaching its height in the tug of war in Pakistani power politics, a demonstration of the vulgarity of state power was the secret video recording of intimate moments between Asif Ali Zardari and Benazir Bhutto as husband and wife, in Islamabad, at the hands of the thuggish Intelligence Agency (IB). This was done at the behest of spymaster Brigadier Imtiaz, popularly known as Brigadier Billa, who was in connivance with the then Chief Minister in Sindh Jam Sadiq Ali.
The purported VHS video was the brainchild of Jam Sadiq Ali. It was from a time when Asif Ali Zardari, then elected but jailed MNA, used to be brought from a Karachi jail to Islamabad on production orders of the Speaker Gohar Ayub Khan to attend the National Assembly sessions, and was lodged in a Islamabad state guest house. The secret video in question was secretly disseminated among certain circles of Pakistani political, social, civil and military elites.
Such an act of shame and vulgarity on the part of the state apparatus of the Islamic Republic of Pakistan was also in the knowledge of then Prime Minister Nawaz Sharif, President Ghulam Ishaq Khan and his son-in-law Irfan Marwat, who was advisor on home affairs to Jam Sadiq Ali's regime in Sindh. And of course, it was in the knowledge of then Speaker National Assembly Gohar Ayub Khan.
In the later years of the second tenure of Benazir's government, two secret videos were made of a son and a daughter of the president Farooq Ahmed Laghari, pertaining to their private lives separately, after the differences between then Prime Minister Benazir Bhutto and President Laghari came to a head. The videos were also sent to the President Farooq Laghari himself. The mastermind for the smear campaign was alleged to be Asif Ali Zardari. While Farooq Ahmed Laghari complained of this to Benazir Bhutto it fell on deaf ears. Then, the predictable happened. Benazir Bhutto's government\ was booted out a second time by a presidential decree (this time by none other than Benazir's "Farooq Bhai and jiyala President"), and her spouse was sent to prison as main accused in the assassination case of Murtaza Bhutto, Benazir's estranged brother.
During the rule of Nawaz Shairf in the 1990s through Brigadier Imtiaz Bila and his Intelligence Bureau (IB), there had been no dearth of secret X-rated recordings of the private lives and intimate moments of rivals and of those 'fallen from grace.' But they had their taste of their own medicine when the Military Intelligence got a secret mic fitted into a collar of the waistcoat of Prime Minister Nawaz Sharif during his second tenure in the late 1990s.
Be it Nawaz Sharif through Brigadier Imtiaz or Benazir Bhutto through Rahman Malik, the phenomenon of those in power playing dirty games went on and on throughout the entire decade of the 1990s.
During Benazir Bhutto's government in 1994, Ghulam Mustafa Jatoi, then leader of the Combined Opposition Parties (COP), discovered a bugging device secretly installed in his room at the Hotel Marriot, Islamabad. Mr. Jatoi brought that bugging device and showed it to journalists in a news conference that he convened. But it was hushed up further by the intelligence agents who told him that many more problems were on their way for him, just not the bugging device.
But during the regimes of the military dictator General Pervez Musharraf and the military-backed Imran Khan – their blue-eyed boy until yesterday – thousands were recruited to secretly audio- and video-record anyone who happen to be anything in their private and intimate lives.
And there were thousands of others who were hired by the state agencies to keep an eye and report on social media.
And now the hunter is hunted. The filth of what is alleged to be secretly recorded digital videos of the intimate life of Imran Khan, it is claimed, could be hitting the fan at any time now. Even consensual sex among two or more than two adults (men or women) in Pakistan is an 'heinous crime.'
But alas, such sordid dirty games go at least as far back as the time of executed Prime Minister Zulfikar Ali Bhutto – who, we are told, ordered the Inter Services Intelligence (ISI) to bug the bedrooms of his own cabinet ministers!