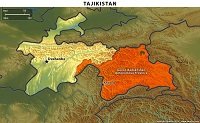 ---
News Desk
---
UN Secretary-General Antonio Guterres has expressed concern over reports of escalating tensions and violence, including casualties, in Tajikistan's restive region of Gorno-Badakhshan (GBAO).
Protesters have clashed with police in recent days, with reports of as many as 21 dead, including one police officer.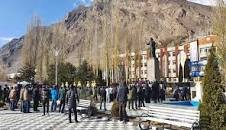 The protests were initially sparked several days ago by anger over the lack of an investigation into the 2021 death of an activist while in police custody and the refusal by regional authorities to consider the resignation of regional Governor Alisher Mirzonabot and Rizo Nazarzoda, the mayor of the regional capital, Khorugh.
The rallies intensified after one of the protesters — 29-year-old local resident Zamir Nazrishoev — was killed by police on May 16, prompting authorities to launch what they called an "anti-terrorist operation."
"The United Nations will monitor the situation closely," UN spokesman Stephane Dujarric told journalists late on May 19, adding that Guterres was calling on all sides to exercise restraint and make every effort to resolve the current situation peacefully.
Earlier on May 19, the diplomatic missions of the European Union, the United States, France, Germany, and the United Kingdom issued a joint statement expressing deep concern about the unrest and calling on all parties to "de-escalate, exercise restraint, and refrain from excessive use of force and incitement to violence."
Human Rights Watch (HRW) has demanded the Tajik government "strictly observe its obligations to respect and protect people's rights to life, and freedom of assembly and the media in any military or law enforcement operations in Tajikistan's autonomous region."
The situation in the restive region has been tense since November 2021 when security forces fatally wounded Gulbiddin Ziyobekov, a local man wanted on charges of kidnapping. Locals rallied at the time to demand a probe into Ziyobekov's death.
The protesters in GBAO have insisted their actions are peaceful and that they have a right to peacefully demonstrate. Opposition groups based abroad have called on Tajik authorities to stop what they called the "persecution of peaceful demonstrators in the GBAO."
Protests are rare in the tightly controlled nation of 9.5 million, where President Emomali Rahmon has ruled for nearly three decades.
Deeper tensions between the government and residents of the region have simmered ever since a five-year civil war broke out shortly after the collapse of the Soviet Union in 1991.
GBAO, a linguistically and ethnically distinct region, has been home to rebels who opposed government forces during the conflict. While it occupies almost half of the entire country, its population is a mere 250,000. The region is difficult to travel around because of the mountainous terrain, while its economy is wracked by unemployment, difficult living conditions, and high food prices.