---
By news desk
---
Police in Tajikistan have said that "leader of an organized criminal group," has been killed as a "result of internal clashes between criminal groups" in the country's restive Gorno-Badakhshan autonomous region.
Mahmadboqir Mahmadboqirov was believed to be one of the influential yet informal leaders of the autonomous oblast.
He was said to have been killed on May 22 in Khorugh, the region's administrative capital.
His death is being reported at a time when clashes between protesters and police in recent days have left as many as 21 dead, including one police officer.
The official statement issued by the GBAO branch of Tajikistan's Interior Ministry described Mahmadboqirov as "the leader of an organized criminal group," saying that his death was "the result of internal clashes between criminal groups.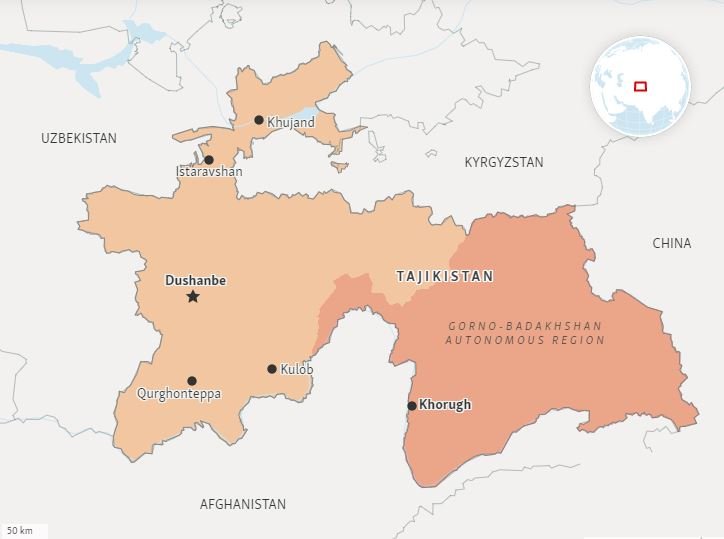 The statement said the regional prosecutor's office has launched a preliminary investigation into the incident.
The Interior Ministry, meanwhile, said 19 residents of GBAO's Rushon district, whom it called "members of organized criminal and terrorist organizations," had "surrendered" to police after taking part in anti-government protests on May 15-18.
The list of those detained includes Amirbek Qayobekov and Nuriddin Saidov — the former leaders of the banned Islamic Renaissance Party of Tajikistan in Rushon — as well as 15 members of a group led by Kholbash Kholbashov.
Authorities have accused Kholbashov, his former wife, well-known civil rights activist Ulfatkhonim Mamadshoeva, former opposition field commander Yadgor Ghulomhaidarov, and exiled opposition politician Alim Sherzamonov of organizing the unsanctioned anti-government rallies. Mahmadboqirov was also accused of organizing the demonstrations.
The whereabouts of Kholbashov and Ghulomhaidarov are unknown. Mamadshoeva was arrested last week.
Deeper tensions between the government and residents of the region have simmered ever since a five-year civil war broke out shortly after the collapse of the Soviet Union in 1991.
Mahmadboqirov and other influential leaders in the region fought against the government during that conflict but were integrated into the state structures as part of the peace deal that Russia helped broker.
The current protests were initially sparked several days ago by anger over the lack of an investigation into the 2021 death of an activist while in police custody and the refusal by regional authorities to consider the resignation of regional Governor Alisher Mirzonabot and Rizo Nazarzoda, the mayor of Khorugh.
---
Courtesy: Radio Free Europe/Radio Liberty