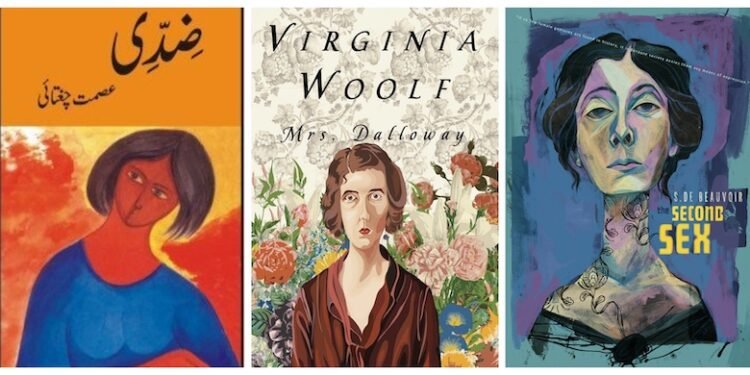 ---
Here is a list of five feminist writers and their works that everyone, especially women, who want to understand feminism should read.
---
News Desk
---
---
Feminism is a misunderstood concept in Pakistan, with most people thinking it is all about hating men. Here is a list of five feminist writers and their works that deal with various subjects. We recommend these works of writing to readers who try to understand the world around them through a feminist lens. These are not just key feminist readings, but rather represent essential feminist thinking. 
Short stories by Ismat Chughtai
Ismat Chughtai was the leading lady of the Progressive Writers group. She produced some of her best works between 1935 and 55. Like Krishan Chander, Rajinder Singh Bedi, Ahmed Ali, Sajjad Zaheer, and Rashid Jahan, she too inherited the approach to fiction of the 19th century French and Russian realists.
She touched on topics that were earlier considered taboo, and was "the first Urdu writer to portray women, their psyche and their inner lives with such an unflinching eye and such veracity," writes Muneeza Shamsi for Dawn.
The subject of Chughtai's stories was lower and lower-middle-class women. She told their stories in rare depth and eloquence. Lihaf, Kaisi Biwi Kaisa Shohar and Chauthi Ka Joda are a few of her classic works. 
In 1945, she produced one of the finest novels in the Urdu language, Tehree Lakeer, which, when translated into English 50 years later, was compared to The Second Sex (see below) for its analysis of gender and sexual politics. It is, however, "a novel and not a treatise; it gains much of its power from its portrayal of a woman who is almost—but not quite—Chughtai's fictional mirror-image," writes Aamer Hussein for Asymptote.
Her works have been extensively translated from Urdu to English, although she has still not been really discovered by non-Urdu Literati.
Mrs Dalloway by Virginia Woolf
Mrs Dalloway, written by Virginia Woolf, is one of the saddest books ever written. It is easy to identify with poor Clarissa, who has lost her soul among all the duties and conventions of a boring marriage. That loss is so overwhelming and confusing that she loses contact even with her own body. She feels young, but at the same time old.
There is a passage in Mrs Dalloway where Clarissa says she can't think, write or play the piano – she mixes up Armenians and Turks and doesn't know where the Equator is. This would be so true for a whole lot of us who are dealing with the daily household compulsions but not using our brains.
A woman in our part of the world would perhaps relate to Clarissa even more. She has to be married — a tradition, a norm, and no way out of it. We are overburdened with the responsibility of marriage. But if you want to organise your life the way you want to, this is the book to read.
The Golden Notebook by Doris Lessing
The Golden Notebook, written by Doris Lessing, was published in 1962, as the so-called second wave of the women's movement was gathering pace. The beauty of this book is that today, after many more waves of the movements have passed, it will still steer you towards knowing which questions to ask. Women can still relate to it as it captures a wide variety of subjects, including motherhood, sexual liberation, racism, colonialism, communism and mental illness. Given how popular the 'strong female character' trope has become in recent times, this book will inspire you.
Her protagonist Anna Wulf – a thirty-something published writer, mother and politically radical – undergoes a breakdown. She tries to compartmentalise her life by journaling her experiences in four separate notebooks with constant questioning. What makes the book really is that Anna is not always a likeable character. 
Though considered a feminist bible, Doris Lessing resisted the labelling of The Golden Notebook as a feminist novel. She reportedly conceded that it was written as though the attitudes that have been created by the Women's Liberation movements already existed.
The Second Sex by Simone de Beauvoir
Another book from the second wave of the women's movement, The Second Sex, by Simone de Beauvoir, is aptly titled – for women remain the second sex. "To ask what influence this book had on gender politics is akin to wondering what the sun ever did for the earth. The answer? Everything" wrote Barbara Ellen for The Guardian. 
Through her book, De Beauvoir explores topics such as sex, work, family prostitution, abortion and the history of female subordination. She challenges the notion of men as the default (the ideal), and women as 'other'. She logically demonstrates how men and women, males and females, perceive the female sex. For her, there is a distinct difference between the terms female and woman. She believed that these perceptions of gender are not biologically inherited but are imposed on us by society.
Courtesy: The Friday Time