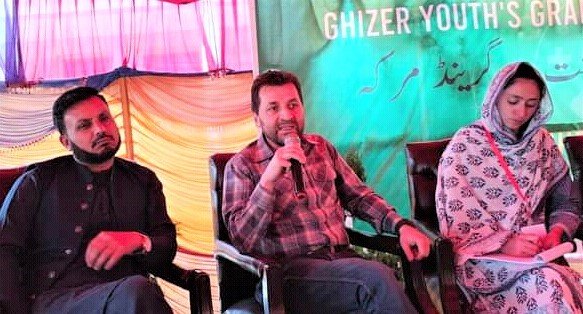 ---
Participants of Ghizer Youth Maraka blast successive governments for their failure and apathy in addressing the issue
---
---
Gahkuch (Ghizer): Youth and social activists have called upon the Gilgit-Baltistan government to declare a mental health emergency in Ghizer District to control the incidents of suicides in the mountainous region.
The month-long public awareness campaign culminated in a gathering on Sunday that brought together over 700 youths, political and social activists, public representatives, social thinkers and rights defenders to find out a solution to the problem that is turning into an epidemic in the region.
The first of its kind in GB's history, the "Grand Youth Maraka" (consultation) was held in collaboration with Immune Commune Research and Development (ICRD), a local organisation, at Gahkuch, the headquarters of the Ghizer district.
---
In a 20-point communique, the participants asked the government and health authorities to take measures to address the issue in the district, in particular, and overall GB, in general.
Some districts in GB including Ghizer and Hunza have witnessed an alarming spike in suicide incidences in recent years.
According to research and police reports, over 200 suicide cases have been reported in Gilgit-Baltistan during the last five years. Of them, 60% were women and less than 40% were men. The region witnessed a spike in the incidents during the last forty days.
---
According to police 18 people mostly, young females have taken their lives and four were murdered. Last year 29 cases of suicide were reported, according to HRCP regional coordinator Israrudin Israr.
This prompted the socially-conscious youth activists to launch an awareness campaign and initiate debate on the most sensitive issue, so far considered a taboo.
The communique demanded the establishment of a hotline to address the emergencies across the tehsil with staff sensitized enough to handle the cases sensibly.
---
Teachers' training on "psycho-social counselling skills" at schools and colleges should be arranged, the communique read.
The participants also demanded legislation on sexual and child abuse, early marriage, drug abuse and domestic violence.
Inayat Baig, the chief organizer of the campaign, explained the aims and objective of the Maraka and said it will break the silence, a breath of fresh air in the suffocating environment. It will also prove as a catalyst in ending the apathy of the government authorities and society in understanding the root causes of the problem.
He clarified that suicide is not a Ghizer-specific issue. It is rather a global issue but advanced countries have tackled it seriously on scientific lines.
Sharing his personal experiences, he said he got the temptation to commit suicide twice but luckily escaped.
"This is alarming and spreading like an epidemic in the society. We need to find causes to help the youth live their lives," he stressed.
Forty young boys and girls from all the four tehsils of Ghizer spoke on the issue dubbed as "catharsis" during which they poured out their hearts, sharing their life experiences.
---
While some youth highlighted social inequalities, economic hardship, lack of employment opportunities, unjustified restrictions imposed on youth by society, religious and educational institutions, lack of a friendly environment at home and unfriendly behaviour by parents and siblings, and injustices in public and private sector offices, treatment of girls in hostels, forced and early marriages and other contributing factors to the increase in suicides.
Others said that the misuse of cellphones, social media and distance from religion are the factors which are leading society towards destruction.
After listening to the hearts of forty young women and men, the panel gave guests, stakeholders, heads of social and other organizations and political leaders a chance to speak.
Deputy Speaker Gilgit-Baltistan Assembly Nazir Ahmed Advocate advised the youth to be self-confident and brave enough to fight the inequalities and discrimination in public organisations and offered his assistance in this regard.
Nawaz Khan Naji, a member of the Gilgit-Baltistan Assembly from Ghizer said: "our forefathers lived a life of poverty, our mothers faced hardships and not only did household chores but also raised their children."
He questioned the youth that despite living a life of comfort and luxury, they are full of frustrations and taking the extreme steps of ending their lives.
He also advised the youth to stand up and fight against those "who do injustice and oppress you."
Israruddin Israr, Coordinator, Human Rights Commission of Pakistan for GB, told The High Asia Herald that the number of suicide cases in Gilgit-Baltistan has increased in the last few years. Such incidents are reported from Ghizer and Hunza districts but not from other districts.
Nevertheless, the rate of reported cases is higher in Ghizer, Mr Israr said. Regrettably, no serious efforts had been made so far at the government level to prevent such incidents.
He stressed the need for in-depth research to find out the root causes of suicide. There was a strong link between mental health and suicide, he said, citing research reports from around the world.
Mr Israr who has been monitoring and compiling data on suicides for the past many years said that people instead of understanding the issue on scientific lines and finding a solution, make assumptions and attribute the phenomena to alienation from religion, cowardice and misguidance.
"This is like rubbing salt on the wounds of the families of the victims."
Talking about the role of media in reporting such cases, he said, "we do not have developed a code of conduct for reporting such cases despite clear instructions from the WHO. People exaggerate every case, make videos and sensationalize it."
In the same way, this issue is attributed to certain areas and communities only to embarrass Ghizer and one particular community. Although more than 60 murders and honour killings take place in the entire GB annually, no one mentions them. He clarified that not every incident in Ghizer is suicidal. Here it is often portrayed as suicide to cover up the murder. No action plan has been prepared for this either, he said.
Ghizer Youth Maraka is a commendable effort of the local youth which has been appreciated by many people.
The initiative aims to start a peer counselling process by forming youth groups at the grassroots level so that people can take control of their mental health.
This was the first gathering of young people. What gave a new impetus to the local youth will now play its part in every action for mental health as well as the prevention of suicide. Which is expected to yield positive and far-reaching results.
He urged the youth that whatever problems they are faced with, should share with each other and move towards a solution.
Social thinker and writer Aziz Ali Dad shed light on the issue from a socio-cultural perspective.
Yasir Abbas, Adviser to Chief Minister, Ghazanfar Ali, Assistant Commissioner Punial-Ishkoman and officials of the education department, health and civil society also spoke on the occasion.
Communique
Declare a mental health emergency in Ghizer.
The Maraka endorses the recommendation of providing counselling services to potentially vulnerable people through youth on a self-help basis.
There is a need to develop a team of local mental health counsellors who can help people at the local level.
Hotlines must be established for dealing with mental health emergencies in all tehsils of Ghizer and trained staff be deployed for counselling.
All sensitive cases should be referred to organizations working on mental health, including the Social Welfare Department.
A focal point should be set up at the District Headquarters of Ghizer for dealing with mental health cases.
Screening should be done from time to time in educational institutions to identify mental health issues.
A forensic lab should be set up in GB so that cases of suicide can be confirmed, and the distinction between murder and suicide can be made.
The capacity of police should be enhanced so that they could investigate suicide and murder cases on scientific and psychological lines.
Youth should be imparted life-saving skills through emotional intelligence and life skills should be made part of the curriculum.   
Messages (video and animated) should be designed for creating awareness among youth and people regarding mental health.
Police, media, parents and religious institutions should be given detailed information about mental health.
Legislation should be enacted to prevent sexual harassment and drug abuse.
Domestic violence and child marriage should be banned through legislation.
Youth should be provided with a safe environment.
Research on suicide and mental health should be done only by certified institutions and experts in the relevant field.
Mental health issues should be handled by the people at the local level and will be guided by experts in the relevant field.
Emotional intelligence and life skills should be part of the curriculum. At present young people should be trained in life skills, with regard to mental health.
There should be regular meetings between the teachers and parents
An early warning system should be installed for identifying absolute mental health cases.