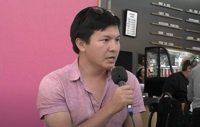 ---
Wife of jailed French-Afghan journalist calls on Taliban to release him
---
---
The wife of a French-Afghan journalist held in custody by the Taliban in Afghanistan says she's deeply concerned for his physical and mental well-being.
Aleksandra Mostovaja told Zhakfar Ahmadi from RFE/RL's Radio Azadi that she had spoken to her husband Mortaza Behboudi only once since his detention in January.
---
Reporters Without Borders (RSF) have asked the Taliban government to immediately release Behboudi.
Behboudi is one of six co-founders of Guiti News, an online media platform managed by French and refugee journalists focused on the recent issues caused by mass migration. He was forced to flee Afghanistan due to the rising danger to journalists, and in 2015 he moved to Paris after being granted asylum.
Behboudi was arrested when he returned to Kabul in January to write a report. His name was on a Taliban blacklist of undesirables, which includes journalists, says a report in Le Monde.
To watch the video, click on the link below: