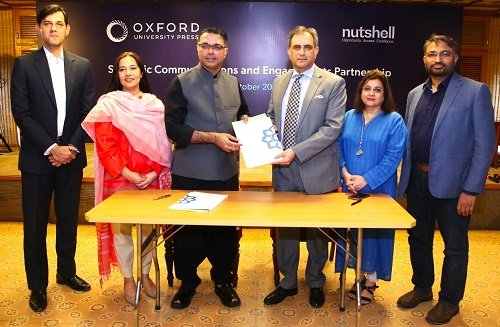 ---
News Desk
---
Karachi, Nov 1: Oxford University Press (OUP), a global leader in publishing Wednesday, announced a strategic partnership with Nutshell Communications for promoting education, scholarship, and research in Pakistan.
The agreement was officiated at the OUP headquarters here on Wednesday by Muhammad Azfar Ahsan, Founder and CEO of Nutshell Group, and Arshad Saeed Husain, Managing Director of OUP.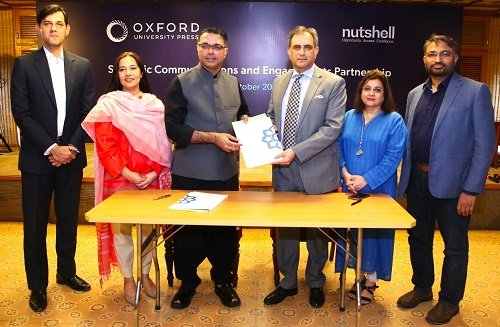 Senior representatives from both organisations were present on the occasion.
Arshad Saeed Hussain reiterated OUP's commitment to upholding the highest standards in education.
"OUP is committed to supporting academics through publications, educational materials, and training programs. We are excited about the launch of OxfordAQA, and our rigorous research methods and outreach demonstrate our dedication to advancing education and learning in Pakistan, said Mr Husain."
He emphasized how Nutshell Group's unique Pakistan-focused perspective aligns seamlessly with its mission to promote excellence in research, scholarship, and education.
Muhammad Azfar Ahsan thanked OUP for choosing Nutshell as its communications partner and emphasised the need to work together for greater causes.
"This collaboration holds the potential to achieve excellence and extend OUP's literary contributions to a broader audience. I look forward to assisting OUP in enhancing its outreach and creating a greater impact on a much larger audience," Mr Ahsan said.
In Pakistan, the education sector demands the utmost commitment, by all stakeholders, towards standardisation and comprehensive training to swiftly address the challenging circumstances and bring about positive change.