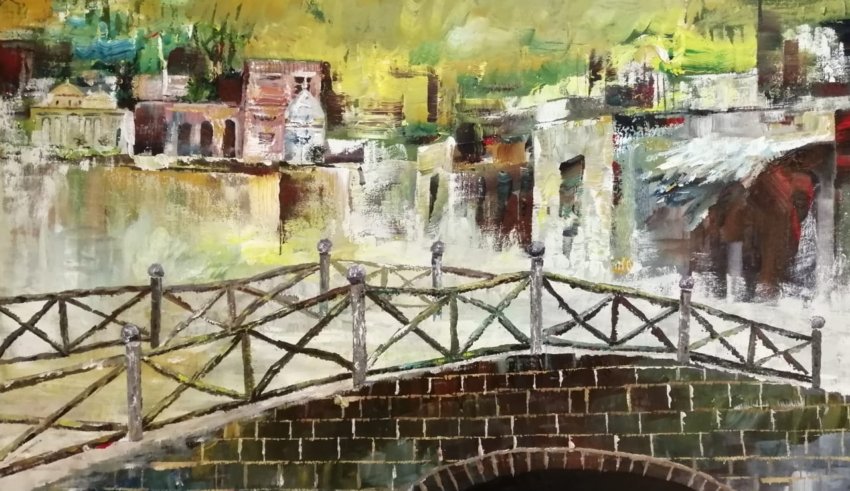 The gallery-cum-studio was opened with the launching of four upcoming female artists
A new art gallery-cum-studio opened its doors to the art enthusiast at E-11 sector on Friday with showcasing intricate artwork of four upcoming female artists.
Tasveerkhana is a new addition to the art landscape of the capital managed by Pakistan's noted painter, sculptor, playwright, director, actor, teacher, and poet Ahmed Habib.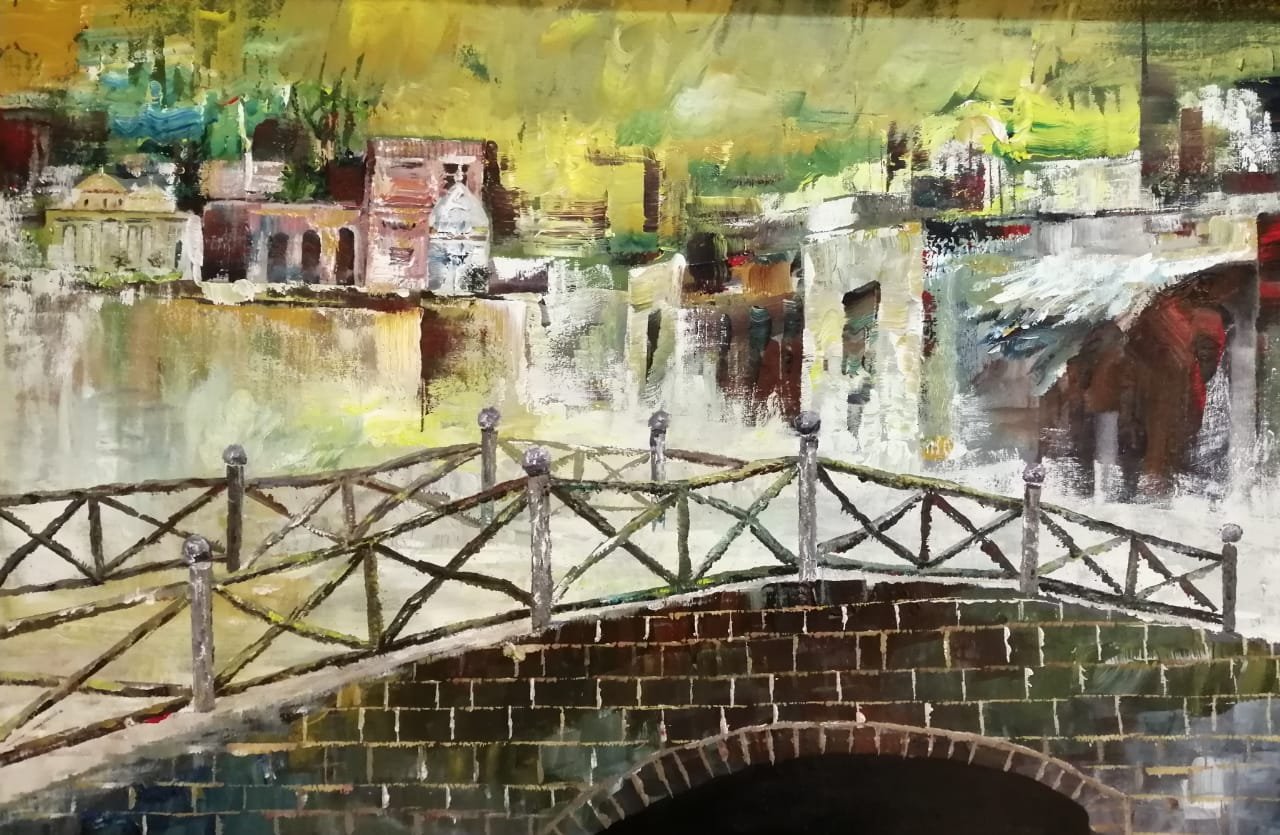 The group show features the artwork of Maleeha Mushahid, Madeeha Baig, Sharmeen Ali, and Nabeela Ahmad. The debut exhibits of the promising artists were reviewed by noted artist and activist Nageen Hyatt in the accompaniment of senior artists Abbas Shah, Najamul Hassan Kazmi from Baltistan, Riffat Khattak, Ejaz Khan and art connoisseur Altaf Ahmad.
Nageen was full of praise for the artists for their creativity and bold strokes and shades. She asked them to create their own space, style and carve a niche for themselves in the art world.
"Every one of you should maintain your individuality, integrity, and originality while pursuing your passion for art," she advised them. She went on to say that every artist must trust their own hidden abilities and talent. "You have a good teacher to learn the basics of art from", she added.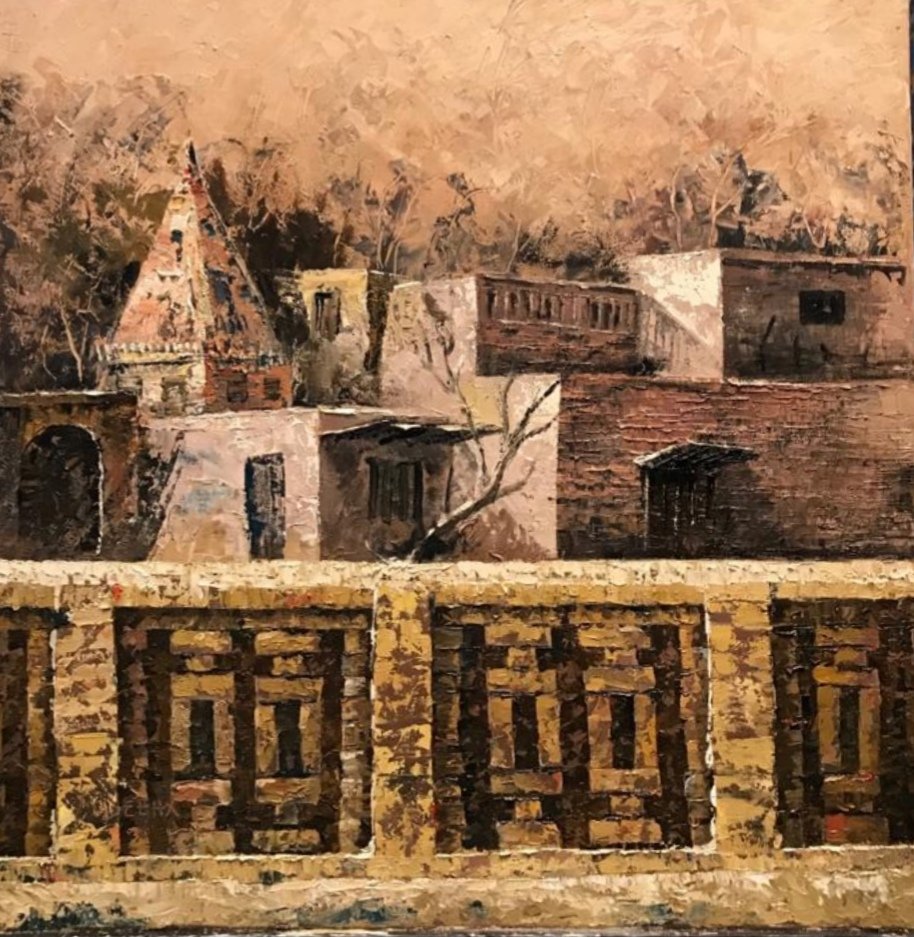 Maleeha Mushahid is an Islamabad-based self-taught artist who has painted old buildings of her native town Mandi Bahauddin in coffee-stained on newspaper collage with calligraphy.
A graduate of NUST, Maleeha has depicted her childhood fond memories of flying kite on rooftops of houses in close proximity, the vanishing culture, social cohesion and relationship with the massive construction of jungle of concrete and skyrocketing buildings disconnected from each other physically and socially.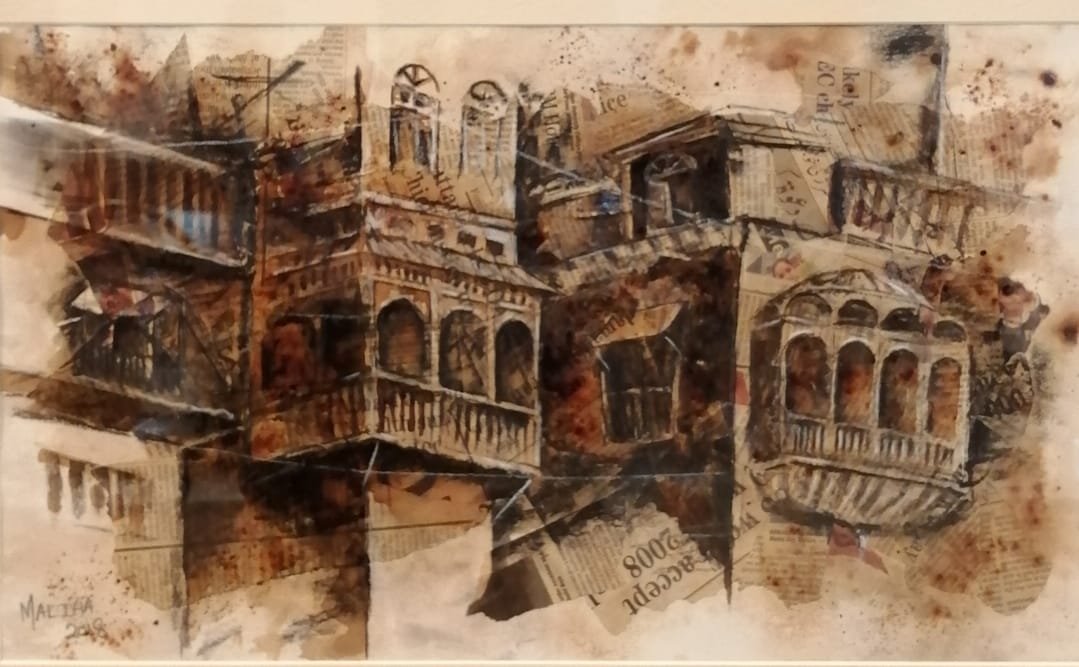 Maleeha has also painted the infamous Lahore Fort (Shahi Qila) in the coffee wash on newspaper collage.
"She has used architectural content with calligraphy and shades on collage very skillfully," commented Ahmed Habib, who teaches Maleeha the basics of painting.
"Her work is eco-friendly and using trash items like newspapers. Her eye-texture engages the view in dialogue with the art piece," Ahmed noted.
Nabila Ahmed, a teacher by profession is also a self-taught artist. She has also painted old buildings such as Wazir Khan Mosque, Saidpur village's temples and Shahi Mohalla of Lahore as well as the narrow lanes of the walled city.
Madeeha Baig is a housewife has taken brush and palette lately. She has painted the world fame Baltit Fort and fishing boats of Karachi in oil on canvas. "My dream to express myself through creative art has come true," said Madeeha.
"Dreams have no age limits, no language, and boundary," commented Ahmed. It can come true and realized at any point of time and age, he went on to say.
Sharmeen Ali, perhaps the youngest of the four participating artists, has done figurative paintings in acrylic on canvas. But a giant mural painting of different personalities and a self-portrait stand out of her work, depicting different stages of human relationship.
"The mural depicts two different personalities traveling from diverse places, social and cultural background and meets at a certain point of time and space become an integral part of each other," explained Ahmed.
"Sharmeen's lines, strokes, and colours are very bold and vibrantly full of energy," commented artist Ejaz Khan. He went on to say the use of light and shades are very strong.
Sharmeen, a student of A levels at Supernova School, Islamabad, is inspired by legendary calligrapher and poet Sadequain and Gulgee
She jumped into the art world out of passion and wants to adopt art as a profession in the future and also wants to learn sculpture, music, techniques of film and documentary making to diversify her profile.
She believes in art for life theory and wants to portray social issues and conflicts in society through her art.
She never misses any art show in capital and wants to learn from senior artists.
The artists also discussed the art scene of Islamabad, issues of piracy, copyright violations, and reproduction of some senior artists of their own work which they termed wrong.