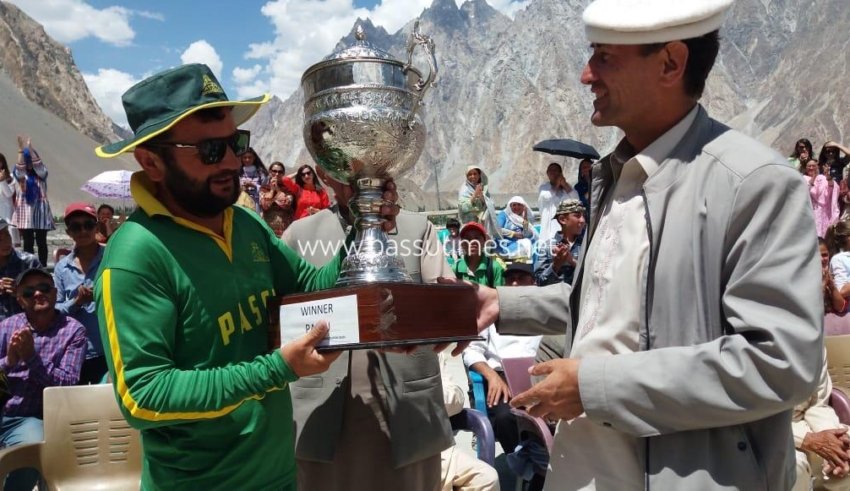 Passu team captain receiving champions trophy from Abdul Rafi.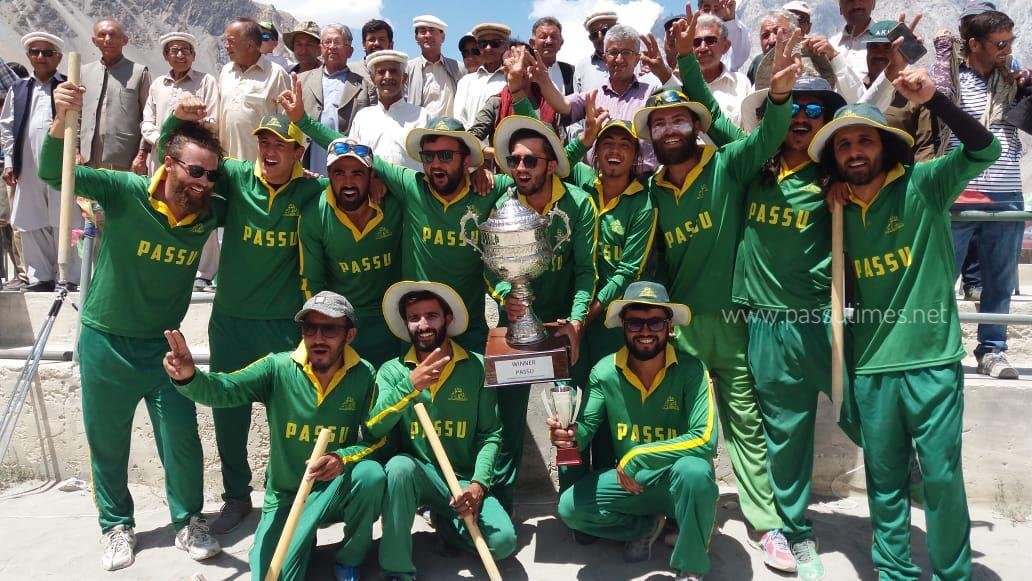 Ghulkin ended runner up. Twenty teams from all over Gojal participated in 10 days events.
By Asif Sakhi
PASSU (Gojal): In a thrilling final match host Passu team won the All Gojal A-Grade T-20 Cricket championship trophy beating Ghulkin by 5 wickets.
The tournament concluded with a grand finale after 10 days impressive matches between 20 teams from all over Gojal at the Passu Cricket Stadium.
Hundreds of cricket buffs and tourists from Hunza Gojal witnessed the sensational final match.
Ghulkin team won the toss and went to bat. However, Passu team's bowler Jaffarullah's spins kept the Ghulkin batsmen under pressure restricting them on the crease. The Ghulkin batsmen were all out after scoring 111 runs in 19.4 overs.
The target of 112 runs was easily completed by Passu team in 18.2 overs and 5 wickets in hand.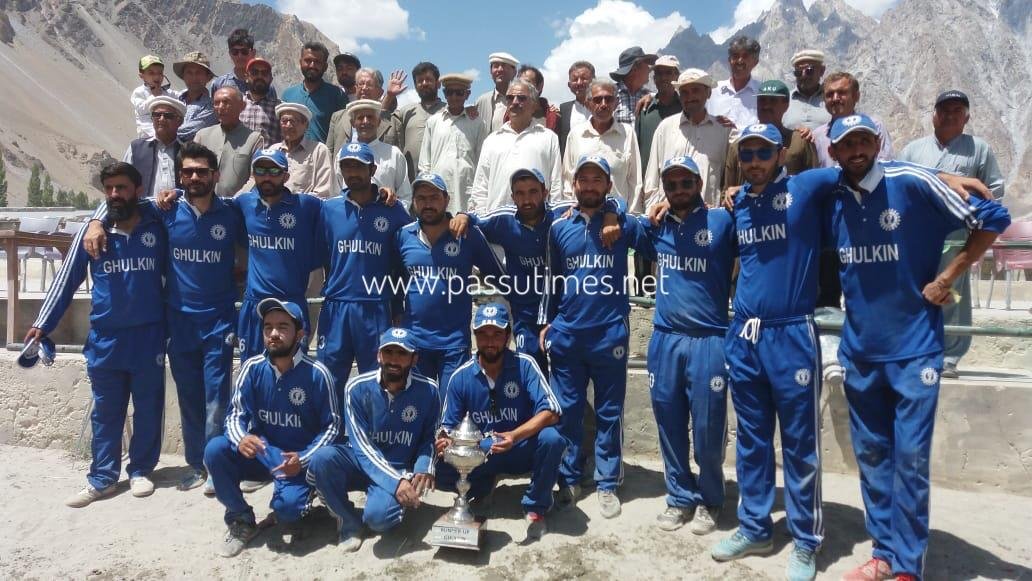 Batsman Yousuf from Ghulkin was awarded "batsman of the series shield" while Passu team's Jafferullah received 'bowler of the series' and Miandad Karim from Passu 'man of the match' shields.
"Passu team have won the Gojal championship title after revival of Passu Cricket Club after 11 years continuous efforts," Passu Youth and Sports Organisation chairman Ali Hassan said.
Total 20 teams participated in the tournament organised by Tehsil Sports Association at Passu Cricket Ground.
He congratulated the winner and all participating teams for presenting amazing cricket matches.
He hoped that youth will equally participate in social activities and play their due role in betterment of society.
The sports association's president Himayat Shah also spoke on the occasion and said that seven best teams will be selected from Hunza Gojal to take part in District level tournaments and one best team from Hunza district will be selected to participate in regional events.
---
Asif Sakhi is a social activist and Gojal Bureau Chief of The High Asia Herald/High Asia TV and Baam-e-Dunya