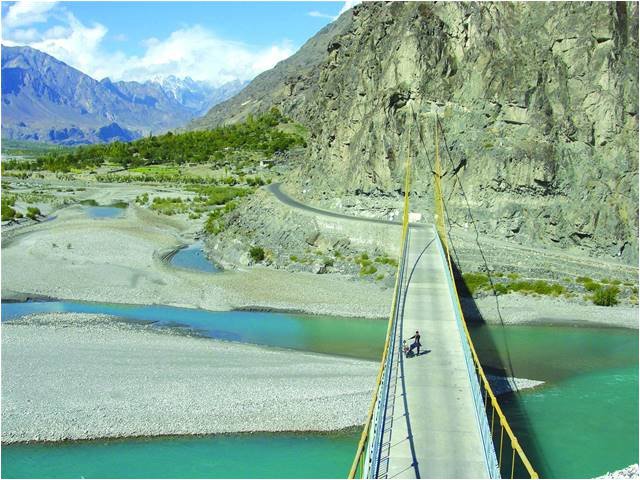 Ishkoman bridge over Gilgit river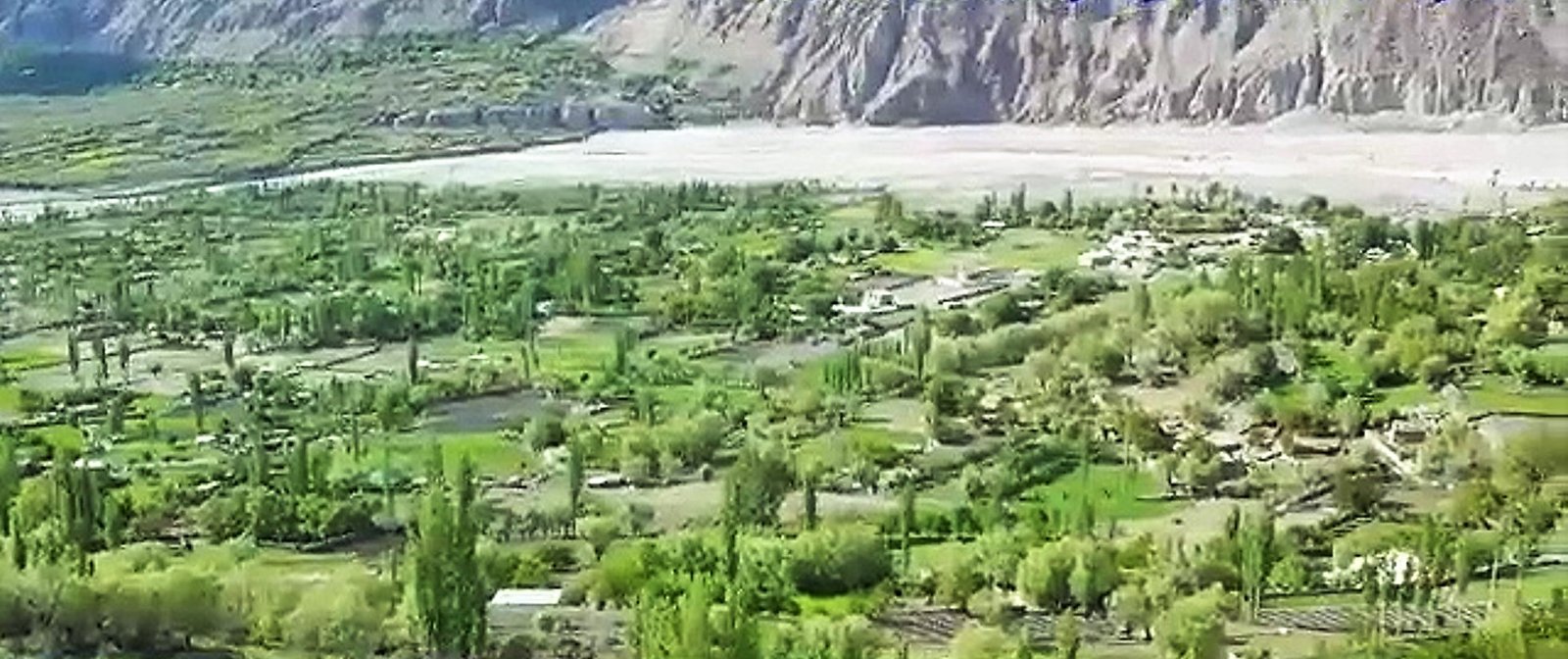 Zulfiqar Ali Kalhoro offers a portrait of the village of Immit in Ghizer district
Zulfiqar Ali Kalhoro
While going to Iskhoman, one passes by Gahkuch town, the headquarters of Ghizer district. It is also the main stop for Shandur, Yasin, Gupis and Ishkoman valleys.
Ishkoman is one of the four tehsil of Ghizer district. The other three are Punial, Yasin and Gupis. Recently, the Chief Minister of Gilgit-Baltistan announced bifurcation of the Ghizer District clubbing Gupis and Yasin in one district and Punial and Ishkoman in the other. But these have yet to be notified.
Like other tehsils of Ghizer district, Ishkoman is endowed with lurking glaciers, calm and serene lakes and the Karambar River. The impressive Immit village is situated on the left bank of the river which rises in Afghanistan and joins the Ishkoman river below Immit village. The Ishkoman River joins the Gilgit River at Gahkuch. One has to cross the town of Gahkuch to enter into the valley of Ishkoman.
From Chatorkhand, which is the headquarters of Ishkoman valley, a road leads to Immit, which is about 25km northeast. Before getting to Immit, one passes by the scenic and picturesque villages of Dain, Pakora, Ishkoman and so on. Immit is gateway to Afghanistan and the Pamir Wakhan Corridor.
Ishkoman is famous in the region for the production of a fine quality of apricots. The fruit grows in abundance in Pakora, Dain, Chatorkhand and Immit. Of these, however, the apricots of Immit are most valued and consumed. Some of the people of Immit village sell their apricots in the nearby market of Chatorkhand. A majority sell their apricots in Gilgit market as they get better price for there products as compared to Chatorkhand market. After all, Chatorkhand is a local market where only the people of Iskhoman tehsil bring their fruits while Gilgit is a regional market where people from all over Gilgit-Baltistan bring their fruit and earn a considerable amount of money.
Apart from apricots, maize is also cultivated in Immit.
There are many peculiarities of Immit, one being a hot spring and the other being the identity of the village as a melting pot of different cultures.
The hot spring of Immit is invariably filled with locals and people from nearby villages who come to take a bath in the hope of receiving healing from the waters. People of Pakora, Dain and Ishkoman villages frequently come to the spring along with their family and sometimes stay a night there. Separate rooms have been built for men and women. In their leisure time, the people of Immit come to the hot spring – not always to bathe, though. Sometimes, they go there to sit by the side and gossip.
There is a thriving population of yaks in Immit village, which are used for threshing crop, transportation and staple food. Young children give a helping hand to adults during the threshing process. The children also help their parents in other agricultural activities.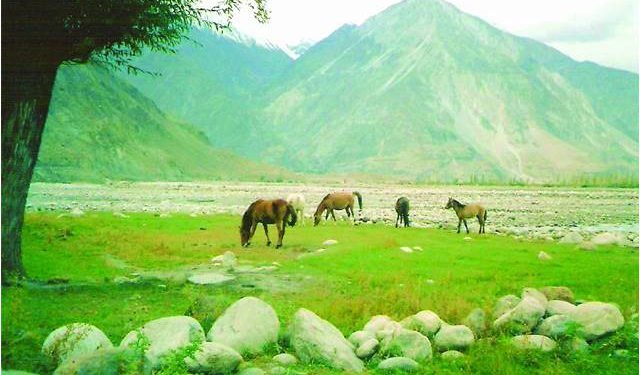 Immit has retained its cultural diversity. It is known as a melting pot of Gilgit-Baltistan in general and Ghizer district in particular as half a dozen different ethnic groups — Kyrgyz, Wakhis, Kohistanis, Pakhtuns, Gujjars and many others — live in the village with harmony. Nowhere else in Gilgit-Baltistan are so many ethnic groups concentrated in one village as in Immit who reside in the village with each maintaining a distinctive way of life and upholding centuries-old customs. Interestingly, every tribe has preserved their oral history that they fondly narrate to visitors. They take great pride in their oral tradition. Storytelling is one of the main pastimes in the village. When the harvesting season comes to an end and there is no work to be done, the only activity for amusement is often storytelling.
The people of Immit speak Khowar, Shina, Wakhi and Gujjari languages.
In general, these inhabitants of Immit are an industrious population. At the time of sowing, both men and women work together. Women of Immit enjoy an important role and have their voice in decision-making. They participate in a wide variety of agricultural activities: irrigation, weeding and guarding crops in the fields from birds and hungry livestock, harvesting and carrying grain, gathering kindling, fetching water and herding goats. They also accompany men when they take their livestock to higher pastures. Women reside in the pasture huts and do most of the work there, including all the dairy activities. However, it is mainly men who go to collect wood or to check on the flocks.
Kyrgyz, Wakhis, Kohistanis, Pakhtuns, Gujjars and many other ethnic groups reside in the village maintaining their distinctive way of life
In their leisure time, the women do embroidery. In fact, embroidered caps of Ishkoman in general and Immit in particular are very famous in Ghizer district. These caps have no match in terms of refinement and elegance in all of Gilgit-Baltistan save for Hunza. Caps are also made in other villages of Ishkoman notably in Pakora village. The fine needlework of a local woman constructs her identity and her work is easily recognized by other celebrated embroiderers. Needless to say, any embroidery by these women is always in great demand.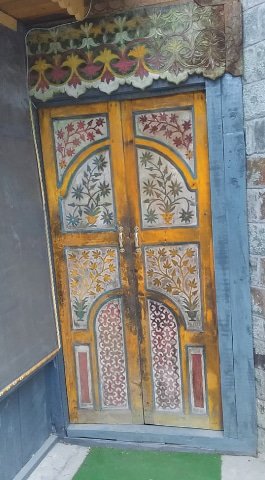 Before the onset of winter, people of Immit store food items, ghee in underground cellars for themselves and fodder for their livestock as the village receives heavy snowfall, which disrupts the patterns of life severely.
As one enters the village of Immit the first thing that attracts the visitor is the sublime scenery. Spectacular views of valley from many local houses leave the visitor spellbound. The majestic mountains that surround Immit are quite stunning. In winter, these mountains remain snow-capped. In former times, people used to cross these mountains on horses and yaks to reach their destinations. In the past and particularly during the reign of the Rajas (Khushwaqt princes of Chitral) people used to go Yarkhun valley in Chitral through Karambar Pass. In order to go to Nomal, Naltar and Gilgit, people had to use the Pakora-Naltar pass to reach these valleys. People of Ishkoman also used to go to Chipursan valley in Gojal, upper Hunza via Ko Sar Pass.
This feature was first published in The Friday Times, Lahore
---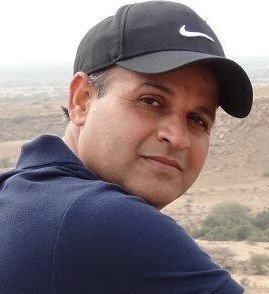 Zulfiqar Ali Kalhoro is an anthropologist and has authored four books: 'Symbols in Stone: The Rock Art of Sindh', 'Perspectives on the art and architecture of Sindh', 'Memorial Stones: Tharparkar' and 'Archaeology, Religion and Art in Sindh'. He may be contacted at: [email protected]