The global campaign was organised by young people, political, social and environmental activists, schoolchildren and citizens concerned over the future impact of an environmental crisis.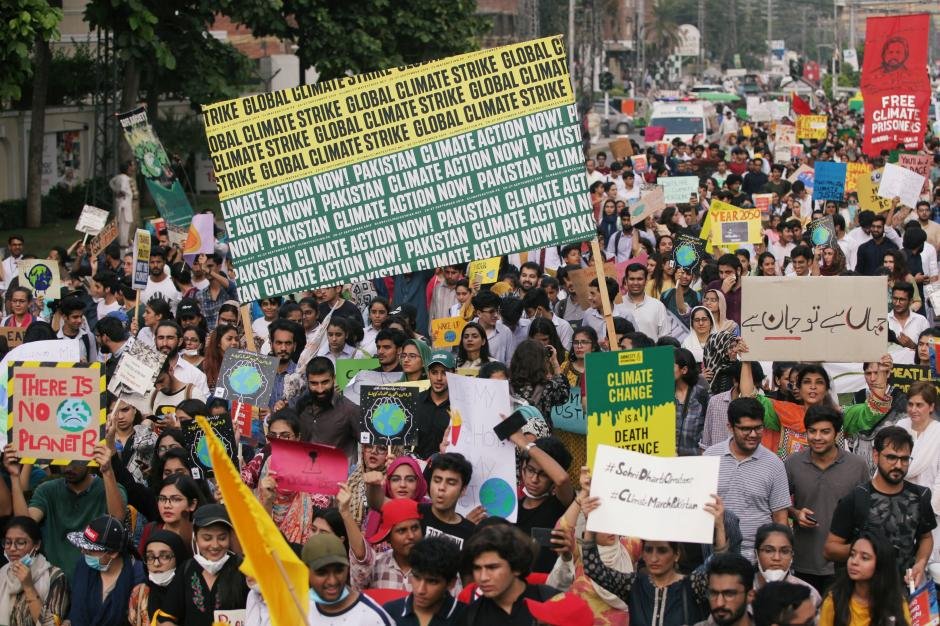 Herald Report
Millions of people took to the streets across the world, including Pakistan, Friday (Sept 20) to protest against inaction in the face of global climate change, demanding climate justice, urgent action to tackle global heating, as they united across time zones and cultures to take part in the biggest climate protest in history, according to media reports.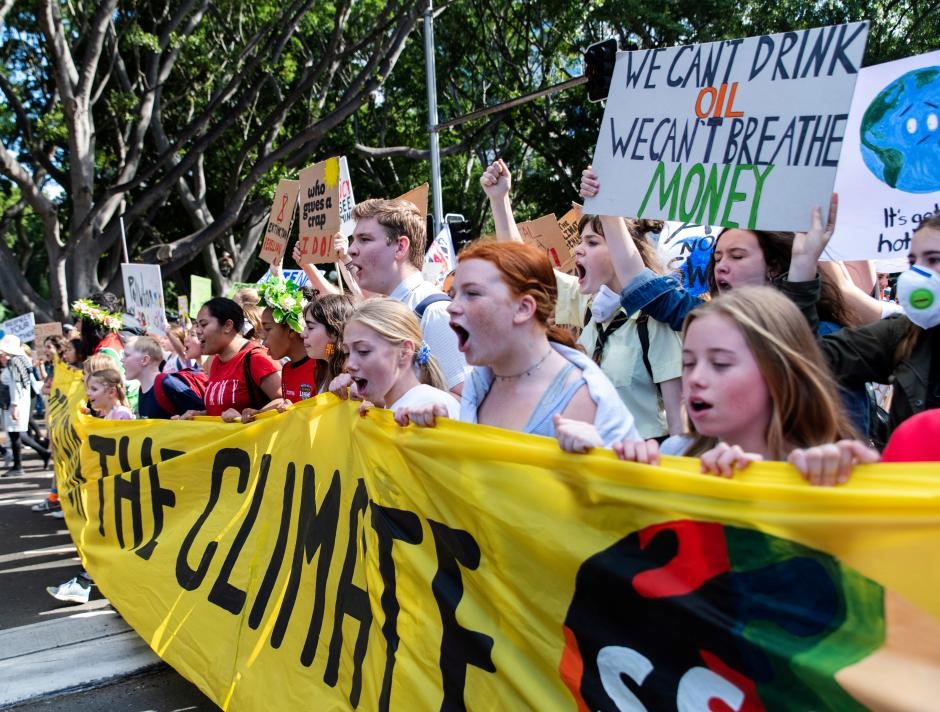 The climate strike is a continuation of a movement popularized by Swedish teenager and Nobel Peace Prize nominee Greta Thunberg, who began a weekly protest in August 2018 in front of the Swedish parliament.
 This time she demonstrated in New York City, which she reached, by traveling across the Atlantic via sailboat. In her time in the US, she has testified to Congress and will appear at the UN General Assembly, which kicks off next week.
Environmental, political and social activists, trade unions, students protested in the Pacific islands, Australia, across Asia, Africa, Europe, and the Americas. Employees left their workplaces, doctors and nurses marched and workers at firms like Amazon, Google and Facebook walked out to join the climate strikes.
The movement's emphasis is on the young people who will inherit the climate crises of the future. Organised in over 150 countries, the protests often had their individual targets: from rising sea levels in the Solomon Islands, toxic waste in South Africa, to glacier melting in the Himalayas, Hindukush, Pamir and Karakoram mountain ranges, known as the 'Third Pole', air pollution and plastic waste in the Subcontinent and coal expansion in Australia.
But the overall message was unified – a powerful demand for an urgent step-change in action to cut emissions and stabilise the climate, The Guardian reported.
They sent across a serious message on the imminent danger of climate change, the importance of a rapid transition away from fossil fuels, as well as the need to pay attention to those people who will face the consequences of a shifting climate far worse than others in Africa and High Asia.
The demonstrations took place on the eve of a UN climate summit, called by the secretary-general, António Guterres on Sept 23 to inject urgency into government action to restrict the rise in global temperatures to 1.5C, as agreed under the 2015 Paris agreement.
Carbon emissions climbed to a record high last year, despite a warning from the UN-backed Intergovernmental Panel on Climate Change that there is little more than a decade left to act to slash emissions and stabilise the climate.
Donald Trump will be at the UN headquarters during Monday's key summit on the climate crisis – but will be there to take part in a meeting on religious freedom instead, in what will be seen by many as a snub.
On Friday, the voices of key political leaders were noticeable by their absence. Instead, it was a day for people to set forth their demands, ranging from a ban on new mining in countries like South Africa and Australia to a "green new deal" in the UK and US to better air quality and more trees in countries like India.
"We are out here to reclaim our right to live, our right to breathe and our right to exist, which is all being denied to us by an inefficient policy system that gives more deference to industrial and financial objectives rather than environmental standards," said Avinash Chanchal, a young protester in Delhi.
Asia-Pacific
The action began in the Pacific Islands, where citizens have repeatedly asked wealthier nations to do more to prevent rising sea levels. Over the course of the day children and students from Fiji, Samoa, Vanuatu, Kiribati, Tuvalu, Marshall Islands, Tonga, New Caledonia, the Solomon Islands, and Papua New Guinea took part in poetry performances, silent protests, sporting events, and discussions. Students held placards in Kiribati and chanted: "We are not sinking, we are fighting."
The demonstrations spread across Australia – the world's biggest exporter of coal and liquid natural gas – where more than 300,000 people took to the streets in 100 rallies, prompting a tweet from Thunberg – awake in New York – that the "huge crowd" would set the standard.
The Australian finance minister, Mathias Cormann, had said on Thursday that students should stay in class rather than go on strike.
In a retort, Danielle Porepilliasana, a Sydney high school student said: "World leaders from everywhere are telling us that students need to be at school doing work. I'd like to see them at their parliaments doing their jobs for once."
In Tokyo, hundreds of students and environmental activists marched through the business and shopping district of Shibuya, chanting "Climate Justice!" while holding hand-painted placards made of cardboard with messages such as "Go Green," ''Save the Earth," and "the Earth is on fire."
Also see: https://youtu.be/hMnTLRSd6dY
No protests were authorised in China, the world's biggest source of greenhouse gas emissions, but Zheng Xiaowen of the China Youth Climate Action Network said Chinese youth would take action one way or another.
Also see: https://youtu.be/tIVf-S7sWp0
In India's capital Delhi, where the suffocating air pollution was the target of the demonstration, Rishika Singh, 18, said: "It's the poorest who suffer the most. The rich are better off – they make the use of air conditioning and private cars for comfort."
In Pakistan, students, political and environmental activists marched in Islamabad, Lahore, Karachi, Quetta, Mardan and Gilgit demanding climate justice, asking the Pakistan government to declare climate emergency and engagement on climate justice through national and global coalitions, adopt a low-carbon economy and ensure grassroots level climate adaptation.
Also see: https://youtu.be/10JXKMcPRVI
Pakistan
Activists of various left-wing parties and groups including Awami Workers Party, Huqooq-e-Khalq Movement, Progressive Students Collective, Progressive Students Federation, Women Democratic Front, and Women Action Forum.
In Islamabad, citizens and activists marched from National Press Club to D-Chowk near parliament house called for stringent and immediate actions in response to the global climate crisis.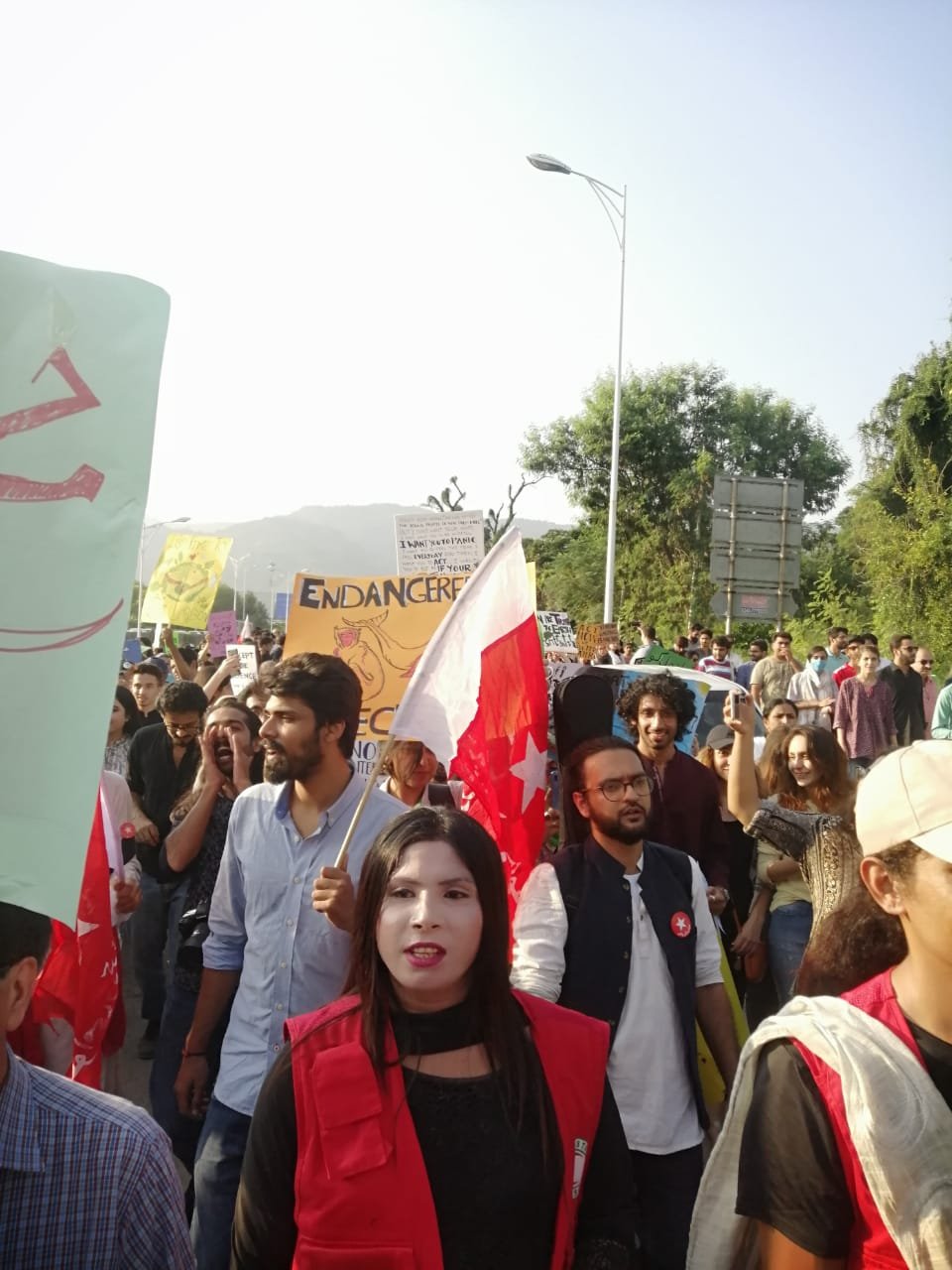 Ammar Rashid, an AWP activist, said: "The increased frequency and scale of climate-related natural disasters have provided ordinary people around the world with a visible and terrifying template for imagining what future climate catastrophe might look like".
"This generational shift is essential to take steps towards climate justice." Mr Rasheed explained the link between capitalism and climate change meant that addressing the climate crisis will involve radically reshaping humanity's place in and relationship with nature.
Participants of the march called upon the Imran Khan government to adopt climate-resilient urban planning and development, preservation of green spaces, the imposition of congestion charges and encourage vertical development to cut urban sprawl.
In Lahore, hundreds of activists from AWP, Huqooq-e-Khalq Movement, Progressive Students Collective, Progressive Academics Collective, Revolutionary Students Front and others marched.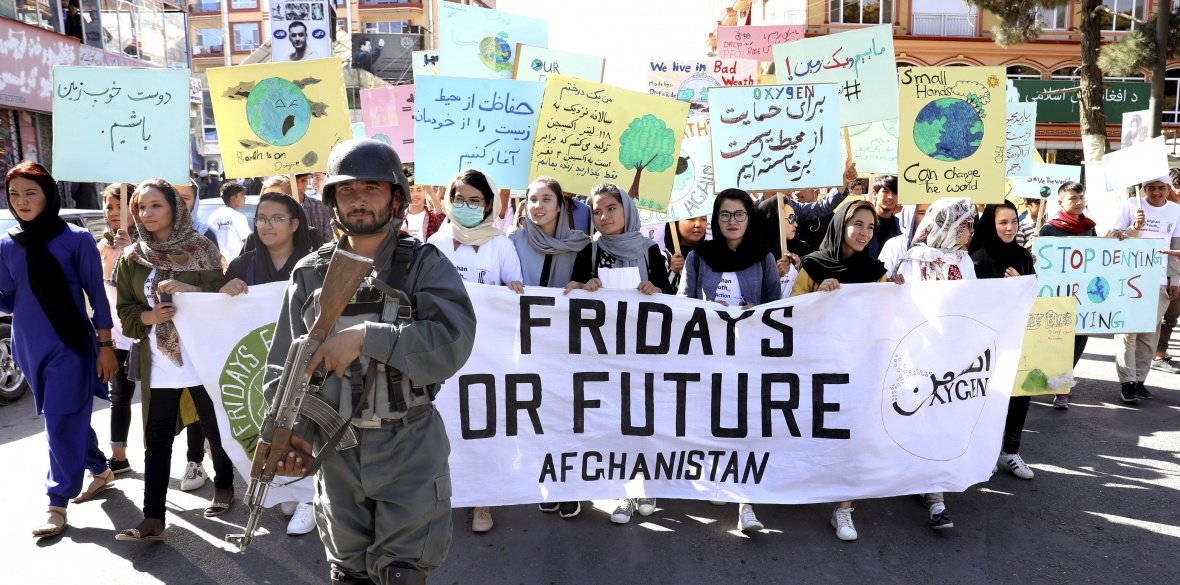 They were holding a larger than life banner of AWP leader Baba Jan who along with 12 other climate activists are in a Gilgit-Baltistan jail for the last 8 years. The marchers were demanding the immediate release of #ClimateChangeActivists of #GilgitBaltistan.
In Karachi, a large number of students, from various schools, colleges, lawyers, rights activists, and celebrities participated in the march and protested against deforestation, air pollution and the use of plastic, since they contribute a great deal in environmental degradation.
Armed with banners and flyers, the marchers stressed that it had become imperative to adopt a low-carbon economy along with making a swift shift towards renewable energy sources to combat and prevent the drastic effects of greenhouse gases and deteriorating weather conditions in Pakistan.
"We're trying to notify the citizens, authorities and the younger generation about the impacts of climate change," said social activist and classical dancer, Sheema Kirmani, one of the organisers of the march. "Our trees are being cut, our mangroves are disappearing, our rivers are clogged, we have plastic all over the place," she bemoaned.
The protesters also stressed the need to promote recycling and the use of sustainable resources. Tofiq Pasha, another organiser of the march, said: "We are among the top ten countries that are to be worst hit by global warming and the process has already begun. So many drastic changes in the weather patterns are a clear indication of it".
Lawyer and human rights activist Jibran Nasir said that such initiatives should be conducted and encouraged in all corners of the city. "Climate should be on the agenda of all parties and stakeholders. These marches instill a sense of responsibility and purpose among the people," he affirmed.
Artist Arieb Azher sang songs highlighting social and climate issues. Skits were also presented. AWP president Yousuf Mustikhan and other activists also joined the marchers.
In Kenya's capital Nairobi some young protesters wore hats and outfits made from plastic bottles to highlight the dangers of plastic waste, a major threat to people living in the developing world.
Europe
Demonstrations took place in most European countries, with huge crowds in Warsaw, Poland and more than 1.4 million people taking action across Germany.
In Germany, 1,700 companies joined the climate strike by making it easier for their workers to attend the marches. The same happened at educational institutions where academic activities were suspended so that their students could go to demonstrations.
In Berlin, demonstrators blocked roads and protested outside the German chancellery. In response, Angela Merkel announced a €50bn package of new measures to curb carbon emissions and review progress towards reaching its climate goals by 2030.
Merkel said that as a scientist she had been impressed by Thunberg's motto "unite behind the science".
In Brussels, a poetic placard read: "Respect existence or Expect resistance!"
In Britain, hundreds of people took to the Westminster neighborhood in London. With banners, slogans, and songs, they demanded that the right-wing Prime Minister Boris Johnson put in place measures aimed at tackling the climate crisis.
"Young people and workers are coming out to say enough is enough. I'm proud to be joining London's largest climate crisis mobilization to demand action," the Labor leader, Jeremy Corbyn, tweeted.
"This climate strike is inspiring – full of people who are demanding change to protect our planet and their future. Labor will honor that demand by kick-starting a Green Industrial Revolution," reported left-wing newspaper Morning Star. ​​
Tens of thousands of people gathered in central London in a festival atmosphere where Labour party leader Jeremy Corbyn addressed the crowd and criticised Prime Minister Boris Johnson and US President Donald Trump for their poor environmental track record and condemned Brazil's President Jair Bolsonaro over the devastating fires in the Amazon, the newspaper report said.
"The US president is a full-blown climate [change] denier, putting our planet in danger by pulling out of the Paris climate agreement," Mr Corbyn said as the demonstrators booed in agreement.
Some of the most dramatic protests took place in Preston, where striking students occupied the headquarters of Lancashire County Council and were threatened with arrest by police.
The students demanded to meet council officials to discuss the nearby fracking site at Preston New Road.
The site is operated by energy firm Cuadrilla and since its operations began the area surrounding the site has suffered more than 100 earth tremors.
Americas
The global protest culminated in New York which was anticipating one of the largest climate strikes. Education chiefs in the city gave every one of the 1.1 million children in its schools' permission to attend the climate strike and hear Thunberg speak at a rally at the United Nations headquarters.
"Greta! Greta! Greta!" the crowd chanted as she took to the stage.
The 16-year-old directed her speech to the students in the crowd, though she acknowledged that adults also skipped worked to strike.
"We will do everything in our power to stop this crisis from getting worse, even if it means skipping school or work because this is more important," she said. "Why should we study for a future that is being taken away from us?"
It was estimated that more than 250,000 people turned out for the protests in New York, with thousands more demonstrating in Boston, Miami, and San Francisco.
In Brazil, where recent fires in the Amazon have drawn attention to the climate emergency, students attended protests in Rio de Janeiro, São Paulo, and the capital Brasília.–additional input and photographs from Reuters.