Also watch: https://youtu.be/f6L6klHnAfw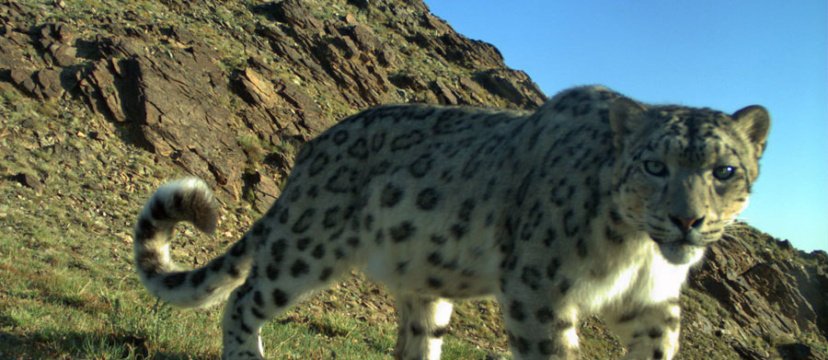 Conservationists, ecologists, and environmentalists have called for enhanced efforts and awareness about the impact of climate change on snow leopard and its habitat.
The impact of climate change, unmanaged tourism, and human development have affected the snow leopard and its fragile ecosystem, they noted while speaking at different events organized by the Snow Leopard Foundation (SLF) at its programme sites in Gilgit-Baltistan, Chitral, and Neelum Valley of Azad Kashmir to mark the International Snow Leopard Day the other day.
As part of awareness and educational initiatives, the SLf had organized various events to highlight the importance of the day observed on October 23 every year in 12 snow leopard range countries.
The snow leopard species faces the threat of extinction despite both its ecological importance and spiritual significance to indigenous communities. Recognizing it would take more than individual efforts to conserve snow leopards, at the first Global Snow Leopard and Ecosystem Protection Forum held in October 2013, all 12 snow leopard range countries endorsed the Bishkek Declaration. They pledged their "commitment to present and future generations…to protect and recover snow leopard populations and their fragile habitats for all people to enjoy." A year later and annually thereafter on October 23, International Snow Leopard Day has been held in order to commemorate the anniversary of the Bishkek Declaration and to create awareness about the snow leopard.
The survival of majority of wild animals is under threat. Being a large carnivore, the snow leopard is among the most threatened species and their survival has becoming difficult, they said.
This year's theme was "Innovative Conservation education for enhanced tolerance and co-existence".
SLF has always been striving to involve youth in its conservation efforts. To create awareness and provide conservation education to students at the grassroots level, SLF has established snow leopard clubs (nature clubs) in local community schools in the snow leopard habitats.
In Gilgit-Baltistan, colourful events were held in Diamond Jubilee (DJ) High School Teru, Phandar, in Ghizer District; Shah Wali Academy Ghulmet, Nagar District; Jamshed Public School Astak, Baltistan Division, and DJ Middle School Ghulkin, Gojal, Hunza District.
In Khyber-Pakhtunkhwa, the day was celebrated at the Chitral university in collaboration with its Department of Sociology and Zoology.
In AJK, an event was held at Government Girls Intermediate College Kel. More than 400 students from all three regions participated in the regional events.
The activities included nature walk, quiz competitions, and speeches by the students.
The Snow Leopard Club coordinators shared with students the issue of climate change, its impact on the snow leopard and its habitat as well as local communities.
The clubs have been established with an aim to create awareness among students through various educational activities and highlight the importance of wildlife and environmental stewardship.
The students play a crucial role in their respective communities in changing the misperception of villagers and family members about snow leopard. The SLF teams highlighted the importance of the conservation of wildlife and their habitat through innovative methods and conservation education that will help in enhancing tolerance towards snow leopards and co-existence.

PSLEP IN GB
Gilgit-Baltistan is one of the largest habitats of snow leopard in the world. About 400 snow leopards out of an estimated world population of 7,000 are found in the Karakoram, Himalayas, Hindu Kush, and Pamir mountain ranges.
Experts say the rare species' population is decreasing in GB due to various factors including habitat degradation caused by human activities, unmanaged tourism, lack of enforcement of laws as well as awareness and decline of natural prey for snow leopards such as ibex, markhor, marco polo sheep, trophy and illegal hunting.
According to reports, one snow leopard is killed every day, and 450 annually; more than half of these are killings in retaliation by herders which are a major threat to the survival of these cats. There are around 7,000 snow leopards left in the wild. There is no system in place here that would help these people protect their livestock against such attacks, and only garner negativity against the species," said the documentary.
A Global Environmental Fund (GEF) funded 'Snow Leopard and Ecosystem Protection Program' (PSLEP) was launched in GB in January 2019 to promote a landscape approach for the survival of snow leopard and its prey species by reducing threats and applying sustainable land and forest management in critical habitats.
However, conservationists point out some key challenges and barriers in implementing the project including lack of capacity, knowledge and proven models for conserving snow leopard and wildlife species at a landscape level; inadequate representation and protection of important habitats, insufficient economic incentives and alternatives to current practices of land and forest use by locals; and lack of awareness and skills necessary for wildlife monitoring, crime prevention and detection and  effective conservation decision-making.
The climate change is major threat for snow leopards as agricultural lands are shifting in high mountains due to fast melting of glaciers and snow.
According to the PSLEP officials, working for the protection and breeding of snow leopards has been started at 10 different areas in Gilgit-Baltistan.
The climate change is impacting the high altitude ecosystems inhabiting by snow leopards. The typical habitat range of snow leopards is between where the tree line stops and the snow line begins in the mountains. As climate change causes temperatures to rise, snow lines are receding, which means that snow leopards must move further up the mountain slopes as well.
As snow leopards get to higher elevations, the vegetation becomes scarcer, which means that the herbivores that they prey on are in limited supply as well, and the leopards are having trouble finding enough food.
Snow leopard is an indicator species and the conservation of snow leopard is essential in maintaining resilient mountain ecosystems. For instance, conservation of snow leopard requires conservation of its wild prey base and the latter can be achieved by proper management of high altitude habitats.
Also watch: https://youtu.be/f6L6klHnAfw