Nirma Purja before beginning his climb of Xixapangma in China, the last of the 14 highest mountain peaks in the world that the climber from Nepal climbed in under 7 months.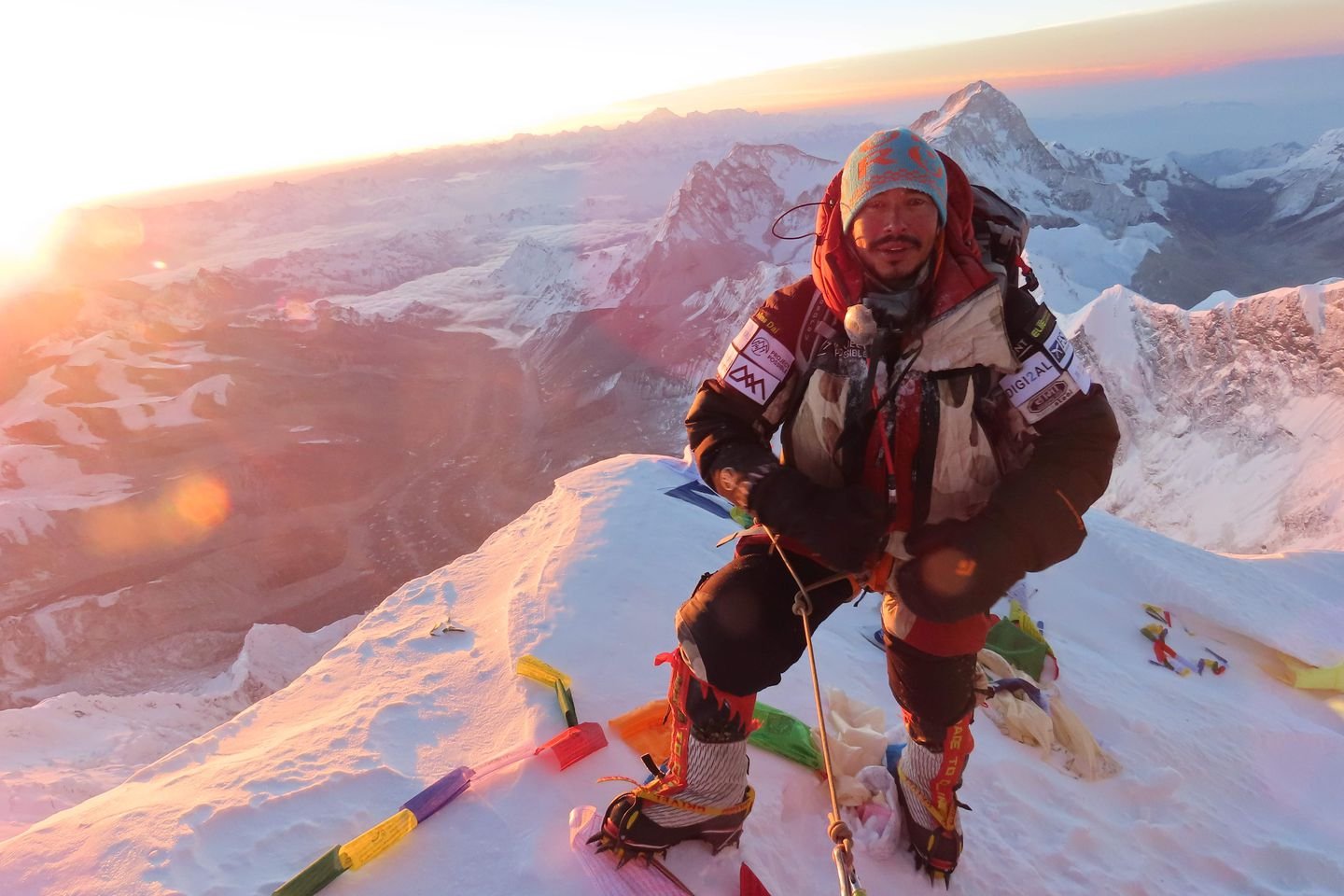 In May Nirmal Purja reached the top of Mount Everest. Photo credit: Bermont Possible Project, AFP
---
Nepali man shatters speed record for scaling the world's tallest mountains 'to show human capacity'
Islamabad: A Nepali climber has become the fastest climber after smashing the speed record and completing the journey to the top of the world's 14 peaks of at least 26,000 feet high in the so-called "death zone" over six months and six days, media reports said. Nirmal nicknamed 'Nims' Purja accomplished his goal at 8:59am on Tuesday.
"MISSION ACHIEVED!" says @nimsdai from the summit of #Shishapangma," or Xixapangma in Chinese his team tweeted upon reaching the 26,340-foot peak in China's Tibet region, while a statement quoted the former British elite soldier as being "overwhelmed and incredibly proud" after his 189-day feat.
The quest was called "Project Possible," but along the way, Nirmal Purja admitted "I bleed from every angle" and called his attempt to set a speed record a "horrifically amazing journey."
Purja wrote those words after successfully summiting his 13th peak last month, reported the Washington Post.
"It has been a gruelling but humbling six months, and I hope to have proven that anything is possible with some determination, self-belief and positivity," the Washington Post quoted the 36-year-old mountaineer as saying.
"We started with nothing, but look how far we've come." Starting with Italy's legendary Reinhold Messner in 1986 — who on Tuesday praised Purja's "unique mountaineering accomplishment" — around 40 climbers have climbed the Earth's 14 highest mountains, in years rather than months, but none have come close to Purja's speed.
According to Agence France-Presse, Polish climber Jerzy Kukuczka completed the same feat in 1987, in seven years, 11 months and 14 days.
Italy's legendary mountaineer Reinhold Messner became the first to scale the 14 peaks a year earlier.
Kim Chang-ho of South Korea beat Kukuczka's record by a month but used supplementary oxygen, unlike Kukuczka, who died in a climbing accident in 1989. Chang-ho was one of nine climbers who died last October when a snowstorm destroyed the base camp at Mount Gurja in Nepal.
Purja, a former member of the Gurkhas — a brigade of Nepalis in British army famous for their fearlessness — as well as the elite Special Boat Service, kicked off "Project Possible" in April this year.
Originally from Myagdi district in Nepal, Purja joined the British Army Special Forces in 2003, the first Gurkha to do so. But climbing mountains was more important to him than a well-paying job, so he quit in March 2019 to begin his climbs.
British High Commissioner recieves Nirmal purja at Kathmandu airport upon his arrival from Tibet, China.
---
In 2017, I did not feel tired even after I climbed Everest, Makalu, and Lhotse in 5 days. I ended up walking for 18 hours after the helicopter could not come to Makalu base camp due to bad weather. That was when I thought that I could do something more on the mountains for charity.
On April 23, he climbed Annapurna-I in Nepal, followed by Dhaulagiri on May 12, Kanchenjunga on May 16, Everest on May 22, Lhotse on May 23, Makalu on May 25.
Climbing those 6 peaks within 31 days was itself a record. Then he went on to Pakistan to climb Nanga Parbat (6 July), Gasherbrum-I (15 July), Gasherbrum-II (18 July), K2 (24 July) Broad Peak (26 July). He came back in the autumn to climb Manaslu (23 September).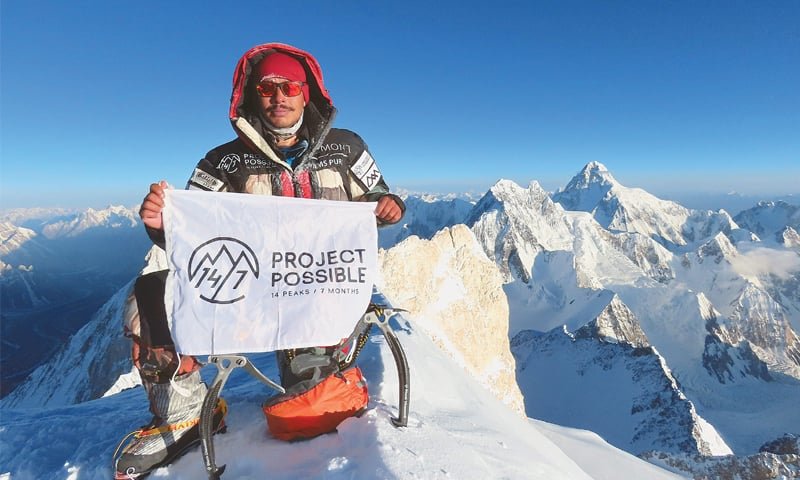 This July 18 photo released by Bremont Project possible shows Nirmal Purja at the summit of Gasherbrum-II in Gilgit-Baltistan-AFP
In China, he scaled Cho Oyu on Sept. 27, and then things got a little difficult. Xixapangma (8.027m) was his last and 14th peak, but for that, he had to overcome a hurdle perhaps more difficult than the climb itself: securing a Chinese visa to visit the restricted region of Tibet and rescuing stranded climbers along the way, reported Nepali Times newspaper. It was a nail-biting finish before he finally got the permit two weeks ago only after the Nepali government intervened with Chinese authorities and set off for the mountain which is only 70km north of Kathmandu.
Purja was described by Mingma Sherpa of Kathmandu's Seven Summit Treks, which outfitted the expedition, as being safe and in good health. "It is a great achievement for mountaineering and mountaineers and a milestone in the history of climbing," Ang Tshering, who previously headed the Nepal Mountaineering Association, told the Associated Press.
Purja, 36, crowd-funded his climbs through Project Possible and is also raising money for charities, including for the welfare of Gurkha veterans and their families and the group Chora Chori which runs a shelter for trafficked children in Kathmandu.
Most people had not heard about Purja's audacious attempt to climb all the world's highest peaks in record time until his famous photograph of the 'traffic jam' on Everest this spring went viral on the Internet symbolizing the annual traffic jam atop the mountain.
In an interview with Nepali Times after his Everest climb and before heading off to Pakistan in April, Purja said: "Yes, the traffic jam happened because all climbers wanted to get to the top at the same time. The crowd must be managed. For example, we climbed Annapurna in April. Maybe Everest climbing season can be opened up earlier too. Nature is for everyone, and climbing mountains shouldn't be reserved for the rich."
In an interview with AFP recently, he admitted, "Everyone was laughing at me and saying, 'How it will be possible?' when he told others what he was going to do. It is about trusting your ability."
So committed to the quest was Purja that he had images of the peaks, each of which stands at more than 26,000 feet (8,000 meters), tattooed across his back, but he told the Nepali Times in May that he had several goals in mind.
"I want to show human capacity, I am not climbing to set any records. My competition is only with myself," he said. "I was born in a small village in Myagdi. I want to prove that no matter what your background, you can do things considered impossible if you have the right thinking.
"My second objective is to raise awareness of the impacts of climate change. Thirdly, I want to help promote tourism in Nepal, contribute to the success of Visit Nepal year 2020 and be engaged in social work."
Besides climbing all those mountains, Purja also managed to carry out some high altitude rescues of stranded climbers on Annapurna and Kanchenjunga this spring.