The "Students Solidarity March" was organised by Students Action Committee (SAC) — a conglomerate of 28 left-wing and nationalist student, and feminist organizations from Balochistan, Khyber-Pakhtunkhwa, Punjab, Sindh, and Pakistan-administered Kashmir and Gilgit-Baltistan
LAHORE: Thousands of students in droves marched on Friday in unison from mountains to plains of Pakistan demanding the restoration of student unions, increase in education budget and an end to harassment on campuses.
The "Student Solidarity March", one of the biggest student protests in Pakistan's recent times, was participated by students from all hues and segments of society across Pakistan and its administered Kashmir as well as Gilgit-Baltistan on Friday for better and affordable education, and fair environment in universities marred by sexual harassment scandals, securitization, mismanagement, and corruption.
The march was organized and led by Students Action Committee (SAC) — a conglomerate of 28 left-wing and nationalist student, and feminist organizations from Balochistan, Khyber-Pakhtunkhwa, Punjab, Sindh, and Pakistan-administered Kashmir and Gilgit-Baltistan — that was formed in Lahore on Nov 5 in the lead up to the march.
The Progressive Students Collective spearheaded the move to form the SAC and organize the march against harassment and intimidation on campuses, coupled with ever-rising university fees, crumbling infrastructure, and the criminalization of students who speak out against the rotting education system which has brought youth to an impasse.
The protesters presented a charter of demands including restoration of student unions, provision of free education, transport and hostel for all, freedom to think and question, removal of security personnel from campuses, end to harassment and discrimination as well as rollback of cut in the higher education budget, purging of the curriculum from hate material.
Veteran Leftist politician and founding President of AWP Abid Hassan Minto with other political activists at the Student Solidarity March at Lahore on Friday.–Photo: HAH
---
Lahore was the epicenter of the march that jolted the power centres and the status quo politics. The demonstrators started the march from Nasser Bagh at around 3pm and ended outside the Punjab Assembly at around 8pm.
Student and political leaders made fiery speeches interspersed by slogans and revolutionary songs penned by Faiz Ahmed Faiz, Habib Jalib and Ram Bismil Azeemabadi and presented theatre play during the march and the sit-in outside the assembly building.
Students were joined by people from all walks of life including activists of trade unions, peasants, teachers, doctors and veteran leftist politicians and ideologues including Abid Hassan Minto, Lal Khan, Ghinva Bhutto, and Farooq Tariq.
At one point during the march Mashal Khan's father told the participants in his emotional speech that he used to ask his son to discontinue his activism as he would think Mashal was alone; "but here I see so many friends of Mashal," he said.
The SAC activists like Haider Kaleem, Haidar Ali, Mohiba and Arooj Aurangzaib continued to galvanise the marchers with their fiery slogans such as "Jab Laal Laal Lehraye Ga toh Hosh Thikane Ayega" (When red flags will flap, you shall come around) and "Jab Surkh Sawera Ayega" (When the red dawn will arrive) "Tulba Lenge Azadi" (Students will seize freedom), "Zinda hain Tulba Zinda Hain" (Students are alive) and "Kali Raat Jawe Jawe Surkh Sawera Awe Awe" (The red dawn approaches as the dark night passes away).
The marchers, coming from diverse backgrounds and identities — ethnic, gender, religious and ideological — were united in their fight for student rights. One could see transgender and LGBTQ+ communities carrying placards highlighting their miseries and demands.
Students from Gilgit-Baltistan studying in various educational institutes in Lahore were also seen chanting "Gilgit-Baltistan ko haq do Haqooq Do" (Give rights to Gilgit-Baltistan), Baba Jan aur sathion ko reha Karo (free Baba Jan and his comrades).
The slogans and revolutionary songs grew louder and louder as the march reached in front of the Punjab Assembly. Skits performed by the "Laal Hartal" theatre group further charged the protesters.
A Pashtun student leader spoke about the exploitation and humiliation of the tribal districts at the hands of the security apparatus, especially how the youth have been given guns instead of books.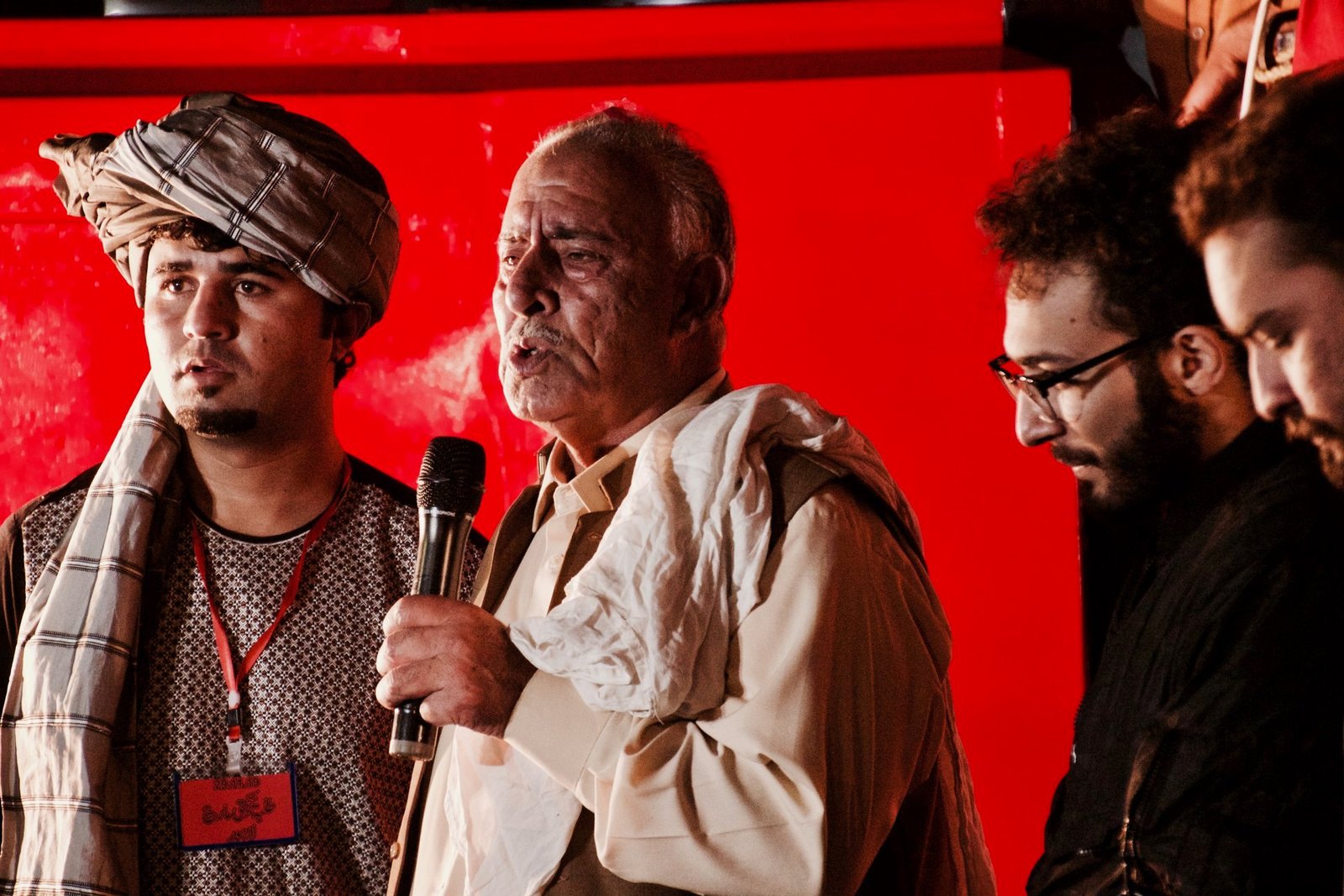 Iqbal Lala, the father of Mashal Khan a bright student of the Khan Abdul Wali Khan University Mardan, KP three years back, speaks to the demonstrators at the Student Solidarity March in Lahore on Friday.–Photo credit: SAC
---
Mohiba Ahmed, a member of the Women's Collective and the PSC spoke about the ethnic divisions created by the state in universities, and the suffocative environment, coercive tactics used by universities' administrations that drove students to commit suicides. She sought justice for the rape victim Nimrita Kumari and students of Balochistan university.
Basically there is no ban on student unions but, through affidavits and certain orders, restrictions are imposed so students not take part in politics or hold protests on campus, explained Haider Kaleem, a journalism graduate from Beaconhouse National University, who is among those organising the event.
Almost four decades of suppression since student unions were banned in 1984 by military dictator Ziaul Haq, material conditions and the struggle inspired by JNU students' led to the rebirth of the student movement in Pakistan.
The PTI government has slashed the higher education budget, forcing universities to raise fees and cut down research grants. "This is dismantling an education system that was already on ventilator," said Ammar Ali Jan, who teaches at Forman Christian College in Lahore.
Dr Lal Khan a senior socialist leader, noted human rights defender and journalist I.A. Rehman spoke about the importance of student rights and encouraged students to continue their struggle.
The response to the march was prompt and positive when the Punjab governor called a senior leader by phone and assured him that the government would work towards the restoration of student unions.
سرخ ہے سرخ ہے لاہور بھی سرخ ہے

سرخ ہے سرخ ہے لاہور بھی سرخ ہےطلبہ کے جوش وخروش نے ایوانوں کو ہلا دیا۔ دیکھئے لاہور میں سٹوڈنٹ مارچ پر سجاگ کی خصوصی رپورٹ ۔۔۔۔

Posted by Sujag Videos on Saturday, 30 November 2019
Islamabad
A similar mammoth gathering of students and political activists, teachers, and women organisations outside the National Press Club Islamabad at 3pm, perhaps one of the most powerful demonstrations by young people in decades.
Sounds of drums and slogans reverberated through the protest organized by Progressive Students Federation (PrSF), which is part of the SAC.
Members of Laal Haraal and PrSF performed an inspiring and chilling theatre on the harassment incidents and state of education in universities, paying tribute to all those who had lost their lives.
Energizing the crowd with slogans, SAC organizer and PrSF representative Minhaajul Arfeen said the time had come to free our stifled education system from the decadence of the bureaucratic system and the profit-making interests.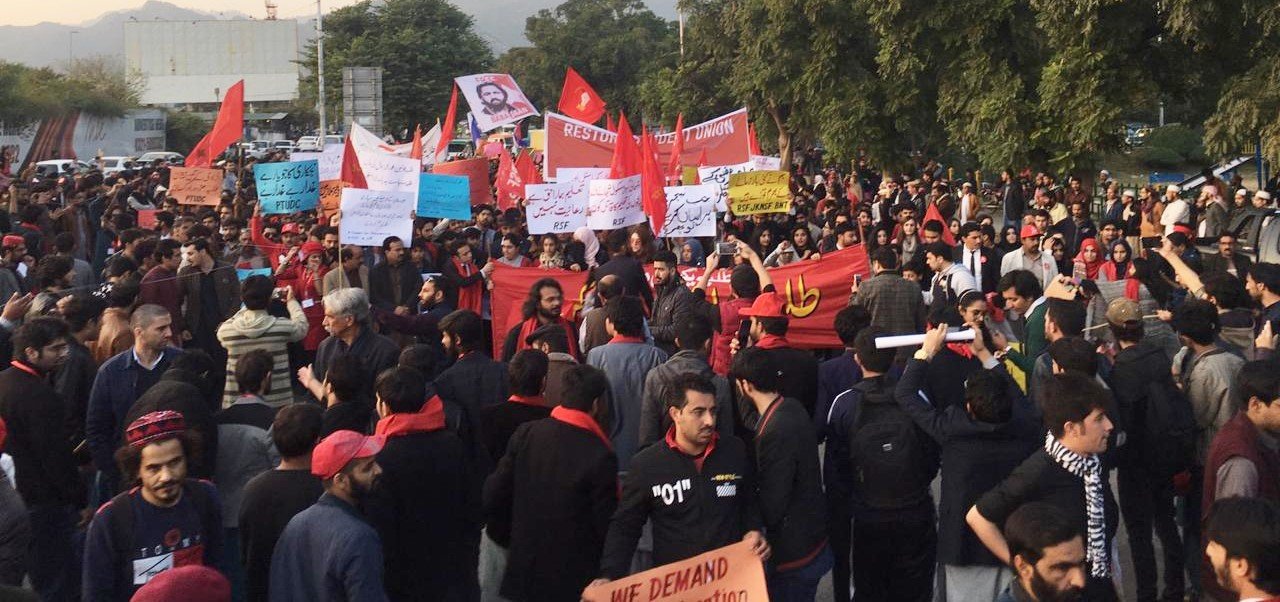 Activists of different student bodies, political parties and women organisations march from NPC to D-Chowk in Islamabad for demands on Nov 29.–Photo by Nusrat Hussain
---
Instead of responding to student concerns through structural reforms, universities have enhanced securitization, gagging dissent voices, and rigid moral policing to prevent students from interaction and collective action, he said.
Revolutionary Students Front (RSF) representative Rehana Akhtar claimed that the ban on student unions has stifled collective student action.
Activists of Laal Hartal and PrSF present a theatre on sexual harassment on campuses at the student march outside NPC, Islamabad on Friday.–Photo: Nusrat Hussain
---
Another PrSF member, Muneeba Hafeez, presented resolutions to resounding cheers and slogans of "Zinda hai Talaba, Zinda hai".
Ms Hafeez called for the immediate formation of sexual harassment policy in all higher education institutions, and anti-harassment committees with 33% quota for students to draft policies.
Ammar Rashid, leader of Awami Workers Party (AWP) who has championed the cause of student unions for years, congratulated students on creating a countrywide movement that shook the centers of power in the country.
Mr Rashid said the contradictions of the system and increasing oppression of marginalized communities are bringing people together to demand a new and better deal for everyone in this country.
He reaffirmed the belief that young people, through student unions and movements such as the Aurat March and Climate March were ready to change the very foundation of this unjust and unfair system.
WDF President Ismat Shahjehan holding portrait of Mashal Khan at the student solidarity march outside NPC at Islamabad on Friday. Photo by Mariya Malik
---
Women Democratic Front (WDF) representative Shehzadi Hussain congratulated the SAC on organizing successful marches in over two dozen cities across the country.
Lamenting the government's neoliberal economic agenda, imposed on the directions of the IMF, she said that the education was being compromised for the profiteering of individuals and corporations and robbing people of the fundamental right of education.
All Baltistan Movement (ABM) representative Sharif Akhunzada brought the attention of the marchers to the untenable condition of universities in Gilgit-Baltistan.
There is only one university available for a population of two million, he said demanding that at least one engineering and one medical university be set up in Gilgit-Baltistan, as well as a university in every district of the region.
The protesters marched from the NPC to D-Chowk near parliament house in a show of strength the city had not witnessed before.
Karachi
The march kicked off from Regal Chowk led by student and political leaders as well as prominent civil society members such as Mohammad Hanif, Jibran Nasir, Shafi shaikh, Jamil Advocate.
Mr Nasir, while speaking to the media outside KPC said: "I have come to support our country's future. Students are our future. We must realise that our future will never be bright if we keep on lighting monuments of the past.
Activists take part in a demo demanding the revival of student unions, and batter education facilities, in Karachi on Nov 29:– AFP
---
A transgender student of medicine said she has come to protest the lack of safety for females and transgenders on campus who are increasingly becoming unsafe.
Students from Balochistan who also participated in the march in Karachi demanded the arrest of the vice-chancellor of Balochistan University for his alleged involvement in the harassment of the students.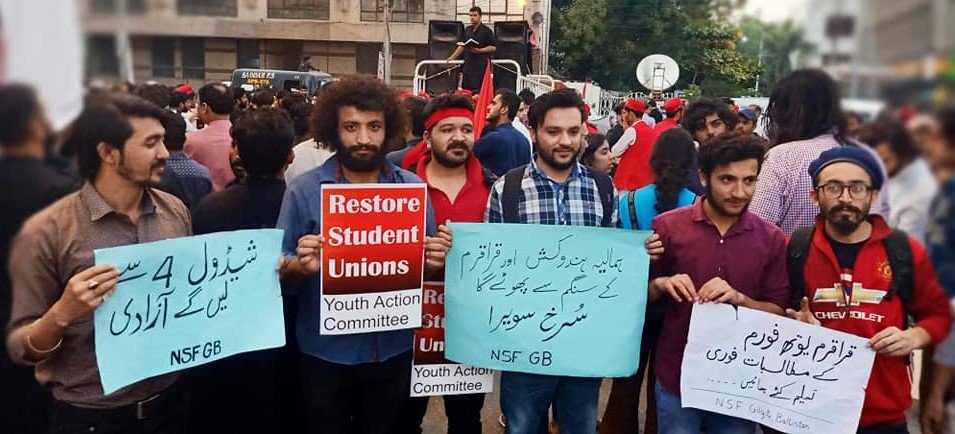 Student activists from Gilgit-Baltistan holding placards inscribed with slogans at the Student Solidarity March in Karachi on Friday.–Photo by NSFGB
---
Students from Gilgit-Baltistan Students Action Committee comprised of NSFGB, BNSO, KSO, DSF, BSF, ABM, also marched to protest the lack of facilities to pursue higher education in the mountain region.
"There is only one university in GB and it is substandard. We can't study there, so we moved to Karachi," said one participant.
Hyderabad
Students marched from old campus to the local press club chanting slogans of "Hum le ke rahein ge aazaadi. Tumhe deni paray gi aazaadi." (We will get our freedom. You will have to give us our freedom) to the beat of a drum.
WDF secretary Alya Bukhshal sings a song during a student solidarity march in Hyderabad on Nov 29. Reuters
---
Imdad Qazi of Communist Party Pakistan (CPP), Awami Workers Party's Dr Bukhshal Thallu, Amar Sindhu, Alya Bukshal, Aneel Hub Ali, Younus Rahu, Pardeep Kumar, Mehrunnisa Channa, and Inayat Khaskheli addressed the gathering.
They said that students were booked under sedition charges for demanding the provision of water and basic amenities and that the vice-chancellor of Sindh University should be ashamed of himself. They added that while teachers and staff have the right to form unions, students are denied the same right.
Members of PrSF, Sindhi Shagird Tehrik, Pakistan Trade Union Defence Council (PTDC) and Women Democratic Front also joined the protest.
AWP organized marches in Sangahr, Larkana and other cities in support of the student march,
Quetta
A protest rally against the ban on student unions in Balochistan University as well as other universities was also taken out in Quetta. Participants included members of various student organisations who gathered at Baldia Lawn and marched across various thoroughfares and back to the point of origin.
Hundreds of people took part in the rally, which was escorted across the various points by police personnel.
Peshawar
In Peshawar students and civil society, members held a protest rally from Peshawar Press Club to the Khyber Pakhtunkhwa Assembly.
Scenes from the march in Peshawar showed a vibrant gathering sloganeering to the beat of a drum. "Students live for the sake of truth," they chanted.
Gilgit-Baltistan
In Gilgit and Skardu cities students also marched under the banner of Student Organizing Committee for better education facilities, restoration of unions and cut in fees.
The students gathered outside the Gilgit Press Club, and shouted slogans in favour of their demands holding placards inscribed with slogans such as restore 2011 Prime Minister Scheme for masters, M.Phil and PhD students.
Student activists and political leaders address the protestors outside Gilgit Press Club on Friday demanding the revival of the students union. Photo: Naveed Ahmed
---
Addressing the students, Naveed Sakhi, leader of the National Students Federation GB (NSFGB), said that we are marching for our basic rights. He criticized the Karakoram International University (KIU) for allegedly dividing the students not allowing them to march on the university campus.
He called for lifting the ban on unionising students, the reversal of the increase in fees and revival of the 2011 Prime Minister's scheme.
Journalist Arshad Jugno said that KIU students have been protesting for the last three months but no one is ready to listen to them.
Student unions were banned during the Zia regime and the educational institutes were handed over to the private sector, said Shahzad llhami, a leader of the student body.
Asif Sakhi, leader of the AWP Hunza, said that his party supports the students' legitimate demands.
He called for allowing students to unionise, an end to submission of affidavits by students in educational institutions.
Mir Nawaz Mir, a local PTI leader, also supported the students' demands.
Muhammad Taqi of BNSO demanded that GB's history should be taught in all the educational institutions.
Ali Bagoro, leader of the Bagrot Students Organization, also called for the restoration of the unions.
Zulfiqar Hussain, a leader of the Democratic Students Federation, presented resolutions demanding revival of students' unions and holding elections, reversal of the increase in fees, elimination of class-based education system, ensuring free education, restoration of the fee-exemption scheme of 2011 for masters, M.Phil and the PhD students, setting up of committees to curb  sexual harassment, provision of hostels and transport, developing uniform and scientific curriculum, setting up of technical and professional institutes in each district, separate textbook boards and examinations board for GB; an end to discrimination and harassment on the basis of ethnicity, gender, and sect in the educational institutions.
Through another resolution, they supported the demands of the Baltistan Students Federation and the All Baltistan Movement to resolve the chronic issues of Baltistan University.
They also demanded the release of Baba Jan, Iftikhar Karbalai and other prisoners incarcerating in jails.
Scores of Pakistani student leaders studying at international universities are voicing their support for the march.
In an open letter addressed to the government, the Pakistan International Students Alliance has opposed the current ban on student unions in Pakistan.
"The ban on student unions has not only significantly restricted the ability of students to politically mobilise themselves and silenced their political voices, but also prevented students from campaigning on issues crucial to their well-being such as campus safety, fee hikes, accommodation security, and many others," reads the letter, which has been signed by nearly 40 student leaders from universities by the student presidents of Pakistan societies in the UK, US, Canada, Australia and Singapore including Cambridge University, Cornell University, Harvard University, McGill University and National University of Singapore.
"It is our duty to use our privilege and the resources at our disposal to further the values of democracy, representation and progress in the country we call home," the letter adds.
— With additional reporting by Inayatur Rehman and Ali Ahmed Jan from Gilgit and Anayat Baig from Karachi.