What does karate mean to the young woman from Quetta? She tells all.
Nothing is impossible for the girl who lost her parents before her 10th birthday writes Muhammad Asif Khan in a profile feature on Pakistan's karate superstar Kulsoom Hazara from Quetta in Dawn's Sunday magazine, EOS. Her resilience has taken her from strength to strength.
Kulsoom Hazara was born in Quetta on September 4, 1988. The youngest of three sisters and a brother, she lost her mother when she was only two. When she was five, her father took her to a local karate club. The club was owned by her cousin Sarwar Ali, who was raised by her father. Sarwar later got married to Kulsoom's eldest sister Fatima. Besides being a karate instructor, Sarwar was also a tailor master.
Life was going on as normal until another traumatic turn. Kulsoom's father suddenly passed away due to heart failure when she was only nine. That's when her sister Fatima and brother-in-law Sarwar took over as guardians for Kulsoom and her other sister Zehra, while their brother moved out with his own family.
Karate became a way of pulling the young and quiet Kulsoom from her depression. She spent more and more time at the club, while also improving her combat skills.
Due to the precarious security situation in their area, the family decided to migrate to Karachi in 2000. Sarwar reestablished his tailoring business along with opening another karate club in Karachi, while Kulsoom resumed her training and studies in a new city.
The Sindh Games of 2000 in Hyderabad were Kulsoom's first major tournament, where she proved her mettle by bagging three gold medals in her weight category. Next, she featured in the National Women's Karate Championship where she took bronze.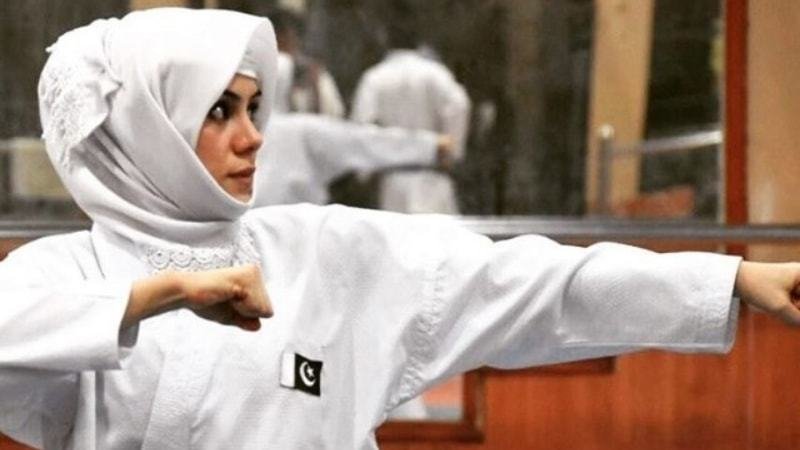 Karate became a way of pulling the young and quiet Kulsoom from depression.
---
Tragedy struck one again. Sometime in 2003, her brother-in-law Sarwar was gunned down in Karachi. With her mentor gone, a curtain was falling on Kulsoom's dreams too. There was also a question about how the three sisters would earn their living. Her widowed sister then resorted to doing embroidery work at home while the other sister Zehra started teaching Persian, their first language, to somewhat help stabilise their finances. Both older sisters pushed the youngest to carry on with her studies and karate and excelling at both, Kulsoom, too, did not disappoint them.
"I lost my parents when I was young but the loss of my brother-in-law has been the most traumatic," says Kulsoom Hazara, now 31. "It changed my entire life. I now want to make a name for myself and my family. More importantly, I want to make my late mentor proud and karate is all that I am left with."
"I have a special attachment with karate because of my brother-in-law. When I win, I know I make him proud," she adds.
Kulsoom Hazara has kicked and punched her way out of the bleakest moments in her life to find herself on victory stands, garlanded by medals and more medals
Her passion enabled Kulsoom to take a major leap in her career when she became the national women's karate champion, and she managed to do it the same year Sarwar was killed. Kulsoom is still the top female karateka in her weight category of +61kg.
"I come from a conservative background but the support from my sisters and my late brother-in-law instilled self-belief in me. It was their encouragement which drove me through everything," she says.
"I used to get angry at everything but this sport calmed me down. It became my anger management tool," she says.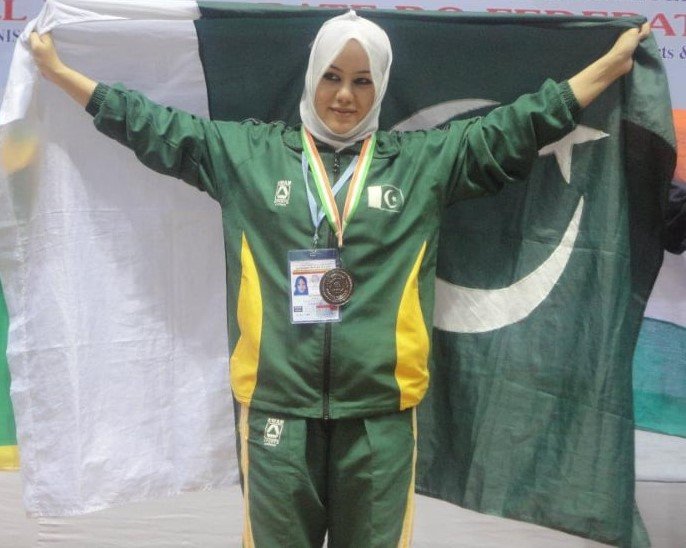 She has remained a prolific performer at the national level since 2002, winning dozens of gold medals. She has, in fact, had the distinction of securing hat-tricks of gold medals consecutively in as many as four national events.
Briefly representing the Army, Kulsoom later moved to Wapda and she still represents the department in all national-level events.
Her karate club in Karachi's Lyari, too, plays a major role in her life. The company of the other champions there such as Saadi Abbas helps her polish her skills further. Kulsoom always wanted to represent Pakistan in the international arena and that opportunity came at the time of the 4th Islamic Women Games in Tehran in 2005, where she secured the fifth position. Eventually, in 2010, she reached the podium, getting two bronze medals in the South Asian Games in Dhaka. She says that it gives her great pleasure when the Pakistani flag is raised overseas because of something she does.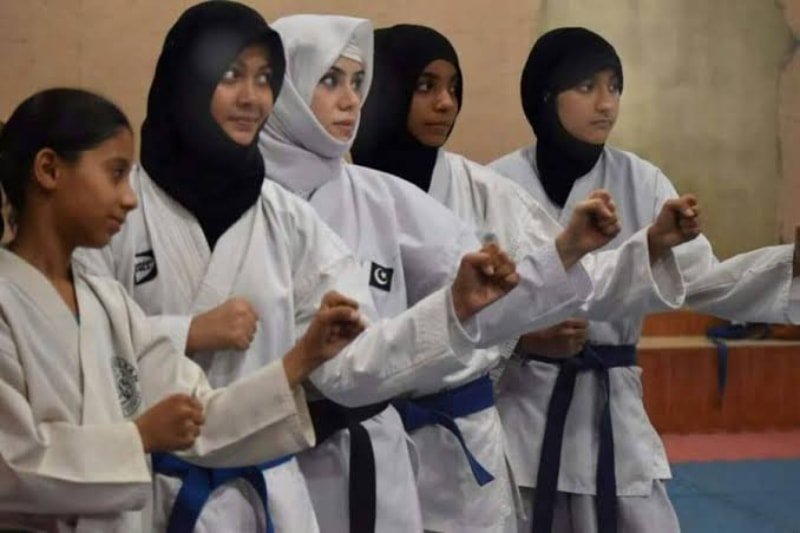 Kulsoom's brilliant performance also saw her returning home with a gold and silver medal from the 2016 South Asian Karate Championship in New Delhi.
She has also been decorated with the 'Icon of the Nation' award on March 23 earlier this year and the 'Excellence Award" in sports on August 14, 2017.
In the recently concluded 13th South Asian Games held in Kathmandu, Nepal, she bagged one gold and a silver medal, despite carrying an injury, securing a place as a prominent female karateka in the South Asian region.
Away from the sport, Kulsoom has also obtained her Master's degree in Health and Physical Education from the University of Karachi. She now envisages herself as a fitness consultant and coach, helping future female karatekas. "I will work for women karatekas in a relevant capacity such as coaching, for which I can also establish a training facility, but I would appreciate some government support," she says, urging parents to encourage their daughters to take up karate.
AWARDS
NATIONAL:
• 1st National Women Karate Championship 2002, Lahore — 1 bronze medal
• National Games 2004, Quetta — 1 bronze medal
• 2nd National Women Karate Championship 2005, Islamabad — 1 gold medal
• 3rd National Women Karate Championship 2006, Rawalpindi — 1 silver medal
• 1st National Women Ranking Karate Championship 2007, Lahore — 2 gold medals
• 4th National Women Karate Championship 2008, Lahore — 2 gold medals
• 5th National Women Karate Championship 2009, Hyderabad — 3 gold medals
• 6th National Women Karate Championship 2010, Karachi — 3 gold medals
• 31st National Games 2010, Peshawar — 3 gold medals
• Shaheed Benazir Bhutto 7th National Women Karate Championship 2011, Lahore — 3 gold medals
• Shaheed Benazir Bhutto 8th National Women Karate Championship 2012, Lahore — 3 gold medals
• 32nd National Games 2012, Lahore — 3 gold medals
• 9th National Women Karate Championship 2015, Lahore — 2 gold medals
• 10th National Women Karate Championship 2016, Lahore — 2 gold medals
• 11th National Women Karate Championship 2017, Lahore — 2 gold medals
• 12th National Women Karate Championship 2018, Sahiwal — 2 gold medals
• 33rd National Games 2019, Peshawar — 2 gold medals
• 13th National Women Karate Championship 2019, Lahore — 2 gold medals
INTERNATIONAL:
• 4th Islamic Women Games 2005, Tehran, Iran — Secured 5th position
• 10th South Asian Games 2006, Colombo, Srilanka — Secured 5th position
• 11th South Asian Games 2010, Dhaka, Bangladesh — 2 bronze medals
• 11th Senior Cadet AKF Championship 2012, Tashkent Uzbekistan — Secured 5th position
• 17th Asian Games 2014, Incheon, South Korea — Secured 5th position
• 3rd South Asian Karate Championship 2016, New Delhi, India — 1 gold and 1 silver
• 4th South Asian karate championship 2017, Colombo Srilanka — 1 gold and 1 silver
• 4th Islamic Solidarity Game 2017, Baku Azerbaijan — Secured 5th position
• Karate 1 Premier League 2017, Dubai — Participated
• 15th AKF Senior Championship 2018, Amman Jordan — Participated
• 18th Asian Games 2018, Jakarta Palembang — Participated
• Karate 1 Series A 2018, Shanghai China — Participated
• 13th South Asian Games 2019, Kathmandu, Nepal — 1 gold and 1 silver
This profile feature was originally published in Dawn, EOS, December 22nd, 2019