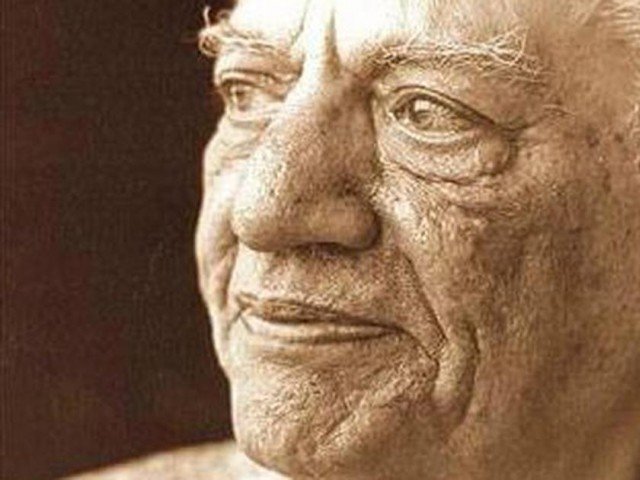 News Desk
From the House of God
Every idol will be removed
We, the pure, the faithful
Who were barred from His house
Will be made kings
Their crowns will be flung in the air
And thrones will be smashed
We shall bear witness
Ali Madeeh Hashmi, the grandson of Faiz Ahmed Faiz, writes that when these lines were sung by Iqbal Bano in 1986, the crowd went into raptures. According to Scroll India, the poem was one of modern Urdu's most famous – Wa yabqa wajh-o-rabbik, a verse from the Quran that means 'the face of your Lord'. But it is more commonly known by its refrain: Hum Dekhenge, meaning We shall bear witness.
The poem was used during the ongoing protests in India against the communal Citizenship Amendment Act and the National Register of Citizens. It was sung by numerous students outside campuses who refused to follow BJP's decisions.  However, the Indian Institute of Technology (IIT) Kanpur constituted a panel to decide whether Faiz's poem 'Hum Dekhenge' is offensive to Hindu sentiments, reported NDTV.
The verse that gave offence according to The Indian Express, was: Ab arz-e-Khuda ke Ka'abe se, sab buut uthwaae jaayenge / Hum ahl-e-safa mardood-e-haram, masnad pe bithaaye jaayenge / Sab taaj uchhale jaayenge, sab takht giraaye jaayenge/ Bas naam rahega Allah ka, hum dekhenge (From the abode of God, when the idols of falsehood will be removed/ When we, the faithful, who have been barred from sacred places, will be seated on a high pedestal/ When crowns will be tossed, when thrones will be brought down, only Allah's name will remain.)
It was the word buut (idol) that became objectionable, which was taken as a reference to Hindu murti and was therefore seen as a communal insult. Back in Pakistan, everyone was surprised given that Faiz was a deeply secular person. The poet was a recipient of the Lenin Peace Prize under the Soviet Union.
Faiz's daughter Saleema Hashmi termed the controversy surrounding her father's poem 'irrelevant' and 'funny'. "It is funny how Hum Dekhenge is being taken as anti-India, only because it has been sung by protesting oppressed students". Hashmi said her father's poetry was the voice of all who stood against forced oppression. "Faiz's poetry gave voice and words to those who hated him. I believe poetry serves its purpose when it becomes voice of those who cannot find for themselves," Hashmi told India Today.
Earlier, senior lyricist Javed Akhtar also termed the incident 'absurd' and 'funny' according to NDTV. The lyricist said that Faiz Ahmed Faiz wrote Hum Dekhenge against Zia ul Haq's "communal, regressive and fundamentalist" regime "Faiz Ahmed Faiz was like a leading star of the progressive writers who emerged in undivided India," Akhtar added.
He continued to say that Faiz wrote poems when India got independence and the Partition took place to express his sorrow over the division of the country and now his work is being termed as anti-national. "The man who wrote a poem to express his sorrow over the division of India is now being termed as anti-India," Akhtar said. "He lived half his life outside Pakistan," Akhtar reiterated.
Written by Faiz, the work uses one of the most salient events in Islamic history to construct a call to arms against tyranny and oppression. The nazm recounts Prophet Mohammed's (PBUH) conquest of Makkah. After the Islamic Army had won victory, the Prophet (PBUH) stepped into the Kaaba. Over time, however, the people around the Kaaba stocked it with idols, disregarding Ibrahim's injunctions. The Prophet (PBUH) removed the idols, saying, "Truth has come and falsehood has vanished."
However, to truly understand why the crowd was so ecstatic, the poem must be situated in the politics of Pakistan. Faiz wrote the poem in 1979 – two years after a military coup by General Zia-ul-Haq. With Hum Dekhenge, the poet turned Zia's religious symbolism on its head. Similar attempts have been made to criticise the Hindutva of the Sangh Parivar in India using Hindu iconography.
In 1986, when Hum Dekhenge was sung be celebrated singer Iqbal Bano in Lahore, the crowd erupted. Faiz's powerful words channeled Pakistan's frustration with Zia's dictatorship. It was so heady that Bano "had to stop repeatedly to allow the cheers and loud slogans of Inquilab Zindabad to subside before she could carry on singing" writes Faiz's grandson, Ali Madeeh. "The clapping and cheers were so thunderous that it felt at times that the roof of Alhamra hall would blow off," he concluded.