Avalanche destroys houses, cattle-pens in the Khizerabad area of Shimshal. Photo credit Zulfiqar Baig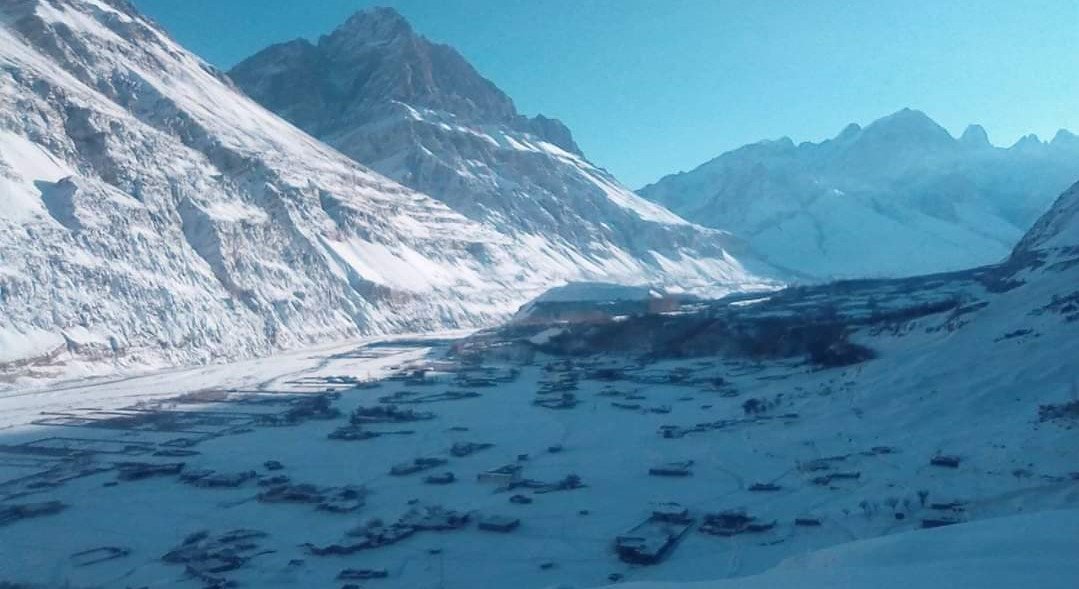 Heavy snow has blanketed Shimshal Valley disconnecting the valley from the rest of the world. Photo credit Madad Ali Shah
---
Death toll surges to 110 in recent devastating snow and weather-related incidents
Our Correspondents
GILGIT/MUZAFFARABAD: Five army personnel among 10 more people have been killed in Gilgit-Baltistan and Azad Kashmir, pushing up the toll from snow and avalanches past 110. Over 80 casualties have been reported from AJK in the current devastating spell of snowfall.
While the Neelum Valley has been reportedly the worst-hit area so far with 74 dead, and over 90 injured the land and communications links with upper hilly areas of Hunza, Astore, Ghizer districts and Baltistan division remained disconnected. Hundreds of passengers are stranded in AJK, GB, Rawalpindi, and Chitral.
Sources in the Gilgit-Baltistan Disaster Management Authority (GBDMA) and district administration told The High Asia Herald that avalanches have killed five soldiers, a girl, and a minor boy and injured several other people.
The five army personnel, identified as Lance Naik Banaras Iqbal, Lance Naik Abdul Razzaq, SPR Mohammad Rafiq, SPR Shahzad Akram, and SPR Ammar Ali, were hit by an avalanche in Domba Baho area of Astore on Tuesday, the officials said. The bodies of the victims, who belonged to the engineering corps, have been retrieved and shifted to Gilgit.
Separately, an avalanche destroyed a house in the Thali area of Qamri town, in Astore killing a minor boy Rehmatullah and a teenaged girl Zeenat, the local police said.
Two other members of their family, Mohammad Sultan, and Amir Hayat were injured in the incident, who could not be provided medical aid or shifted to hospitals because of the blockade of some roads, they said.
Shimshal, Chipursan valleys remain cut off
The unprecedented snow has hit Shimshal and Chipursan hard, two remote valleys of Gojal Hunza, which remain cut off from rest of the district as heavy snow and avalanches have blocked the link roads to the two valleys at several points, damaged houses, cattle-pens, and livestock.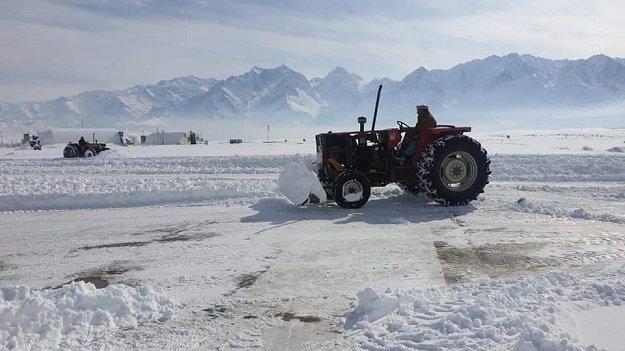 Madad Ali Shah, a local social worker, told The High Asia Herald that eight shepherds identified as Dad Ali, Tafat Shah, Sulaiman Baig, Muhammad Hafiz, Ghulam Sultan, Jalaluddin, Asadullah, and Rehmat Karim, remain stranded in upper Pamir pastures of Shimshal for many days. There has been no contact with them as there is no means of communication available there.
He said that the Passu-Shimshal link road has been blocked since January 12.
The representatives of the village have informed the local administration and requested for machinery to remove the snow and avalanche from the road, Baig said. They have assured us to start work from Friday. It will take several days to open the road, he added.
According to local people, their livestock is starving and dying due to a shortage of fodder as the valley has recorded 1.5 feet (457cm) snowfall.
The residents of the valley have been living in constant fear and experiencing avalanches since the start of the snow spell which has damaged their houses, cattle-pens, trees and water channels.
The local people are facing immense problems due to frequent weather-related disasters for the last decade because of climate change. In winter snow and avalanche disrupts communication and civic activities and in summer floods caused by glacier melting and GLOF damages the road.
In Chipursan, the road is somehow open but has become slippery and dangerous to travel on because of heavy snow, High Asia Herald local Reporter Abid Taishi informed. People, however, are traveling on the road risking their lives, he added said.
The relevant departments have not yet started any maintenance work to remove the snow from the road, he added
Passengers stranded
Meanwhile, hundreds of passengers had been stranded on the Gilgit-Skardu road, which had been closed for the past four days. Rajab Ali Qamar from Skardu said around 700 villages had been cut off from the rest of the Baltistan division due to heavy snowfall.
According to the local authorities, the region received record snowfall during the past four days, affecting the civic life in GB, they added.
The area has received 1 to 5 feet (45cm to 154cm) snowfall in parts of Skardu, Shigar, Kharmang, Ghanche, Ishkoman, Yasin, Astore, Nagar, Hunza, Diamer and Gilgit districts.
The heavy snow has disrupted air and road travels between GB and Islamabad and the rest of the country for nearly a week. Telecommunication and electricity infrastructure have also been affected in many parts of the region, making it difficult to gather information about and assess damages.
Neelum Valley
Meanwhile, the death toll in Neelum Valley surged to 76 as more deaths were reported from a remote hamlet lying in the closest proximity of the Line of Control, reported Dawn newspaper.
Local people busy in rescue operations in Neelum Valley.
---
Raja Shahid Mahmood, Deputy Commissioner of Neelum, said a girl died in Seri village, while other casualties were reported from Chaknaar village in Gurez.
Mohammad Liaquat, a resident of Chaknaar, said they had learned from military sources that at least 14 people had died in his village.
"My wife and four children are in Chaknaar and I do not have any information about their safety."
The snow avalanches plagued the villages of Surgan, Kel, Lawat, Chaknat and some other places in Neelum District where as many as  67 dead, 53 injured, 198 houses damaged including 22 shops, a mosque, and 12 vehicles were reported to be damaged due to the avalanches, it added.
PM Imran Khan on Wednesday visited Muzaffarabad, the capital city of Azad Kashmir, to review the ground situation.
The regional chief secretary of the area briefed him about the damages and ongoing relief efforts.
Khan also visited a military hospital in Muzaffarabad and met with injured people who are undergoing treatment at the health facility.
Army helicopters delivered tents, blankets, food, and medicine to locations in which road access has been cut off, according to a statement by ISPR. The military also said parts of the Karakoram Highway and Jaglote-Skardu Road are already clear.
Provincial Disaster Management Authority (PDMA) Balochistan informed a total of 20 people perished including 12 females, 7 children and a male in various districts of the province where 23 people were stated to be injured as 13 males and 10 children were injured in the districts of Quetta, Pishin, Zhob, Kech, Killa Abdullah and Mastung.
Meanwhile, the Pakistan Meteorological Department (PMD) warns that heavy rains and snow in northwestern parts of Balochistan may result in flash floods. additional inputs from agencies