---
Jalila Haider was stopped from traveling to the UK, released after 7 hours after a strong reaction from political and rights activists on social media
High Asia Herald Report
Leading human rights defender and President of Women Democratic Front (WDF) Balochistan chapter Jalila Haider was released on Monday after being detained by the Federal Investigation Agency (FIA) for seven hours at the Lahore airport, say media reports.
News of her detention spread on social media after the activist posted on her Facebook page that she had been stopped at the Lahore airport. Her sister, who had come to see her off, and social media activists gathered at the airport, demanding Jalila's release.
"[I was] not told the reasons behind it (placement of her name on the no-fly list), but they said that it was because of my anti-state activities. I said 'I haven't been involved in any anti-state activity',"
According to Ms Jalila, she was made to wait for seven hours but no one came to see her, after which authorities returned her passport and told her that she can book another flight to the UK.
Ms Jalila told BBC Urdu. "Anyway, they […] impounded my passport and CNIC and told me to sit down and that they'll hold a further investigation and try to find out who placed my name on the list and why."
The activist said that only those people who are suspected in a case and are named in a first information report can be placed on the Exit Control List (ECL). She further said that people whose names are placed on the ECL should be served with a show-cause notice, adding that she was not issued one.
Her lawyer Asad Jamal called it "an act of harassment" as he was not allowed to meet her while she was being detained, AFP reported.
Pakistan's interior ministry did not immediately respond to requests for comment by AFP.
WDF President Ismat Shahjehan drove from Islamabad to Lahore to express solidarity with Jalila's sisters and consult a lawyer regarding the illegal detention of her comrade at Lahore airport.
WDF members and other activists gathered at the airport along with lawyers calling for Jalila's immediate release.
The socialist feminist front in a reaction on its official Facebook page said, "when you attack one of our comrades, you attack all of us," expressing solidarity with Jalila.
The front said: "Jalila's constitutional rights must be restored immediately and the targeting of political workers and rights activists through draconian instruments like the ECL and ATA must end."
WDF activist Huda Bhurgeri on her Facebook page commented when comrade Jalila Haider was taken into custody at Lahore Airport, WDF members were concerned about her safe release.
But the reaction and solidarity expressed by WDF was something very inspiring.
"I observed that within one hour all WDF members left everything in the middle, forgot about their Monday routines, and reached at the airport to demand her release. Those who were in Islamabad left for Lahore at 6am in the morning, those who were in Quetta protested against the illegal detention of their fellow comrade.
"Women came out in support for their fellow comrade, feminists drove hours to make sure their fellow comrade is safe. This is what Feminism is. This is the power of Feminist Solidarity and power of socialist feminist political resistance which binds us, which makes us stand with each other when everything stands against brave, courageous women who are the personification of Resistance! I am proud to be part of Women Democratic Front."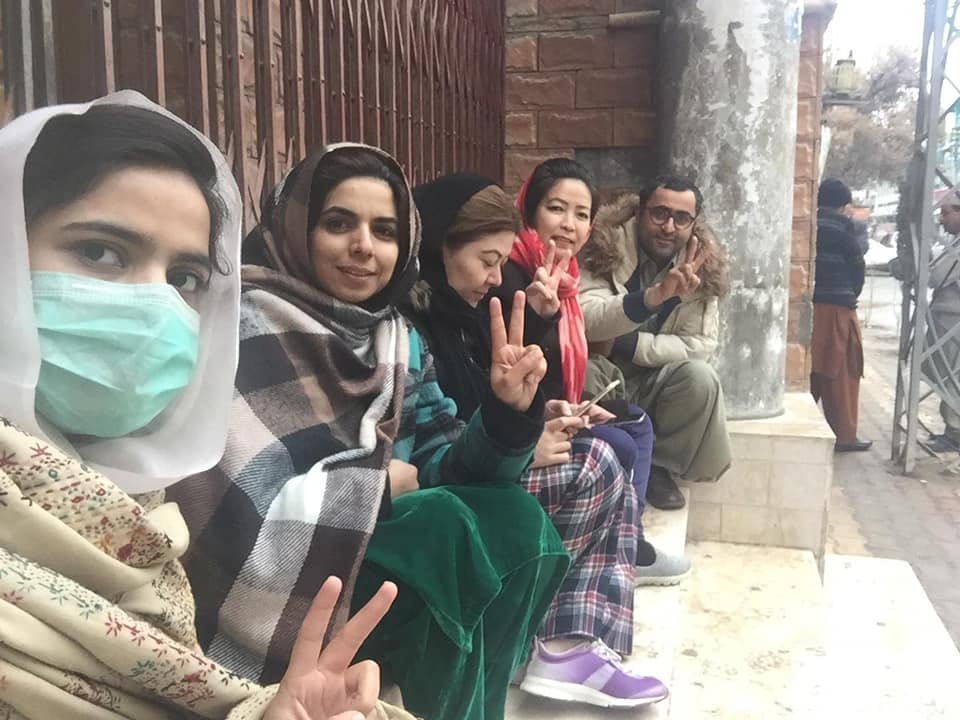 Ms Jalila, according to media reports, was stopped by airport authorities when she was boarding a flight to the UK where she had to attend a conference on feminism arranged by the University of Sussex.
When she asked why she was being stopped from boarding the flight, she was told that her name was on the no-fly list because of her "anti-state activities".
The activist told the FIA officials that she will not leave until she meets her mother, who was worried since news of her detention spread on social media.
She added that she had not been involved in any "anti-state activity".
The Human Rights Commission of Pakistan (HTCP) condemned the incident saying "this ill-conceived action … simply continues the pattern of arbitrarily targeting the freedom of movement of human rights defenders and journalists without cause."
However, the HRCP later welcomed the authorities' decision to allow her to travel to the UK. However, the premier rights body questioned her detention for six-hour on the claim of her name being on ECL.
Also read: Hazara woman from Pakistan named in BBC's 100 Women of 2019
"While HRCP welcomes the authorities' decision to allow @Advjalila to leave for the UK, we question the need for having detained her illegally for six hours on the claim that her name was on the ECL.
Ms Jalila is a member of the Awami Workers Party and president of the Balochistan chapter of the Women Democratic Front (WDF), a socialist feminist organisation. She is also the founder of 'We The Humans', a non-profit organisation which works to lift local communities by strengthening opportunities for vulnerable women and children.
She is also vocal about the persecution of the Hazaras of Balochistan. In 2018, she went on a hunger strike demanding the state to address the violence against her community, who she said faced persecution due to ethnicity and sectarianism.
Also see: https://www.facebook.com/nayadaurpk/videos/1023944344639159/?t=37
Ms Haider had demanded Army Chief Gen Qamar Javed Bajwa to visit Balochistan and console the thousands of widows and orphaned children left by the killing of Hazaras in Pakistan over the past two decades.
Last year, she was listed as one of the 100 most inspiring and influential women across the world by the BBC.
Ms Haider's younger sister Aliya Haider on her twitter account reacted. "Today I felt how families of missing person feels. I broke down when I saw my sister. But I was happy and overwhelmed. And realized how much I loved her.
MNA and PTM leader Mohsin Dawar condemned the FIA action as shameful and said the abuse of law against political workers will be a bounce-back on ECL.
Activist and academic Ammar Ali Jan in his reaction on his twitter micro-messaging handle said: "We are with brave sisters of Jalila Haider's sisters at Lahore airport. The family has shown immense courage in resisting extremism against the Hazara community. Today they are waiting for their sister who has been illegally detained by FIA. This humiliation is unacceptable.