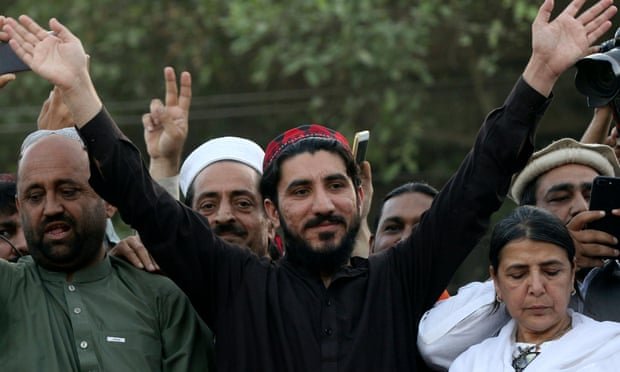 Manzoor Pashteen, nine others were arrested on late Monday evening in Peshawar and sent on 14-day judicial remand
High Asia Herald Report
Islamabad: The Pashtun Tahaffuz Movement (PTM), a civil rights movement, has called on supporters to protest on January 28  against the arrest of its leader Manzoor Pashteen and nine others.
Pashteen was arrested at Tehkaal Bala, Peshawar along with PTM activists Muhammad Salam, Abdul Hameed, Idrees, Bilal, Mohib, Sajjadul Hassan, Aimal, Farooq, and Muhammad Salman. They were booked on five separate charges after giving a speech which include sedition and criminal conspiracy. A court in Peshawar handed over Mr Pashteen to police on 14-days of pretrial detention.
"We condemn this arrest in the strongest terms. I appeal to all our supporters to protest across the country and around the globe," Mohsin Dawar, a PTM leader and member National Assembly, told journalists in Islamabad.
Flanked by two former senators Farhatullah Babar (PPP) and Afrasiab Khattak (ANP), Senator Usman Kakar (PkMAP), MNA Ali Wazir, and Awami Workers Party deputy secretary Ismat Shahjehan, MNA Dawar addressed a press conference at the National Press Club.
"All those who believe that the survival of Pakistan depends upon ensuring the rights enshrined in our constitution, should join us in protest," he tweeted later.
Pashteen was arrested to punish us for demanding our rights in a peaceful and democratic manner, Dawar tweeted. But Manzoor's arrest will only strengthen our resolve, he added.
Police officials said Pashteen was detained on charges of making anti-government speeches at rallies and inciting violence. A copy of a police report circulating online accuses Pashteen of saying he "rejects" Pakistan's constitution. The report also accused him of using "insulting language" about the state during a speech on January 18.
The FIR accused him of calling the constitution "against human rights" because it preserves the rule of the country's Punjabi majority while keeping the Pashtuns weak. But Dawar said Pashteen was detained to disrupt his plans for holding a traditional Pashtun jirga or tribal council to highlight the issues faced by the estimated 35 million Pakhtuns in the country.
"People who do not want the unity of Pashtuns in this state really didn't like this effort," he told the BBC Urdu. "The PTM has also declared its support for a January 29 protest by the tribes of North Waziristan."
In Miran Shah, the headquarters of neighbouring North Waziristan, traders had been protesting for more than a month to push the authorities for delivering on promised compensating for losses to properties and businesses in a major military operation in 2014. They are now launching a sit-in protest in Peshawar on January 27.
Manzoor Pashteen has been arbitrarily detained for exercising his human rights to freedom of expression and peaceful assembly. He must be released immediately and unconditionally, said Amnesty International on tweeter.
MNA Wazir recalled that Defence Minister Pervez Khattak had recently offered to hold dialogue with the rights group in order to address their issues and yet Pashteen had been arrested.
"It means the government and state are not on the same page," Wazir added.
PPP leader Babar said that his party had condemned Pashteen's arrest and demanded the "immediate release" of the PTM chief as well as his supporters, who had been taken into custody.
"It is strange that the defence minister had offered dialogue to PTM but [now] the arrest of Manzoor Pashteen is an eye-opener," the outspoken former senator said.
"Political detentions will deteriorate internal security," the PPP leader warned.
Senator Kakar also condemned Pashteen's arrest and said: "Manzoor Pashteen's narrative and popularity have given sleepless nights to the government and those at the helms of affairs."
Afrasiab Khattak termed the arrest a "dangerous" move.
"Why are you not ready to book Musharraf who sabotaged the constitution?" the politician demanded and called upon rights groups to take notice of Pashteen's "illegal arrest".
"How will you sell atrocities in occupied-Kashmir when you are treating your own people in the same manner?" Khattak questioned.
Senator Kakar also condemned Pashteen's arrest and said: "Manzoor Pashteen's narrative and popularity have given sleepless nights to the government and those at the helms of affairs."
"How will you sell atrocities in occupied-Kashmir when you are treating your own people in the same manner?" Khattak added.
AWP condemns PTM chief's arrest
The Awami Workers Party (AWP), a left-wing party, also condemned the arrest of Pashteen and nine others.
This is sheer provocation and violation of the fundamental rights of citizens of Pakistan of peaceful democratic struggle for their rights, AWP President Yousuf Mustikhan said in a statement, adding "this kind of highhandedness will not deter people from resistance and peaceful struggle against state repression and terrorism."
The AWP leader said its irony of the fact that those who trampled the constitution are scot-free while those who demand their constitutional fundamental rights through peaceful means are arrested under trumped-up charges.
The AWP president also condemned the military operations in Balochistan and KP's tribal districts and demanded an immediate end to atrocities in the two provinces.
AWP deputy secretary Ismat Shahjehan said Manzoor has committed no crime and has consistently preached non-violence in the face of constant provocation and repression.
She reiterated her party's full support for the PTM's legitimate and constitutional demands.
The AWP has asked its leaders and workers to join the countrywide protest in solidarity with PTM for Manzoor's release.
She also demanded an end to misuse of anti-terrorism laws against activists and withdrawal cases under terrorism charges against political activists like Baba Jan and 14 others in Gilgit-Baltistan.
Another leader of the party Ammar Rashid also condemned the arrest of Pashteen for demanding an end to racial profiling, extra judicial killings and enforced disappearances. The continued efforts of state and military establishment to silence the voices of oppressed ethnicities is nothing less than shameful, he commented on his Facebook page.
Also see: https://www.facebook.com/AwamiWorkersParty/videos/471379416869313/?t=0