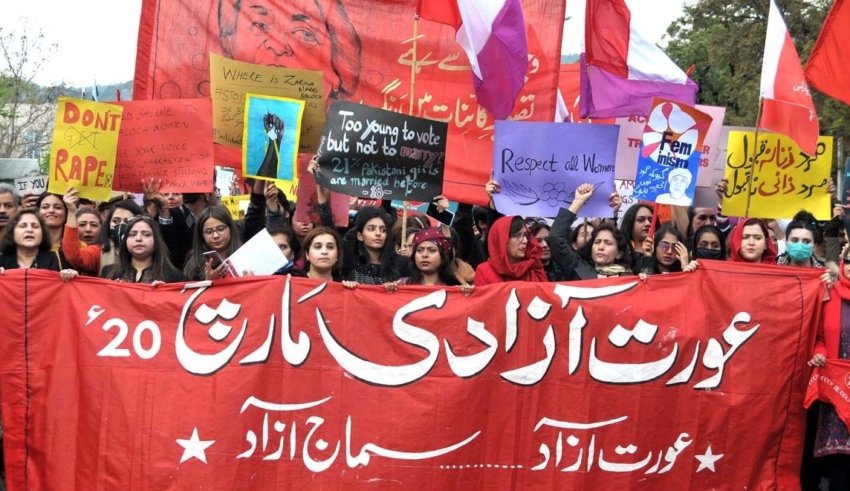 Participants of Aurat Azadi March, outside National Press Club in Islamabad to celebrate International Women's Dat on March 8, 2020. Photo: HAH
Women Democratic Front, Women Action Forum resolve to continue to struggle against patriarchy, violence against women and for equal rights
HAH Report 
Islamabad: Organizers of Aurat Azadi March (women liberation march) called for an independent judicial inquiry into the attack on peaceful marchers outside National Press Club (NPC) on Sunday.
The culprits who incited violence and pelted women and children with stones, shoes, and bricks should be exposed and brought to justice, the Aurat March organisers said while addressing a news conference at the NPC on Tuesday.
"It was a coordinated attack and some suspicious elements tried to bring down the partition tent and allow the charged zealots to attack women marchers," said Ismat Shahjehan, chief organiser of the march and president of the Women Democratic Front (WDF).
This act showed that the patriarchal rightwing zealots in particular, and our society, in general, have no respect and tolerance for women, she noted.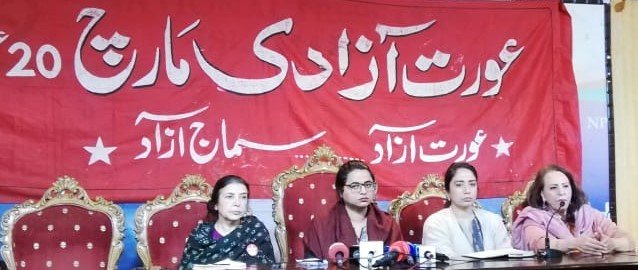 "We will not be cowed down by the obscurantist forces through intimidation, threats, and incitement of violence and hatred," Ms Shahjehan, said, who seemed resolute in her struggle for women's emancipation across the country.
The march, according to Ms Shahjahan, had come under attack from various patriarchal elements including the religious parties, state authorities and many in the media who supported the violence against women.
She further described how she was hit with a rock thrown from the Haya March while she was on touch, due to which she started bleeding.
"It was also a reminder of why the march and feminist resistance to patriarchal violence was necessary. Even women marching against violence were subjected to barbaric violence by supporters of the patriarchal status quo," she said.
She rejected the allegations of religious parties that anti-religion and anti-state slogans were raised at the march, saying that the sole focus of the march was raising a voice for women's liberation from violence, oppression, and exploitation.
Speaking on the occasion, noted rights activist and academic Dr Farzana Bari held in part the administration responsible for allowing the religious parties' 'Haya' (modesty) march at the same venue across the road knowing the fact that they had threatened the women marchers with violence.
She asked how the members of rightwing parties were allowed to stockpile stones, bricks, sticks and chilli powder to use for attacks against the women marchers. She also asked why the attack was not reflected in the FIR registered by police against JUI-F leaders and activists.
Dr Farzana further said that despite the courage of some police officers to quell the unruly mob, the police overall seemed very unprepared and ill-equipped to deal with the situation, lacking riot gear to control the situation.
"All of these questions need to be answered immediately through an independent judicial inquiry with representation from the march organizers," she stressed.
WDF information secretary Tooba Syed said that the AAM was peaceful but the opponents right from the start incited violence and hatred against the women.
She claimed that several 'Haya March participants directly threatened her and other organizers and made obscene and lewd gestures at them from across the road.
Ms Syed accused the rightwing elements who infiltrated the march of harassing and assaulting women.
She further said that a car belonging to one of the march organizers was also vandalized and its windshield shattered.
Irfana Yasir, a BBC correspondent, also shared her own story of violence at the march, saying she and her child was sprinkled with chilli powder.
Anam Rathor, another organiser of AAM, said that those who attacked the march were oblivious to the violence faced by women in Pakistani society, which is considered one of the world's most dangerous countries for women.
She said that 90% of Pakistani women reported having experienced domestic violence or sexual assault in their lifetimes, while only 0.4% of them took it to court.
She said that over 1,000 women become victims of honor crime every year, for which convictions were almost impossible.
Child sexual abuse cases had also risen at an alarming rate, with over 2,000 reported cases in the last 6 months only. She said that the ratio of convictions for rape is less than 1% which implied impunity for widespread sexual violence against women.
She said Pakistan remained one of the few countries where domestic violence was not even criminalized and still considered it a 'private matter'.
Sexual harassment in the streets and on public transport, according to her, was one of the main reasons women stayed away from public spaces and denied access to livelihoods.
Ms Rathor said these statistics warrant how the Aurat Azadi March was necessary. She was determined to keep building the movement and organize women across the country in the coming months.
JUI-F leader, 11 others booked
The capital police on Monday booked Jamiat Ulema-e-Islam (JUI-F) leader Maulana Abdul Majeed Hazarvi and 12 activists for attacking AAM participants who had assembled outside National Press Club to celebrate International Women's Day on March 8, injuring a reporter of GNN news channel, WDF President Ismat Shahjehan, and others.
The baton-wielding attackers pelted stones, bricks, and shoes at the participants of the march.
The FIR has been registered under Section 147 (Punishment for rioting), 149 (unlawful assembly), 186 (obstructing public servant in discharge duty), 188 (disobedience to order), 341 (punishment for wrongful restraint), 353 (assault or criminal force to deter public servant from discharge of his duty) of the Pakistan Penal Code and for violation of section 144 and amplifier act.
Dozens of men and women from the Red Mosque brigade, consisting of several local militant groups, staged a rival rally just across the road from the women's march venue, District Deputy Commissioner Hamza Shafqaat said.
Police official Mazhar Niazi said the officers blocked the Laal Masjid seminary students and JUI-F activists as they tried to break through a cordon to attack the marchers.
Attack condemned
The attack prompted a strong reaction from people, civil society and lawmakers on social media.
Human Rights Minister Shireen Mazari also issued a condemnation, saying that while people have the right to disagree, "violence is unacceptable".
"Strongly condemn the stoning and violence against a peaceful gathering of women, men and families in #AuratMarch2020. Our religion teaches tolerance and Sabr. It does not allow throwing stones and sticks at unarmed people one disagrees with. Can disagree with them but violence is unacceptable," she tweeted.
She also praised the capital police for "handling a difficult situation at the Press Club protest promptly and effectively".
PPP Senator Mustafa Nawaz Khokhar also condemned the incident and said: "To scare women from sticks, stones, and bad language is cowardly behaviour."
Khokhar demanded that legal action be taken against the people responsible for pelting marchers with stones.
Ahead of the march, the organizers said posters and murals were vandalized, including one by the seminary students from the Red Mosque.
Thousands of women and men took to the streets across Pakistan for the AAM demanding an end to patriarchal violence and equal rights.
Women and men joined the event in Islamabad, the largest such rally in the country.
Women's marches were also held in Quetta, Lahore, Karachi, Sukkur, Hyderabad Multan and other cities.
In Islamabad around 2,000 women and men gathered amid tense atmosphere and threats by religious conservative groups, demanding equal rights to education, health, political representation, social inclusion, economic justice and safe access to public spaces, and to raise their collective voice against all forms of patriarchal, capitalist, feudal, tribal and imperialist oppression.
They were holding placards, chanting slogans, singing feminist revolutionary songs.
The march, organised by WDF, Women Action Forum (WAF)
The WDF president and chief organiser of the march, Ismat Shahjahan, spoke about the history of women's struggle in Pakistan, and shed light on the importance of socialist feminism to ensure rights and dignity for all.
"We have over-grown patriarchy, which is extremist, fanatic and violent," she said. "Patriarchal and sexual barbarism has spread like an epidemic as a result of which women and minor children are raped and killed by their own family members.
"We are at the crossroad of history, where we have to make a choice between socialist-feminist revolution or patriarchal and sexual barbarism."
Ms Shahjahan demanded that the state declares a women's emergency and engages with the feminist movement to seek a solution to these challenges.
Noted human rights activist and WAF representative Tahira Abdullah stressed the need to strengthen the feminist organization to fight against patriarchal violence and to take back the shrinking space for women and other marginalized groups.
"From wars to the murder of women in the name of honor, to the abuse of children, we are seeing the corrosive effects of violent patriarchy which is destroying the fabric of our society," she said.
WDF activists Professor Rashida Saleemi, spoke about the manner in which women are held back in their public and private lives.
"As an educator, I saw how unequal distribution of domestic labour, and structural and attitudinal biases against female professionals, stopped many talented women from being able to advance in their careers," she explained.
"Every time this happens, it is not just a personal loss for the woman who is not able to realise her dreams and potential, but a loss for our society as a whole."
HRCP council member and activist Nasreen Azhar spoke about the housing crisis in the capital city and its impact on working-class women and their families. Because of the shortage of secure low-income housing, and the constant threat of evictions, working-class families are unable to provide security and continuity of education to their children, she explained.
The speeches were interspersed with songs, poetry readings, theatrical and musical performances, and a drum circle.
Transgender rights activist, Nayab Ali, recited poetry to raise awareness about the challenges faced by the transgender community, and Muneeba Rehman spoke about issues facing students.
AAM organiser, Anam Rathor, read out the Charter of Demands which included an end to all forms of violence, from killings to forced marriages, from sexual violence to acid attacks, from harassment to moral policing; women's domestic confinement and servitude; an end to the abuse of religion in defence of patriarchal privileges, against the oppression of transgender and other gender and sexual minorities; and against the securitization of our state and society and in support of the protection of democratic and civil liberties.
Separately, female members of the Jamaat-i-Islami (JI) held a march outside the National Press Club.
The participants of the JI march reached China Chowk from the National Press Club where JI chief Sirajul Haq addressed the gathering.
During his address, Haq said that the Election Commission of Pakistan should not name any hopeful who as a male doesn't give his sister her inheritance rights.
"In the future, I will not give a party ticket to any man who doesn't give his sister her rights," he said.
Lahore
In Lahore, marchers gathered at the Lahore Press Club. Carrying placards, they played the drums, clapped and chanted slogans.
The march went through Egerton road till Aiwan-e-Iqbal, protected by two layers of security personnel, many of whom included policewomen.
Meanwhile, a resolution was submitted in the Punjab Assembly by PML-N MPA Kanwal Liaquat, demanding an end to gender discrimination. The resolution condemned underage marriages and demanded that women be granted legal, social and economic protection.
Participants of Aurat March outside Karachi Press Club on Sunday.
Karachi
In Karachi, the Aurat March was held at the Frere Hall garden. PPP Shaheed Bhutto leader Ghinwa Bhutto, Sindh government spokesperson Barrister Murtaza Wahab, noted artist Sheema Kirmani were among those prominent personalities also participated in the Aurat March.
A march was also held by members of the Home Based Women Workers Federation (HBWWF) from Arts Council to Karachi Press Club. Participants of the march, led by HBWWF general secretary Zahra Akbar Khan, demanded financial autonomy for women as well as protection against workplace harassment and discrimination.
A 'Haya March' was also held at Teen Talwar by the Pakistan Tahaffuz Movement.
Sukkur
In Sukkur, participants of Aurat March organised by WDF gathered at Lab-e-Mehran garden and walked to the press club. The marchers demanded equal rights for women, access to education, an end to forced conversions and a fund for the families of missing persons. The participants also condemned practices like karo kari.
They also highlighted the human rights abuse in occupied Kashmir.
At the press club, participants released white pigeons and recited poetry by Shah Abdul Latif Bhitai.
Delegations from various organisations from Karachi, Hyderabad, Khairpur, Shikarpur and other areas participated in the event.
Nangarparkar
An event was also arranged in Thar's Nangarparkar by Sindh Human Rights Department to mark Women's Day.
Meanwhile, in Badin supporters of the proscribed Ahle Sunnat Wal Jamaat shut down the town of Khoski and protested against the Aurat March. They insisted that the event had been arranged by "misguided women".
Participants of Aurat March chant slogan during women march in Multan, Seraiki Waseb on Sunday. Photo: AWP
Multan
In Multan, Awami Workers Party Seraiki Waseb chapter and WDF organised the Aurat march outside the city's press club.
Also see: https://youtu.be/1-v_Is5J5HQ