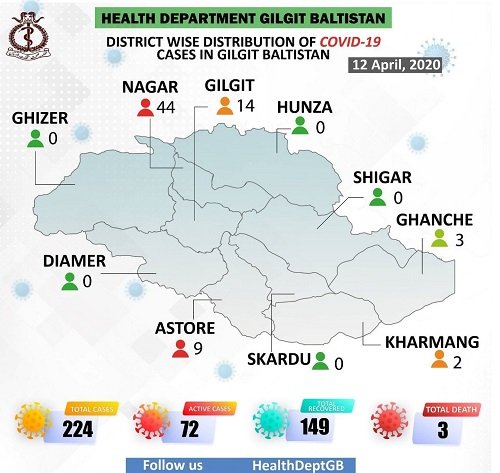 The total number of positive cases reach 214, with 75 active cases; 149 recovered; three died.
Gilgit: Eight more persons on Sunday tested positive for Coronavirus in Gilgit-Baltistan taking the total number to 75, an official statement said.
Nagar remains the worst-hit district, with 44 positive cases, followed by Gilgit where 14 patients have been identified.
Information Minister of Gilgit-Baltistan Shams Mir in a statement on Sunday said samples from 14 suspected patients from Skardu had been taken. Of them, 11 tested negative for the COVID-19 while three persons had to repeat the process. Nine cases have been detected in Astore, Ghangche 3 and Kharmang two positive cases.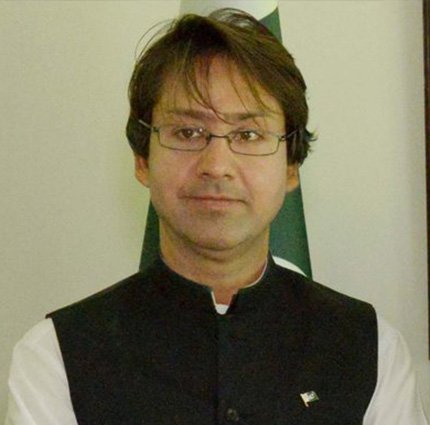 Till Saturday the number of patients was 67, but with the addition of 8 new patients, the number increased to 75.
A total of 70 new tests were performed, while eight suspects' tests were repeated which detected the virus. Of them, six belonged to Astor and two belonged to the worst-hit Nagar district.
Mr Mir said that the federal government has acknowledged the efforts of Gilgit-Baltistan in containing the virus.
The adviser to the Chief Minister informed the High Asia herald that construction of three hospitals for coronavirus patients in Gilgit, Diamer and Baltistan divisions has begun.
Mir said that the hospitals will be equipped with modern ICU facilities and the staff will be provided with training to deal with Covid-19.
He said automatic thermal screening walk-through gates and electric sanitizers and spray gates will be installed at the entry points of GB and in main cities. Through these gates, the presence of the coronavirus in any person will be identified and information will be transmitted to the provincial headquarters centre electronically.
Mr Mir said the provincial government was putting in place various measures to contain the spread of Covid-19.
Gilgit-Baltistan is the first region to have fastest coronavirus recovery rate. This was possible due to the government's proactive role in dealing with the pandemic.
The adviser said the GB government was in the process of designing a syllabus with e-electronic facilities for students for home delivery.
He added that the provincial government was also working on an open-door policy to bring Gilgit-Baltistan citizens from the other four provinces.
The policy will be in accordance with the World Health Organisation's (WHO) Covid-19's and the National Health Policy's SOP.
Responding to a question, he said the regional government was making efforts to bring back residents from other provinces.
"We are in touch with provincial governments for securing a NOC for the travel of our students and others.
He assured that the provincial government will not leave its citizens alone.
Over 1.7 million infected globally; more than 108,000 dead, over 400,000 recovered.
In Pakistan 5,362 cases reported; 93 have died and 1,028 recovered.