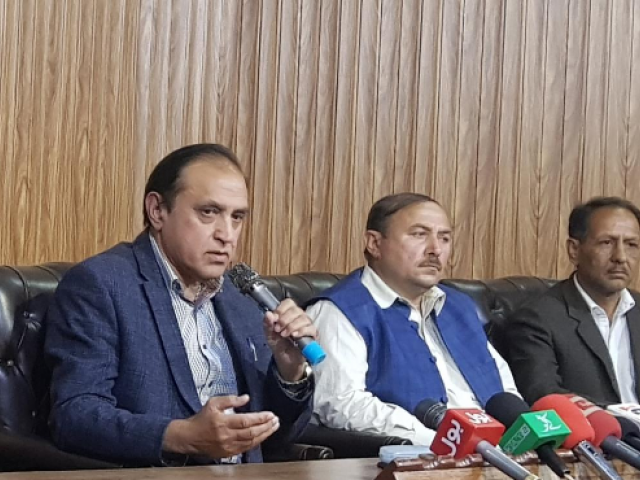 Dr Muhammad Iqbal announced his resignation after a scuffle with home depart secretary over easing lockdown
Bureau Report
GILGIT: In a dramatic move Gilgit-Baltistan's Minister for Works Dr Muhammad Iqbal announced his decision to quit his position in protest reportedly following a scuffle with a 'babu' over the issue of relaxing lockdown in the mountainous region.
Announcing his decision at a news conference at the Gilgit Press Club on Thursday, Mr Iqbal said: "When a secretary defies the government's decision, there is no point to cling to the ministry."
The development came a day after a cabinet committee headed by the minister himself decided to relax the lockdown in the region following a drop in the number of COVID-19 cases.
Hours after the committee's decision, Information Department had issued a statement saying lockdown would continue and any decision in this regard would be made by the apex committee comprising of chief minister, force commander and chief secretary among others officials.
"I was chairman of the cabinet committee and we finalised everything with the consensus of secretaries and the ministers," the red-fazed minister said narrating the events that led to the row between him and the secretary, home department, Muhammad Ali Randhawa.
According to sources privy to the meeting when the decision was taken on easing lockdown, the secretary asked the minister not to make it public as it was the apex committee's authority to decide about it.
This offended Dr Iqbal, a close aide of the Chief Minister Hafeezur Rahman. He contended that it had no point in doing the exercise by us if it were to decide by the apex committee.
The exchange of heated argument led to the scuffle, Dr Iqbal said, adding that officials present on the occasion intervened and resolved the matter.
He further said that the decision was taken with the consent of CM Rehman but unfortunately it was reversed "because we don't have proper representation in parliament".