Masherbrum, the original K1. Photo Maria Ly

Globally over 75m jobs are at risk in tour and hospitality sectors, 48.7m in Asia-Pacific and 75,000 in Pakistan
High Asia Herald Report
As adventure tourism season in Pakistan draws closer and the country reeling from the devastating impact of coronavirus pandemic, the tour operators in Gilgit-Baltistan and Chitral are still hoping against hope.
Although Pakistan has eased lockdown and slashed further fee for climbing peaks, the forecasts are not good for the adventure tourism in Himalayan, the Karakoram and the Hindu Kush ranges as the borders are still closed and flights remain suspended. A very few individual trekkers are heading Baltistan, Diamer, Hunza and Nagar districts for trekking.
According to Dawn newspaper, 20 climbing expeditions and 30 trekking groups have applied for permits for this summer, which is significantly lower than in previous years.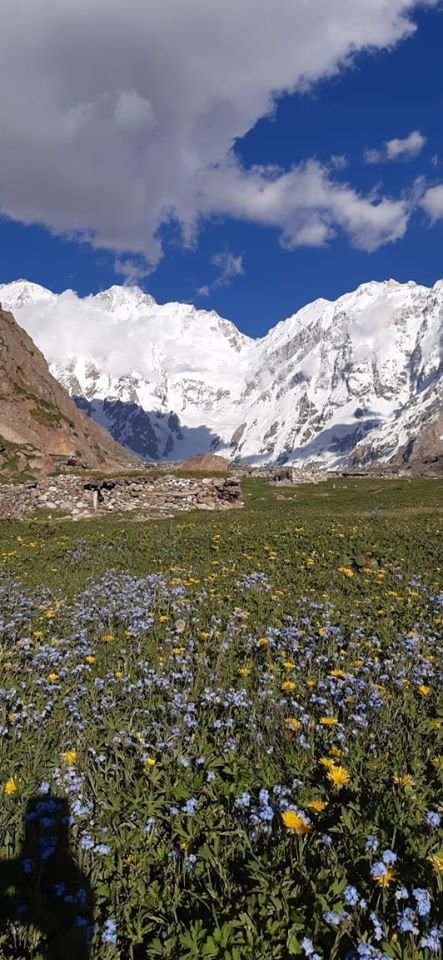 Pakistan has reduced climbing fees by 40pc since 2002, to overcome the negative effects of Sept 11, 2001, terrorist attack in the US.
These discounts will only improve when the government seeks to lure back tourists post-COVID, suggests the ExplorersWeb portal.
Adventure tourism saw a sharp decline in 2003 after 11 foreign climbers including four Chinese and a Pakistani porter were killed in a terrorist attack at Nanga Parbat Base Camp, says a report in Dawn.
The sector had started to pick up when Pakistan had just come out of the war on terror coupled with discounted prices and improved safety making Pakistan an excellent alternative to Nepal, Karrar Haideri, secretary of the Alpine Club of Pakistan told Dawn newspaper.
"But now, the coronavirus pandemic has hit the adventure tourism sector hard, putting the livelihoods of porters, guides and tour operators and their families at risk," he said.
Several groups have cancelled their expedition, he said.
"No expeditions are coming this year the porters and people associated with this sector have not jobs and sources of livelihood. They are in dire need of government support for survival," he said.
The club has called for joint action to help the coronavirus-hit tourism sector, particularly in GB.
The World Travel and Tourism Council (WTTC), which represents the international tourism industry, estimates that travel and tourism are responsible for 319 million jobs around the world, the paper said.
According to UNWTO and WTTC, a million jobs are being lost per day due to the pandemic, with up to 75m jobs at immediate risk. This may cause a loss of $2.1 trillion to the global economy in 2020.
The Asia Pacific region faces the greatest threat, with 48.7m jobs at risk, says the council.
The economic fallout of the pandemic will increase the risk of instability in the tourism sector, especially at the grassroots level in mountain areas, where many people employed in tourism and hospitality sectors will have no work.
According to the paper, GB, Khyber-Pakhtunkhwa and Azad Kashmir are the prime areas for summer tourism in Pakistan where more than 75,000 direct jobs will be at risk because of the crisis.
This will ultimately deprive tourism sector workers of around Rs3bn per month in salaried income alone.
Pakistan, which was anticipating $1.5bn revenue from foreign tourism this year, will not even make half of the impact of the pandemic continues for a longer period.
Tourism and hospitality sectors associations have called for a relief and recovery stimulus plan for the tourism industry and ensure it is able to sustain the shock and bounce back as quickly as possible.
An immediate relief package should be announced for the workers of travel agency, tour operation, and hotel staff, tour guides, drivers and porters.
Tourism and hospitality businesses facing cash flow problems should be given tax rebates, interest-free loans and grants.
Dos and Don'ts
Here's what you need to know to climb and trek in Pakistan, ExplorersWeb says quoting Karrar Haidri, Secretary of the Alpine Club of Pakistan.
First of all, bear in mind that in Pakistan, trekking permits go far beyond a mere hike. For $50, plus another 50 bucks as a garbage deposit for those entering the Central Karakorum National Park, visitors can access not only the great treks of the Baltoro-Gondogoro and Hispar-Biafo but all peaks up to 6,500m, of which there are many in the Karakorum and Himalaya ranges in Gilgit-Baltistan.
The regional council requires no permit to open areas, while those in the restricted areas need a trekking permit and must pay to ascend higher than 6,500m.
This fee varies with altitude and is based on a group of up to seven people:
For K2 (8,611m) a group of seven climbers have to pay $7,200 fee and $1,200 extra buck for each additional member.
For a peak of 8,001m high and up to 8,500m, the seven-member group has to pay $5,400 fee with $900 for each additional member.
For a peak of 7,501m high and up to 8,000m, the fee for a group is $2,400. Each additional member will have to pay $300.
For 7,001m and 7,500m high peak, $1,500 has been fixed as fee and $180 for each additional member.
For 6,501m and 7,000m peak the fee is $900 for a seven-member group with $120 for each additional member.
Although these fees are already low, further discounts are sometimes available. For instance, 10% off is given for peaks located in Gilgit and Ghizer (except for the popular Spantik, also known as Golden Peak); 5% off for all peaks during winter (December-February).
The waste management deposit for climbing peaks above 6,500m in Central Karakorum National Park is $68 for each member.
Paperwork and Procedure
All climbers and trekkers going to Gilgit-Baltistan must submit seven sets of documents to their local accredited tour operator four to six weeks before departure, to ensure that their project is approved in time. The paperwork includes application on the tour operator's letterhead for a mountaineering expedition; list of expedition members; route map of the proposed climb/trek; copies of passport of all members; visa application for foreign visitors; CVs of all expedition members and copy of tour company's license.
The tour operator then forwards the completed paperwork to the proper departments and waits for clearance. Once this is granted, the operator then applies for a climbing permit from the Gilgit-Baltistan Council Secretariat. This application includes some newer formalities: fee submission, climbing permit application, proof of insurance for expedition members, in case rescue is necessary, guide/liaison officer insurance and porter insurance.
So one of the 300 accredited tour operators in Pakistan processes all the required documents after you submit the information. They handle the bureaucracy while you plan the climb.