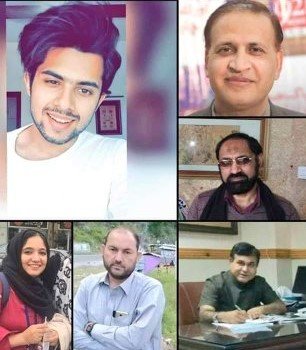 Dr Fatima Sana in her 20s loses the battle against covid-19. Two doctors each die in Lahore and Quetta, one each in Gujranwala and Hangu. Nurse dies in Kohat 
Islamabad: Eight frontline worriers have lost their lives while treating coronavirus patients in Pakistan during the last 24 hours. They were identified Dr Zubair Ahmad and Dr Saleem Mengal (Quetta) Dr Naeem Akhtar (Gujranwala), Dr Fatima Sana, Dr M. Salim and Dr Salman Tahir (Lahore), Dr Khanzada (Hangu) and Nurse Mussarat Dilbar (Kohat).
Dr Fatima in her 20s died at a private hospital in Lahore after testing positive for the novel coronavirus, the Punjab health department confirmed on Friday.
Pakistani doctors and nurses are now dying daily from covid-19 while the government lies about things being under control, commented Ammar Rashid, a researcher and Left-wing political activist on his microblogging handler. All these deaths are on the PTI government's hands, which is sacrificing health workers lives to appease the industrial, religious and traders lobbies, he regretted.
Pakistani doctors & nurses are now dying daily from Covid-19 while the govt lies about things being under control. All these deaths are on the PTI govt's hands, which is sacrificing health workers lives to appease the industrial, religious & trader lobbies. Sickening. pic.twitter.com/i17jhMRP2B

— Ammar Rashid #BasicIncomeNow #RedistributionNow (@AmmarRashidT) May 29, 2020
According to the health department, Dr Sana Fatima was treating Covid-19 patients at Fatima Memorial Hospital.
She was admitted to Doctors Hospital and Medical Centre on May 20 after testing positive for the virus and developing symptoms of its related disease — Covid-19. She died early morning today after her condition deteriorated, the department said.
Fatima was also a resident of Lahore and leaves behind a husband and a daughter.
Another academic and columnist Umair Javed in his comment on twitter said "the Federal govt's messaging and public health response during this pandemic has been absolutely terrible. Fixated on the lockdown and economy debate, and left everything else to Allah. It'll be a miracle if the damage is curtailed over the next month."
Student activist Arooj Aurangzeb on her microblogging handler said "overall 1,753+ health workers are infected with Covid-19 and 21 died while fighting the pandemic. Meanwhile, public attack doctors and army sends planeload of PPEs to America!
Dr. M Saleem Lhr,
Nurse Mussarat Dilbar Kohat,
Dr. Zubair Ahmad Quetta,
Dr. Naeem Akhtar Gujranwala,
Dr. Fatima Sana Lhr,
Dr. Salman Tahir Lhr,
Dr. Khanzada Hangu

These are the names of the seven lives of health-workers lost in around 24 hours.#coronavirus #PPEnotSalutes pic.twitter.com/16mlt9rFr3

— Arooj Aurangzaib (@AroojAurangzaib) May 29, 2020
Earlier this month, another doctor, a recent graduate from the Quaid-i-Azam Medical College in Bahawalpur, had died from the virus in Rawalpindi just days before she could begin her professional career with a house job. Dr Rabia Tayyab had complained about mild flu and cough symptoms on April 20 which the doctors declared as "normal fever".
When her condition worsened after four days, she was brought to the Holy Family Hospital. She was put on a ventilator but died on April 30. The doctor hailed from Gujjar Khan in Rawalpindi and was the daughter of renowned teacher Mohammad Tayyab.
According to Dawn.com, Punjab has reported 29 deaths on Friday (May 29), its highest single-day death toll so far, the health department said, adding that a majority of the cases were being reported in the provincial capital, Lahore. The province has reported a total of 22,964 cases since the virus first emerged in Pakistan on February 26.
Virus has claimed 17 healthcare workers lives
According to Dawn, quoting data from the health ministry shows that 17 medical professionals have died of Covid-19 in Pakistan out of a total 1,904 who tested positive; this figure included 299 nurses, 570 other healthcare staff and 1,035 doctors.
Of these, 1,037 were self-isolating and 171 were hospitalised; 167 were in stable condition while four were on ventilators. Further, 679 had recovered from the virus or were discharged from the hospital.
Sindh has reported the deaths of eight healthcare workers, the highest among provinces, with a total of 538 cases among medics.
On the other hand, Khyber-Pakhtunkhwa has 552 cases among healthcare workers, the highest out of all the provinces, which include 249 doctors, 97 nurses and 205 other health workers.
Gilgit-Baltistan reported deaths of two healthcare professionals — Dr Usama Riaz and paramedic Malik Ashdar. Over a dozen health professionals have tested positive for the coronavirus in GB.
Of the 1,904 doctors who tested positive for the virus in the country, 368 were performing duties in critical care wards while the remaining 1,536 were performing duties elsewhere.