HRCP, PAC, WDF and WAF call for the immediate release of Professor Sajid Soomro and an end to the vicious campaign against Dr Arfana Mallah
Herald Report
Academia, human rights activists, writers and lawyers have expressed concerns at the shrinking space for dissenting voices in Pakistan and abuse of draconian laws against intellectuals and teachers.
Professor Sajid Soomro of Shah Abdul Latif University Khairpur and a writer known for his books on Sindhi-Urdu speaking Mohajir unity, was arrested on charges of blasphemy and sedition on Wednesday.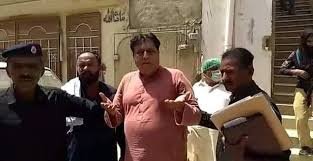 When Dr Arfana Mallah, a prominent rights activist and a professor at the M.A.Kazi Institute of Chemistry, Sindh University Jamshoro, expressed her dismay at the incident, she too was immediately subjected to a vicious campaign led by clerics with political associations, calling for her to be charged with blasphemy.
"We want the government to withdraw the blasphemy charges against Soomro," insisted Dr Mallah. "I appeal to the educated people of Sindh to raise their voices against such acts."
The rights activists have demanded that the Sindh government initiate an inquiry into the registration fo such a case against a university teacher.
The Human Rights Commission of Pakistan (HRCP), Progressive Academics Collective (PAC) and women rights organsations including Women Democratic Front and Women Action Forum (WAF) and Aurat Azadi March (AAM) have demanded protection of life for two prominent professors of Sindh.
"The HRCP is alarmed by the recurring wave of vicious campaigns against academics."
In a statement on its microblogging handler, the HRCP chairperson Prof Mehdi Hassan said: "Professor Soomro and Dr Mallah have done nothing more than exercising their fundamental right to freedom of expression – their right as citizens, their duty as academics.
"Indeed, it has become frighteningly common to hear of charges of sedition and blasphemy being used to intimidate citizens who dare speak up. Lest we forget, Junaid Hafeez, Mashal Khan and Professor Khalid Hameed were all victims of a skewed, capricious system built to suppress academic freedom among teachers and students alike," the premier rights body chairperson noted.
HRCP deplores all such attempts to scuttle academic freedom by targeting intellectuals on flimsy grounds. The state must ensure the safety of its citizens and prohibit the misuse of the blasphemy and sedition laws to silence independent voices or settle personal scores.
HRCP is alarmed by the recurring wave of vicious campaigns against academics. Prof. Sajid Soomro & @Arfanamallah66 have done nothing more than exercise their fundamental right to freedom of expression – their right as citizens, their duty as academics. https://t.co/DshyRYIcvl 1/2

— Human Rights Commission of Pakistan (@HRCP87) June 10, 2020
Haqooq-e-Khalq (people's rights) Movement (HKM), a youth-led rights advocacy platform, has also condemned the "vicious campaign against Dr @Arfanamallah66 and Prof Sajid Soomro.
"We have already lost so many minds to this madness. Use of sedition laws and blasphemy laws for malicious purposes is common in Pakistan," the movement reacted on its microblogging handler.
We at HKM strongly condemn this vicious campaign against Dr @Arfanamallah66 and Prof. Sajid Soomro. We have already lost so many minds to this madness.

Use of sedition laws & blasphemy laws for malicious purposes is common in Pakistan. https://t.co/S5X2I6RE3T

— Haqooq-e-Khalq Movement (@Haqooq_e_Khalq) June 10, 2020
"We were shocked to see the police rush to arrest a university professor in this way," reacted Advocate Fayaz Khamisani, Soomro's friend and Khairpur Bar Association joint secretary.
Speaking to The Express Tribune, Khamisani said that he tried to convince the police not to arrest Soomro, but they barged into the professor's residence forcefully and detained him.
"The allegations are very serious," stated Khamisani, explaining that Section 295-A of the Pakistan Penal Code, mentioned in the FIR against Soomro, was non-bailable. "We have to check if the police sought permission from the home department before registering this FIR."
Another activist and lawyer Sattar Zangejo said that such allegations would make matters difficult for many activists seeking to highlight issues in society. According to him, Soomro had been engaged in a tussle with Ahmed Solangi, another member of literary organisation Sindhi Adabi Sangat, in recent months.
PAC: The Progressive Academics' Collective (PAC), a platform of Left-wing university and college teachers, has also expressed concern for the safety of Prof Soomro, and Professor Mallah. She is a prominent women's rights activist and vocal on various social causes. She has been threatened with an FIR by Rashid Mahmood Soomro of the JUI-F.
"This is just the latest in an ongoing smear campaign against her and other rights defenders for the past several months, which is being orchestrated by Soomro and his supporters are extremely troubling and are part of a wider campaign to silence critical voices within academia," the PAC stated in a reaction on its twitter account.
We stand in solidarity with both the professors, the statement read.
Both of the cases are part of a wider trend to use the charge of blasphemy as a political weapon to silence pro-people and critical voices, as the case with the late Mashal Khan, and with Junaid Hafeez who is still languishing in prison.
The statement noted that without freedom of conscience, freedom of expression, (barring hate speech) and critical debate, Pakistani academia stands no chance to further knowledge and scholarship in the colleges and universities of the country.
They demanded that the Sindh and federal governments take immediate action against the cleric and all those who are behind hate campaign against Prof Soomro and Prof Mallah.
They demanded that Prof Soomro be immediately released and that all charges should be dropped against him and that both are guaranteed state protection against any possible acts of violence resulting from this malicious campaign.
Pakistan's leading feminist organisations have also condemned the harassment of Dr Mallah through a malicious campaign by religious zealots in Sindh.
In a joint statement over a dozen feminist and women's rights organisations including Women Democratic Front WDF), Women Action Forum (WAF) and Aurat March (AM) have expressed solidarity with Dr Mallah and condemned the smear campaign launched by the JUI-F leader.
"We, as feminists from all over Pakistan, jointly condemn the false accusations of blasphemy levelled at Dr Arfana Mallah, an eminent academic and feminist organizer, by the JUI," the statement issued on Friday read.
All chapters of WDF, WAF and AM have reacted strongly to the JUI-F's Hyderabad-based leader Raashid Soomro's threat to file an FIR against Dr Mallah for condemning the arrest of Prof Soomro.
The statement has been endorsed by WAF, WDF, Sindhiyani Tehreek, Sindhi Aurat Tanzeem, Aurat Haq, Hum Aurtein, The Feminist Collective, Girls at Dhabas, Feminist Fridays, Aurat Azadi March.
Such an accusation is a deliberate and calculated attempt to instigate violence against Dr Mallah and her family to stop her from grassroots activism, the statement noted.
The organisers of Aurat March noted that charges of blasphemy are often used to silence progressive voices and those standing against corrupt practices.
"We demand the Sindh government and local police to ensure Dr Mallah's immediate safety and protection."
"We strongly oppose the weaponization of blasphemy and sedition charges that are repeatedly used as an instrument to silence dissenting voices in this country," the joint statement said.
The attack on Dr Mallah, according to the statement, is a dangerous development that targets not only her personhood but also the women's movement in Pakistan.
"We see it as the continuation of the coordinated attack and collusion by patriarchal forces within and outside the state, corporate and state media, and religious-political forces against all critical intelligentsia, student movements and people's resistance movements across the country. We also believe that this is a collective attack on the critical voices within academia."
They vowed to collectively resist all those – within and outside the state – who attempt to attack or undermine our struggle for women's emancipation in Pakistan.
"We reject the state backing of the religious right that seeks to uphold patriarchal structures in Pakistan, and subject's women to state violence and exploitation on a daily basis. We also stand against the draconian colonial-era laws, laws made by Zia's military regime and the ruling elite, and the laws made under the pretext of the War on Terror, which are continuously relied on to silence dissenting voices in Pakistan," the statement noted.
Joint cross country feminist statement in support of Dr. Arfana Mallah. Please read and share #StandWithArfanaMallah https://t.co/OL0VHAeE41 pic.twitter.com/0DlFffKpGR

— Women Democratic Front (@wdf_pk) June 12, 2020
It is high time that all laws that are continuously used as a coercive means to crush innocent voices be repealed. Pakistan needs democratic legislation that advances democratic values, social justice, equality and freedom of expression. It is high time that all laws that are continuously used as a coercive means to crush innocent voices be repealed.
The feminist organisations asked the government to take immediate legal action against the JUI people for endangering the life of Dr Mallah.
They also condemned the threats to academic freedom that exist in Pakistan and are exacerbated by a religious discourse that seeks to stifle critical thought. They demanded the immediate release of academics who have been imprisoned over false charges.
Dr Mallah is a respected academic and feminist activist and has spent her whole life fighting not only for women's rights but also the cause of social justice for all, the statement noted.
The WDF called upon all the progressive forces of Pakistan to express solidarity with Dr Mallah, unequivocally.
The religious right has been continuously attacking feminists across Pakistan, and it tried to stop the international women's day marches from taking place earlier this year. Nevertheless, we fought back, even though feminists in Islamabad were attacked with stones and bricks on the day of the march. We will continue to fight back through peaceful means and struggle for abolishing all interlocking forms of patriarchal and state oppression, national and class oppression, along with religious bigotry.
"We affirm our commitment to women's emancipation and collectively exposing, resisting and eliminating the inequities that colour women's existence and defeat all forms of patriarchal oppression and violence."
They need much more than a call to Sindh's old values of tolerance and understanding to persevere. They need the state, politicians, other powers to be at least neutral. They need a government that treats people equally. @Arfanamallah66 @Xadeejournalist
https://t.co/LnDaU7b0l3

— Sikandar Ali Hullio (@HullioSikandar) June 13, 2020
The rights activists are attempting to defuse a situation following the arrest after the filing of a case under the alleged blasphemy charges against Prof Sajid Soomro.
"Not too long after Prof Soomro's arrest, the JUI-F, which has some support in Sindh districts such as Larkana away from its strongholds of KP and Balochistan, took offence at a social media post by Dr Arfana Mallah — president of the Sindh University Teachers' Association," wrote daily Dawn in its editorial comment on Saturday.
According to the newspaper, the provincial leadership of the right-wing party wanted the same blasphemy charges brought against Dr Mallah, apparently an old ideological opponent of theirs, which threaten to turn Prof Soomro's life upside down.
In a replay of the past, when angry crowds tried to force the registration of a blasphemy case against an accused, the Bhitai Nagar police station was besieged for some time.
"If history is any guide, further pressure is likely to be mounted on the authorities in the coming days. Much has been said about the law, and the argument to prevent its misuse to settle all kinds of personal and political scores is a compelling one and substantiated by evidence.
"But, unfortunately, in recent times, there has been an all too visible increase in the reluctance to discuss the existing law, let alone taking steps to revise it. This is a result of the entrenched positions of people who take too much interest in punishing those they believe are violating the law and who are unlikely to be distracted by any reported instances of misuse," the paper commented.
Those demanding fair treatment for an accused in the name of the law and principles of justice provided by religion are faced with a dangerous situation in the present case. They need much more than a call to Sindh's old values of tolerance and understanding to persevere. They need the state, the politicians and other powers to be at least neutral. They need a government that treats people equally."